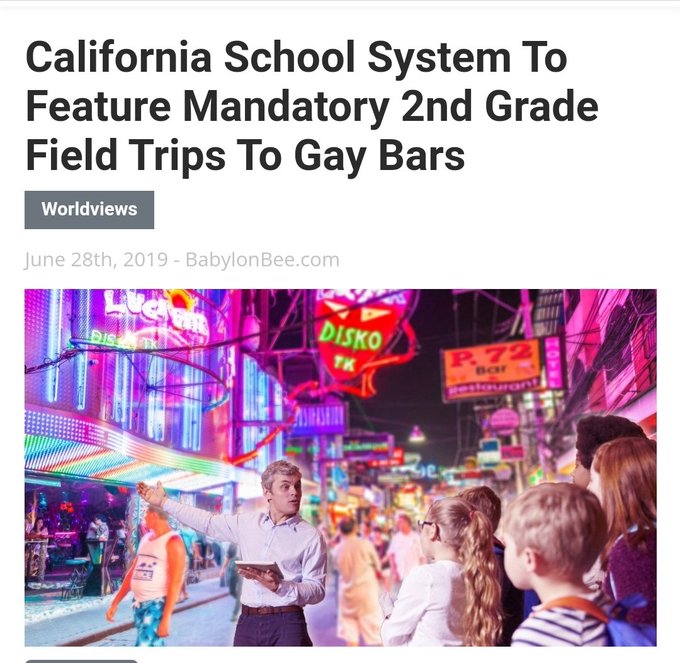 Satire about California became reality in Florida this week.
Todd Starnes reported
, "Teachers at Wilton Manor Elementary School in Fort Lauderdale took their students to a gay bar and grill.
"Photographs show the boys and girls inside Rosie's Bar and Grill – decked out in rainbow colors. The bar advertises itself as a place for LGBT diners and their allies.
"Among the items on the menu – naked sweaty lovin' hot wings and the Ivana Hooker hamburger.
"Broward County School Board member Sarah Leonardi was invited to chaperone and she posted photos on Twitter."
Other offerings are Rhoda Cowboy, Hellena Bun, and Georgia Bleu.
If parents complain, Biden will have them arrested as domestic terrorists.
Democrats have gone from tolerance to indoctrination. Librarians have gone from Drag Queen Story Hour to stocking "The Lawn Boy" in school libraries, which feature 4th graders giving head.
Brandi Burkman, a parent, read passages at a school board meeting and said, "Who normalizes sex acts between fourth graders? Pedophiles."
KEYE-TV reported, "The Leander Independent School District says the book is not taught in any classroom and is only available to some students through the campus library."
Some students.
That's called grooming.
Which is the whole point of this movement by Democrats. They don't want all the children. Yet. They just want to pluck off a few of the more vulnerable ones. Exposing children to drag queens and gay bars will help winnow the least protected.
Corporate America promotes this perversion.
Twix sponsored this Halloween ad 👇🏻 pic.twitter.com/BqrfcmGhHY

— Libs of Tik Tok (@libsoftiktok) October 27, 2021
Twix is made in Britain, but owned by Mars of Tacoma, Washington.
The intersection of Satanism and pedophilia in a commercial for candy is just too much, and it comes after 81 million ballots installed a known pedophile as president. We have seen the liberties Biden takes with kids in public. Imagine what this pervert does in private.
We weigh a society by how well it protects the most vulnerable.
We know that this society aborts one-fourth of them.
And now the remainder are being thrown to the wolves and groomed by the perverts into accepting pedophilia.
This isn't a joke. This is America in the 21st century.