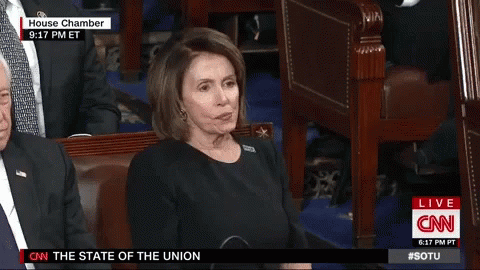 Democrats have discovered something worse than having a septuagenarian as president: having an octogenarian as House speaker.
Nancy Pelosi just suffered a week from hell. (Unkind people would say a taste of her future.)
First, Joe Manchin stopped if only temporarily her party's Only Fans donors spendathon. In response, the AOC (Already Openly Communist) Crowd stopped the bipartisan Only Everyone's Donors spendathon.
Business Insider reported
, "House Speaker Nancy Pelosi on Thursday pulled a vote on President Joe Biden's $550 billion infrastructure bill. It's a major setback for Democrats as moderate and progressive feuds deepened over Biden's domestic agenda.
The vote was yanked after it became obvious that House Democratic leaders didn't have enough support to clear the bill and send it to Biden's desk. With a three-vote margin for error in the 220-212 chamber, Pelosi had predicted success and tried brushing aside the sizable hurdles before her."
The Democrats are in the biggest political battle of their lives -- against each other.
Pelosi is in LaLaLand.
She said, "I'm only envisioning taking it up and winning it. You cannot tire, you cannot concede. This is the fun part."
Maybe she will prevail. There is nothing politicians like more than spending money they don't have. You just write that check with the string of zeros after the $1, and you feel like you are on top of the world.
But having a little old lady from San Francisco in charge of the House has led to chaos, and hopefully catastrophe as I do not want Openly Democrat people and those hiding in their RINO closets spending one damned dime.
CNN is pretending nothing is wrong as Democrat arrows fly.
The cable channel reported, "It is a rare day when Pelosi fails to control her caucus. But the veteran speaker, viewed with awe by many members for her vote-counting abilities, adopted a high-risk strategy of trying to force a vote on the first leg of Biden's forward-looking agenda. The infrastructure bill, which is the centerpiece of Biden's outreach to Republicans and his call for national unity, pours tens of billions of dollars into railroads, roads, airports and bridges.
"But openly defying her authority, progressives stood firm in their refusal to vote for the bill without Senate action on a companion $3.5 trillion transformation of health care, education and social programs. Despite frantic late-night attempts to forge a framework for that package involving Senate Democratic leader Chuck Schumer, White House officials and two holdout moderates -- Sens. Joe Manchin of West Virginia and Kyrsten Sinema of Arizona -- no deal could be reached. That forced Pelosi to finally abandon her push to hold a vote on Thursday, and lawmakers will return for more brinkmanship on Friday."
I blame Afghanistan.
Biden's sudden, confused, and disorderly flee from Kabul showed he is old, incompetent, and out of touch.
Worse, for a president, it showed he is vulnerable. We have over the centuries given presidents great power which allows them to push congressmen around. Obama succeeded in limiting President Trump's ability to wield that power. Biden has only himself to blame.
The New York Times finally owned up to this new reality with a story titled, "Biden's Slide With Key Voters: Momentary Blip or Danger Sign?
"Polls show women and other reliably Democratic voters have soured on the president's performance, raising questions about the causes of dissatisfaction."
The story said, "48% of women approve of Mr. Biden's performance in polls conducted since the fall of Kabul, down from 57% in earlier surveys by the same national pollsters."
It is worse than that but the real change is that AOC Crowd is leaving. They run the party.
Pelosi, too, looks weak now. National polls don't matter to her. How the other 219 Democrats in Congress react to her does.
She only needs 3 to balk to stop her.
I have no idea how many are balking her right now, but it is the Battle of the Little Big Horn under the dome right now.
We shall see if she is Custer or Sitting Bull.