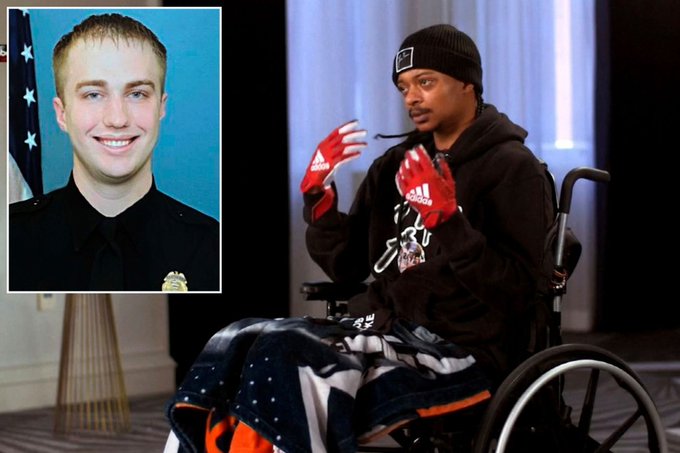 And rapist. I did not have room for that in the headline, but that is the truth: "Officer cleared for shooting attempted kidnapper and rapist."
The New York Post reported
, "The police officer who shot Jacob Blake in Wisconsin last August will not face federal charges, prosecutors said on Friday.
"Officer Rusten Sheskey, who is white, shot Blake, who is black, seven times in the back during a domestic dispute in Kenosha. The shooting left Blake paralyzed and led to widespread protests and riots, which turned deadly.
"Wisconsin prosecutors declined to charge Sheskey earlier this year after determining Blake, 30, was carrying a knife during the encounter."
The media largely focused on the color of the heroic cop who stopped the rapist and attempted kidnapper. Initial reports said he was unarmed -- and shot 7 times in front of his children.
Democrat Congresswoman Karen Bass, D-Spicable, used this incident to push for her effort to nationalize the local police. She tweeted right after the shooting and arrest of Blake, "The officer that shot Jacob Blake in the back 7 times was allowed to go back to work because there's no national standard for policing."
Our hero saved children from their abusive father.
There was more to the story than the media even now largely downplays.
The Epoch Times reported, "Rusten Sheskey with the Kenosha Police Department shot Blake seven times as he tried entering a vehicle that contained several children.
"Blake was accused of having sexual relations with a woman without her consent in May 2020. On Aug. 23, 2020, officers were called by the same woman, who said her boyfriend, Blake, was at a residence in Kenosha but wasn't supposed to be there."
So he was violating a restraining order.
You know, those things liberal women say police don't enforce.
The story said, "After officers arrived, they tried arresting Blake but he refused to cooperate and attempted to escape with the van. Sheskey then shot him to prevent him from leaving the scene.
"Blake was armed with a knife."
Communists used the incident to rationalize rioting that night in Kenosha, which destroyed a car dealership and the man who owned it. Two months after the riot, the man committed suicide.
Instead of vilifying Officer Sheskey, we should honor him for stopping a kidnapping that possibly could have ended tragically.
Once we did.
Then we elected communists like Bass, and they revel in the chaos and destruction they cause.