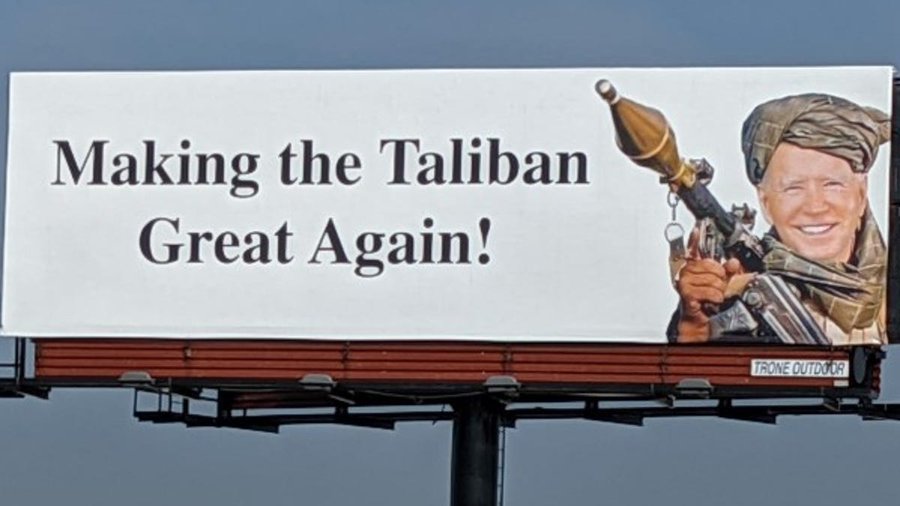 Over the weekend, the American media trotted out a new spin on Biden's sudden drop in the polls. Politico said, "It's the pandemic, stupid."
It is not the pandemic and I am not stupid. Biden surrendered Afghanistan and $90 billion in cash and American war materiel to the Taliban. To be sure, people are rebelling against his vax and mask mandates.
But kicking Afghanistan to the curb broke his presidency, Americans hate losers and they really, really hate losing wars.
Biden checks off both boxes, just as Truman did in 1952 when he did not seek re-election.
But blaming covid is better than telling the truth for Democrats, and so Politico spun it that way.
And it flat-out lied.
Politico said, "Biden's job has been complicated by some Republicans, including former President Donald Trump, who have spread anti-vaccine conspiracies and rejected vaccine and mask-wearing requirements in predominantly red counties."
That is hogwash. Without President Trump there would be no vaccines. His Operation Warp Speed gave us 3 vaccines within months not decades.
After 40 years Tony Fauci still has not given us that AIDS vaccine he promised.
According to Real Clear Politics, Biden was riding high in the polls. Through the end of August, not one single poll -- not even Rasmussen -- showed him in negative territory.
Then came his surrender in Afghanistan. 27 of the 37 polls since then have shown him in negative territory. His average is now 43% approves, 52.5% disapprove.
He is underwater but not drowned. Yet.
Politico said, "He has presided over a chaotic and deadly withdrawal from Afghanistan and faced criticism for his response to the inhumane treatment of Haitian migrants at the U.S.-Mexico border.
"But it's the pandemic that looms over it all, making it all the more difficult for the White House to turn back the slide."
It is not the pandemic. It is the authoritarianism that goes with it. Sending the FBI after parents who dare speak at school board meetings sends a chilling message to a free people. JFK said, "Ask what you can do for your country." FJB says, ask what the government will allow you to do.
Contemptible columnists Al Hunt and Charles Blow have had to admit Biden is in deep doo-doo.
Hunt wrote, "Unease is reflected in background conversations with a few Democrats, strategists, donors and officeholders. This is not just the passions of the moment, they fear, but a deeper concern that this White House may not be up to daunting challenges."
By daunting challenges, Hunt meant being president.
In his 4 years, President Trump vanquished ISIS, got Mexico to protect our border, dropped unemployment to 3.5%, and came up with a vaccine. He did so with one arm tied behind his back by Bobby Mueller and Paul Ryan.
In his first year, Biden has armed the Taliban, FUBAR-ed our border, awoken inflation, and pissed away the vaccine.
No one but an idiot would approve of those blunders after blunders after blunders.
Blow at NYT wrote, "Black voters continue to be Biden's strongest supporters on many of these metrics, but even their support seems disturbingly soft."
This may come as a surprise to Blow -- who sees himself as speaking for all black people -- but like the rest of America, black people don't like losing wars or having vax and mask mandates either.
Biden did this.
He is a one-man wrecking crew. He smashed the vaccine program that Trump set up. He smashed the border control that Trump set up.
But most ominously of all for his party, he smashed the peaceful withdrawal from Afghanistan that Trump set up.
And people are shouting Fuck Joe Biden because they reject his Loserville presidency.