'Membah folks, tmrw is COLLEGE FOOTBALL SATURDAY, so let's get those #FuckJoeBiden chants going! #FJB pic.twitter.com/7SzOvL6CJw

— Boston Bobblehead (@CarolinaOpinion) October 8, 2021
The protest against the Biden administration is not just for college football student sections anymore. Air traffic controllers shut down the airport in Jacksonville and pilots shut down Southwest Airlines over the vaccine mandate this weekend.
The rebellion has begun. It is a reminder that this nation was founded by rebels.
We stopped the tax on every printed piece of paper -- the Stamp Act -- in 1765. A decade later, we fired the shot heard 'round the world and a year after that, we declared our independence. We took on the most powerful military in the world and defeated it with long rifles and Christmas raids.
Lefties protest. Americans rebel. As president, George Washington had to send in the army to collect his whiskey tax from the hillbillies. Moonshining is not about Prohibition. It is about taxes.
As I watch the Fuck Joe Biden videos on Twitter, I recall Gil Scott-Heron's gawdawful song from 50 years ago.
"The revolution will not be televised
"The revolution will not be brought to you
"By Xerox in four parts without commercial interruptions."
He was upset with TV. Too white. He did not like the commercials: "You will not have to worry about a dove in your bedroom, the tiger in your tank, or the giant in your toilet bowl."
He was upset with three shows: "Green Acres," "Beverly Hillbillies," and "Petticoat Junction." He called the latter "Hooterville Junction."
But his revolution was televised. Before he recorded the song in April 1971, CBS had decided to cancel "Green Acres," "Beverly Hillbillies," and "Petticoat Junction," which were all produced by Paul Henning, to clear the way eventually for "All in the Family," "Maude," and "Good Times," which were all produced by Norman Lear.
Somebody fell out of favor quickly at CBS. Maybe Henning should have bought a painting by someone's kid.
Each week on "All in the Family," Lear instructed Americans on how to behave. The villain was the guy who worked sometimes two jobs to keep a roof over their heads. The good guy was the loafer going to college. The goal was to replace blue-collar veterans with college-educated meatheads.
Success!
All that is fine until you need a plumber.
A half-century later, the rebellion is against government orders, and not TV shows. It definitely is not being televised.
Broadcasters of college football and NFL games helped promote the BLM movement, which led to riots and the torching of several cities.
The broadcasters have ignored the Fuck Joe Biden chant. NBC even lied and said NASCAR fans were chanting, "Let's go Brandon."
But the chant is there, as a new generation of college students learns to defy authority and say Fuck Joe Biden. Our problem is with a president who demands we vax and wear masks.
After a year in lockdown, people are rebelling. I would be lying if I said they were all Trump supporters. But that does not matter. I praise all who act American and say Fuck Joe Biden. Reagan said, "Freedom is a fragile thing and it's never more than one generation away from extinction." A new generation rises to bring our freedom back from the brink.
The military is saying Fuck Joe Biden. Here is how the media spins it.
The Washington Post reported, "Hundreds of thousands of U.S. service members remain unvaccinated or only partially vaccinated against the coronavirus as the Pentagon's first compliance deadlines near, with lopsided rates across the individual services and a spike in deaths among military reservists illustrating how political division over the shots has seeped into a nonpartisan force with unambiguous orders.
"Overall, the military's vaccination rate has climbed since August, when Defense Department leaders, acting on a directive from President Joe Biden, informed the nation's 2.1 million troops that immunization would become mandatory, exemptions would be rare and those who refuse would be punished. Yet troops' response has been scattershot, according to data assessed by the Washington Post."
The troops defy the commander-in-chief at the risk of a dishonorable discharge, which would among other things end their right to buy a gun. That's not just skin in the game. That's flesh and bone.
Other people in uniforms are rejecting these unlawful orders.
The New York Post reported, "Seattle's already depleted police department is bracing for another setback.
"The city is poised to fire as many as 403 officers, about 40% of the 1,000-person force, for failing to take the covid 19 jab by an Oct. 18 deadline, according to local reports."
It gets worse for the establishment.
100% Fed Up rewarded, "Hundreds of firefighters in Los Angeles have filed a $1.7 billion lawsuit over the covid vaccine mandate. This comes after the Los Angeles sheriff declared he's not following the mandate.
"The 871 firefighters who have filed the lawsuit have been warned to be vaccinated by October 20th. Each of the 871 is asking for $2 million each in the case."
And worse.
CBS 47 reported, "Mass flight cancellations were blamed on limited staffing at the Jacksonville Air Traffic Control Center in Hilliard and weather Friday night, according to the FAA."
Oh, tell the truth already. Air traffic controllers stayed home because of the vaccine mandate.
Pilots, too.
WGN reported, "Hundreds of Southwest Airlines customers have been left stranded due to widespread cancellations across the country.
"The airline has said that an air traffic management program put in place due to weather has caused significant delays, although some customers say it is rumored that employees are on strike."
They are. Not all but enough to have 25% of the airline's flights canceled this weekend.
Herb Kelleher, founder of Southwest, would be out with his pilots. He brought cheap airline travel to the masses. He made Southwest's slogan "you are now free to move about the country."
The real action is at the local level. School boards not only face anger over mask mandates, but anger over teaching anti-white racism (aka CRT) and forcing people to bow to the transgendered craze. The covid lockdown exposed the CRT indoctrination.
Biden wants to treat protesters at school board meetings as domestic terrorists!
Roger Kimball said Biden's scheme is backfiring.
He wrote, "Destruction of the family has always been at the center of the collectivist project. In chapter two of The Communist Manifesto, Marx and Engels point out that the destruction of private property will never be complete until the 'abolition [Aufhebung] of the family' is accomplished. The dream is perennial among snarling misanthropists. A couple of years ago, an interview in The Nation with a radical feminist explained that if you 'want to dismantle capitalism' then you have to 'abolish the family.'
"It is worth keeping that in mind as the little drama of Merrick Garland versus the parents of America unfolds. I wrote about the attorney general's absurd but troubling memorandum shortly after it was released on October 4. As all the world knows (but only some precincts of the world admit), Garland threatened to mobilize the entire police power of the state against parents. Why?
"Because parents across the country have suddenly woken up to the wokeness haunting their schools and poisoning the minds of their children. The school boards, many of which are staffed by leftists, are pushing the Marxist ideology of critical race theory, virtue-signaling mask mandates, and forcing noisome gender identity politics on primary and secondary school students."
Speaking up at school board meetings is as American as a Norman Rockwell painting.
Salena Zito wrote that Rockwell was inspired to do his greatest work -- Four Freedoms -- by watching his neighbor, Jim Edgerton, speak against construction of a new high school because he could not afford the new tax. He had lost his entire herd of dairy cattle to a brucellosis outbreak.
Rockwell used another neighbor, Carl Hess, as the speaker.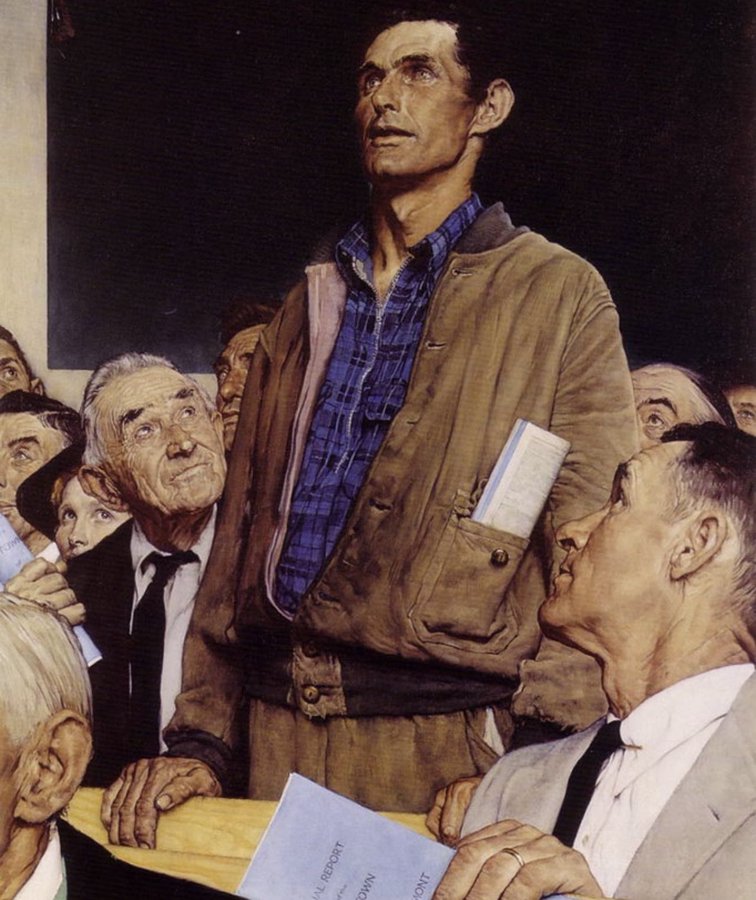 Biden wants a dairy farmer who just lost his herd to shut up? How dare that old goat call Jim Edgerton a terrorist.
I have been hearing about backlashes for most of my 68 years, and they are rare.
But I will point out that Democrat Terry McAuliffe was riding high in the polls in the race for governor of Virginia. Then came a debate with Republican candidate Glenn Youngkin.
Youngkin said, "You believe school systems should tell children what to do. I believe parents should be in charge of their kids' education."
McAuliffe said, "I'm not going to let parents come into schools and actually take books out and make their own decisions. I don't think parents should be telling schools what they should teach."
Now McAuliffe is ballot harvesting like crazy to save his campaign.
Gil Scott-Heron died a decade ago. I hesitate to say which side he would be. Dave Chappelle is taking on trannies and the BLM in NYC is protesting vaccine mandates, so this is not about race. All I know is a bunch of people are angry and they have good reason to be angry. The best-case scenario for the establishment right now is to have the matter settled at the ballot box, as were the Reagan, Gingrich, Tea Party, and Trump revolutions.
Telling yourself they are saying, "Let's go Brandon," is idiocy. And sending the FBI after parents yelling at the school board is a good way to get someone hurt. I suggest Biden back off before this revolution is televised.