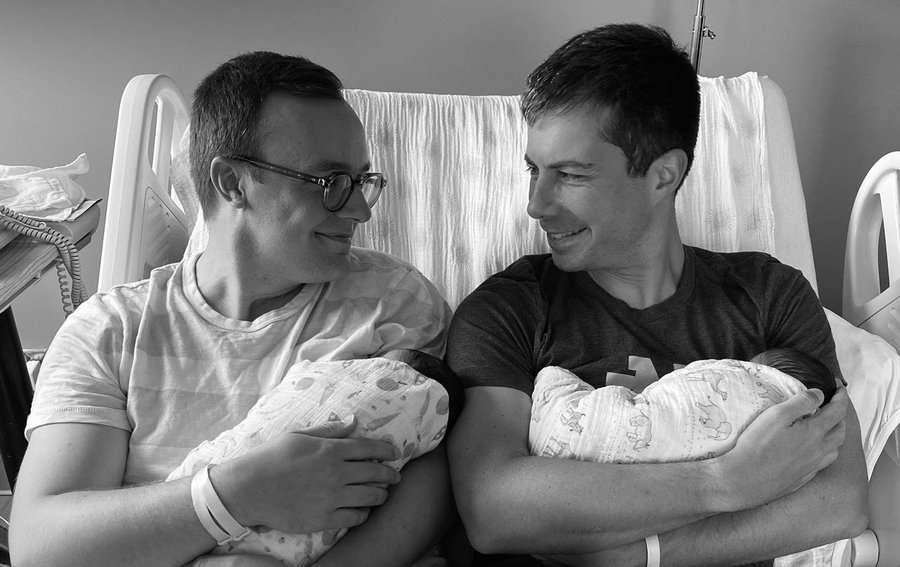 Vacationing Transportation Secretary Pete Buttigieg's paternity-leave-with-no-end-in-sight makes the case against paternity leave. On Monday, he begins the third month of his absence with pay because he and his mate adopted twins.
The adoption was a photo op. They posed on a hospital bed. And instead of looking at their new children, they gazed into one another's eyes. The babies seem like props.
Ordinarily, no one would care if a transportation secretary shows up for work or not. He is the figurehead for a conglomeration of agencies who need someone's picture to sit below the president's in its chain of command.
But for the first time since LBJ and a Democrat Congress created the post 54 years ago, we actually need a transportation secretary. The ports are clogged and cargo ships are backed up because for some reason or reasons, we cannot unload them quick enough. This leads to empty shelves because America foolishly outsourced manufacturing to slaves in Red China and sweatshops elsewhere.
What do you know? The job you could give to the gay guy so you could claim (falsely) he is the first Cabinet-level gay guy turns out to be important. A token won't do. Maybe we should bring in the first actual Cabinet-level gay guy -- Ric Grenell -- because he actually got his work done.
Now there is a school of thought that we are better off without Buttigieg. Just let him stay home and play house because he would do more damage than good. After all, he failed as mayor of South Bend and all he knows about roads is that we drive on the right side of the road.
But we are paying him. We actually need him. And he is on an endless paternity leave.
Tucker Carlson goofed on Buttigieg's paternity leave, daring to say, "Paternity leave, they call it, trying to figure out how to breastfeed. No word on how that went."
For the first time since August, Buttigieg sprung into action to tweet that said Carlson doesn't understand bottle-feeding. A father of four kids does not need instruction from a rookie so overwhelmed by his new responsibilities that he cannot show up for work.
Paternity leave makes little sense. Maternity leave allows a woman to heal after delivering a small watermelon. Men do not have that need. Our innards are not re-arranged by childbirth. Male bonding with a new child can take place after work and on weekends. Besides, there is not much to bond early on. Babies sleep a lot.
And this guy is milking it. Two months? Really? We are paying him $221,400 a year to babysit his kids?
The time has come to pull the plug on Buttigieg. Biden should tell him to show up or be fired. Every other parent in America arranges for child care. Being gay does not excuse him from this duty.
Democrats think this endless vacation makes their case for paternity leave. I trust it does the opposite because America sees this man is loafing. For the first time in history, we have a crisis that a good (or even a mediocre) transportation secretary could ease.
And there he is at home goofing off.
But Buttigieg may accomplish one thing. His loafing around the house may have killed paternity leave.