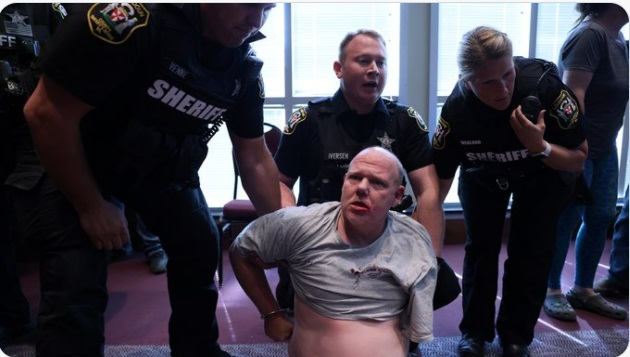 SHERIFF"S DEPUTIES ARREST SCOTT SMITH FOR SPEAKING AT A SCHOOL BOARD MEETING
.
A month ago, the National School Boards Association was riding high. It sent a letter to Attorney General Merrick Garland demanding that he investigate "domestic terrorism" by parents who say things they don't want to hear at board meetings.
Oh those poor dear school board members. Maybe they should get combat pay.
Garland complied.
The letter cited a few incidents and said, "As these acts of malice, violence, and threats against public school officials have increased, the classification of these heinous actions could be the equivalent to a form of domestic terrorism and hate crimes.
"As such, NSBA requests a joint expedited review by the U.S. Departments of Justice, Education, and Homeland Security, along with the appropriate training, coordination, investigations, and enforcement mechanisms from the FBI, including any technical assistance necessary from, and state and local coordination with, its National Security Branch and Counterterrorism Division, as well as any other federal agency with relevant jurisdictional authority and oversight.
"Additionally, NSBA requests that such review examine appropriate enforceable actions against these crimes and acts of violence under the Gun-Free School Zones Act, the PATRIOT Act in regards to domestic terrorism, the Matthew Shepard and James Byrd Jr. Hate Crimes Prevention Act, the Violent Interference with Federally Protected Rights statute, the Conspiracy Against Rights statute, an Executive Order to enforce all applicable federal laws for the protection of students and public school district personnel, and any related measure. As the threats grow and news of extremist hate organizations showing up at school board meetings is being reported, this is a critical time for a proactive approach to deal with this difficult issue."
While we are at it, why not give school board presidents nuclear weapons? Small tactical ones, of course. We would not want to overdo it.
The school boards want the full power of the federal government to silence critics and to stop people from saying things school board members do not want to hear.
What they don't want to hear is that Critical Race Theory is racist anti-white indoctrination. They don't want to hear that cloth masks don't stop any virus. And school boards really don't want to hear that a boy in a skirt raped a girl in a bathroom.
Boy do they not want to hear about that last one.
In its letter, the association cited 20 incidents. There are 14,000 school boards in America. That's a pretty paltry amount, and the cases cited were dubious.
In the letter, the organization said, "In Virginia, an individual was arrested, another man was ticketed for trespassing, and a third person was hurt during a school board meeting discussion distinguishing current curricula from critical race theory and regarding equity issues."
That was a reference to the Loudoun County School Board meeting on June 22, in which Scott Smith, 48, tried to confront the board about the rape of his daughter in the restrooms by a boy in a skirt.
The board had closed off discussion after retired state Senator Dick Black spoke. He tweeted, "The LCPS shut down the public input after the audience erupted in applause at the end of my speech. Hundreds of parents continued to rally for hours to send the message that these CRT policies are racist. Parents and teachers, stand up for your children now."
Smith then tried to speak. The board had deputies arrest him. That led to a scrum. He was charged with trespassing -- at a public meeting in a public building. He still faces a trial.
The board then shut down the meeting and continued the meeting the next day in private. I am not sure how Virginia's open meetings law works, but if it allows this, then the law needs to be changed.
The backlash surprised me. Democrat Terry McAuliffe fueled it. He is seeking his old job as governor back.
In a debate, he said, "I don't think parents should be telling schools what they should teach."
That appeased his teacher union supporters and the snob set.
But it also set in motion a process that had state school board associations withdrawing from the national board, which now has withdrawn its letter. There is no way in hell that 14,000 school boards are going to go along with branding parents domestic terrorists.
The New York Post reported, "The National School Boards Association board of directors Friday repudiated a letter its two top officials sent to President Biden, which precipitated Attorney General Merrick Garland's order that the FBI to investigate complaints of threats to school officials from parents.
"In a message to NSBA members, the board said that 'we regret and apologize for the letter,' which was sent Sept. 29 and co-signed by association CEO Chip Slaven and President Viola Garcia."
Retired Republican Congressman Peter King of New York believes Democrats stepped on a rake this time.
King wrote, "A sleeping giant has been awakened. Parents and taxpayers are taking traditional school board issues and controversies into the political arena. As parents continue to mobilize, they can be expected to bring other child-related issues — such as school violence, open borders, and the inability to buy Christmas toys — into next year's midterm congressional campaigns. This cannot be good news for Democrats, who will have to play defense on all these issues while being compelled to explain why the Biden administration has sicced the FBI on parents who publicly protest school policies.
"Intended or not, this grassroots school board movement is a real-world response to the expanded influence of progressives and socialists on government and education. The awakened giant is fighting back!"
I hope that rake hits Democrats right where it hurts.
Whap!
I believe Scott Smith stepping up for his daughter triggered this. He brought reality to a school board meeting, something you cannot have when you are pushing transgenderism and the rest of their unreal garbage.
I also believe that lefty hyperbole should carry a price.
The January 6 protest at the Capitol was not an insurrection.
A boy in a skirt is not a girl.
And Scott Smith is not a domestic terrorist. He is a father who is angry that school board policy enabled a boy in a skirt to rape his daughter, and that school officials covered up this horrific crime.