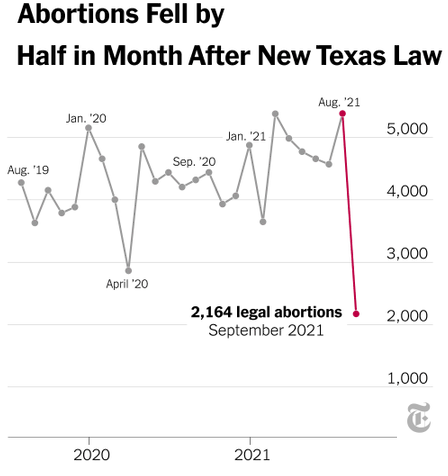 ITEM 1: The New York Times reported the new Texas law cut abortions in half. Actually it was more than half.
Roe v. Wade was based on the court overturning a Texas law. The new Texas law may overturn it.
ITEM 2: The New York Post reported, "Trump critic Adam Kinzinger won't seek re-election in 2022."
One less dumbass to primary.
ITEM 3: Politico reported, "Trouble ahead for Dems: A barrage of attacks over the economy. It's not just Republicans who are assigning responsibility to the administration for the rocky economic recovery, polls show."
President Trump guided us to the best economy in 50 years. Then came covid. Then the economy roared back under President Trump.
Then we hit a dead end called Joe Biden.
ITEM 4: The Daily Wire reported, "A judge on Thursday issued a temporary restraining order blocking President Joe Biden from firing several unvaccinated federal employees, including active-duty military members, named in the suit challenging the president's vaccinate mandate as unconstitutional."
The judge is a Clinton appointee. 78. God bless you, Judge Colleen Kollar-Kotelly.
ITEM 5: Just the News reported, "The Supreme Court on Friday rejected an emergency appeal from Maine healthcare workers attempting to block the state's vaccine mandate.
"The group of unvaccinated workers argued that the law violated their First Amendment rights because the law doesn't have a religious exemption."
The rats included Amy Coney Barrett and Brett Kavanaugh. Socialists hate religion.
ITEM 6: Washington Free Beacon reported, "In the manner of a terrorist organization accepting responsibility for an atrocious attack on civilians, the Lincoln Project and a Democratic operative claimed credit for a bizarre performance of neo-Nazi cosplay on Friday as the Virginia gubernatorial race enters its final stretch.
"Speculation swirled almost immediately after an NBC News reporter on Friday posted a photo of five dispirited young people, dressed in white shirts and khakis, holding tiki torches in front of Republican candidate Glenn Youngkin's campaign bus in Charlottesville, Va. One of the 'white supremacists' was an African-American.
"Their costumes were intended to evoke the Unite the Right rally in 2018, when white supremacist groups gathered to protest the removal of a Robert E. Lee statue. Despite the pouring rain, the cosplayers did not break character even as curious bystanders snapped photos."
The Stinkin' Project is taking one for the team as bloggers and right-wing reporters outed Democrat staffers in that false flag operation.
ITEM 7: The Hollywood Reporter reported, "Ice Cube has departed Sony's upcoming comedy, 'Oh Hell No,' in which he would've co-starred with Jack Black, after declining a request from producers to get vaccinated, sources tell The Hollywood Reporter.
"Sony had no comment. A personal representative for the star declined to comment. WME, his agency, declined to comment. 'Oh Hell No' is being produced by Matt Tolmach and Black, who both did not offer a comment.
"Ice Cube and Black partnered on the project in June. The Sony film was looking to shoot this winter in Hawaii with Kitao Sakurai, the filmmaker behind Netflix's breakout comedy 'Bad Trip,' in the director's seat. Producers on 'Oh Hell No' made the request that cast on the project would need to be vaccinated."
Mandated vaccines?
Oh hell no.
ITEM 8: Hamas-Shielding AP reported, "Over the objections of the Biden administration, the Supreme Court agreed Friday to consider a climate change case that could limit the Environmental Protection Agency's authority to curb greenhouse gas emissions. The court also said it would hear a Republican-led immigration challenge.
"The earliest the cases will be argued is 2022 and, as is typical, the high court did not explain its decision to take either case. Both are unusual, however, in that the Biden administration either has changed or said it will change the rules at the center of each case.
"On climate change, the court will review the decision of a federal appeals court that struck down one of the Trump administration's most momentous climate rollbacks. The Biden administration has said it is working on a replacement rule.
"As a practical matter, the decision to review the ruling in the case will probably make it harder for the Biden administration to move forward with a new rule to regulate planet-warming carbon emissions from the power sector.
"West Virginia, leading a coalition of 19 mostly Republican-led states, and coal companies told the high court in asking it to take the case that the appeals court's ruling would give EPA almost unlimited authority to regulate in a way that would harm the coal industry."
No matter who we put on the Supreme Court, we always seem to be playing Russian Roulette with its decisions.
Maybe we need a constitutional amendment reining the court in because it has too much power and no practical way of holding justices accountable.
ITEM 9: Apparently this fellow is a celebrity. I live under a rock.
At Terry McAuliffe's event, Pharrell Williams told the crowd it's OK if they vote for Glenn Youngkin. #VAgov pic.twitter.com/KiWLFR2HEN

— Team Youngkin (@TeamYoungkin) October 29, 2021
They cannot find someone to fully endorse McAuliffe. Now you know why his campaign sent Democrat staffers on that white supremacist dirty trick.
ITEM 10: Have you ever wondered what Jeb! would look like if he were a black woman?
Wonder no more.
Kamala fails to fire up the crowd at a McAuliffe rally tonight in Virginia. pic.twitter.com/hL109sjaRH

— The Post Millennial (@TPostMillennial) October 29, 2021
Please clap.
ITEM 11: WTOP reported, "Police in Northern Virginia are increasing their presence around shopping malls and high-volume roads and transit areas in response to a purported threat from ISIS."
Under President Trump, we eliminated ISIS.
ITEM 12: Fox reported, "A spokesperson for Terry McAuliffe's campaign is being accused of posting racist tweets in 2012.
"'#TweetLikeAGuy going out with da nigguhs,' a tweet posted in 2012 from Renzo Olivari, a McAuliffe spokesperson, said."
Maybe the tiki people weren't posing. Maybe they really are white supremacists,
ITEM 13: James Hohmann reported, "Our new Washington Post poll shows that EDUCATION is now the No. 1 issue for Virginia voters in the governor's race, edging out the economy.
"In September, education voters favored McAuliffe by 33 points, but now they tilt toward Youngkin by 9 points."
Apparently parents do not like being labeled Domestic Terrorists by Democrats.
Despite that 42-point swing on education, the Post showed his lead fell from 3 points in September to 1 point now.
Sure, sure, sure.
ITEM 14: Zero Hedge reported, "Until now, China's increasingly totalitarian regime had raged over, scolded its companies and generally cracked down over (somewhat) legitimate reasons: fledgling monopolies, information warehousing, educational profiteering, and generally anything that did not comply with Xi's new shared prosperity theme. But all that went out of the window overnight when China's Xinhua reported that four regional broadcasters were summoned for an inquiry on Friday for airing excessive entertainment programs in their satellite TV services.
"The broadcasters under question are the regional radio and TV stations of Shanghai, Jiangsu, Zhejiang and Hunan; the four were called to a meeting with officials from the CCP's central propaganda department and the State Administration of Radio, Film and Television (SARFT), Xinhua reported."
Ending excessive entertainment on TV???
Forget Winnie the Pooh.
Chairman Xi is Burgermeister Meisterburger.
ITEM 15: The New York Times said, "At World Series, Atlanta Finally Gets Its Tribute to Hank Aaron."
Oh baloney.
The city and the team honored Aaron many times and he earned it. They retired his number. They put up a statue of him.
But the story is a reminder that in moving the all-star game to Denver, MLB denied an honor to Hank Aaron. Only the brilliant play and prowess of the Braves gave MLB a second chance to honor him.
ITEM 16: Fox reported, "The Cincinnati Enquirer was called out Friday for doxxing the home address of a family that had donated money to a school board candidate through Venmo.
"The Gannett-owned paper published a story on Thursday looking into the legality of political donations accepted by local school board challengers Russ Loges and Darbi Boddy on the popular money-exchanging app.
"However, as pointed out by political strategist John Ashbrook, the Enquirer shared screenshots of Venmo that revealed the home address of one of Boddy's Venmo donors on its website."
The Enquirer sent a warning to parents: Don't rock the boat.
Any parent subscribing to the newspaper online or on paper after this is a fool.