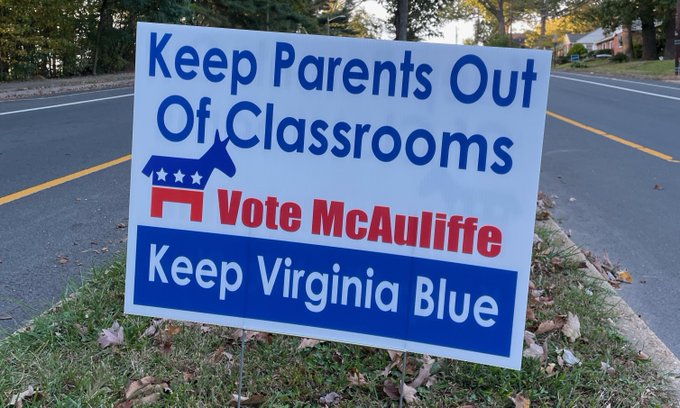 ITEM 1: Obama, Biden, and Kamala are campaigning hard as they are desperately trying to get Democrat Terry McAuliffe elected governor of Virginia for the second time. It is a state Biden "carried" by 10 points -- the widest margin in 32 years in that state. McAuliffe is running against a first-time candidate.
McAuliffe is reduced to lying about his opponent. McAuliffe told supporters, "Listen, he's got an economic plan that 43,000 teachers will be cut. $10 billion hole in education. So, I want to rebuild, and that's what I'm excited to do."
There are 89,000 teachers on the payroll in Virginia. 43,000 layoffs would cut nearly half of them. No one is going to do that.
I hope parents in Virginia show Democrats just who is in charge of the education.
ITEM 2: The New York Post reported, "Depending on whom you ask, Maine's proposed 'right to food' constitutional amendment would simply put people in charge of how and what they eat — or would endanger animals and food supplies, and turn urban neighborhoods into cattle pastures.
"For supporters, the language is short and to the point, ensuring the right to grow vegetables and raise livestock in an era when corporatization threatens local ownership of the food supply, a constitutional experiment that has never been tried in any state.
"For opponents and skeptics, it's deceptively vague, representing a threat to food safety and animal welfare, and could embolden residents to raise cows in their backyards in cities like Portland and Bangor."
For livestock, wouldn't that be the Right To Be Food?
ITEM 3: The media absolutely hates this protest.
NEW YORK - Marches in protest against vaccine Passports.

The vaccine didn't set them free and a passport that segregates humanity into clean and unclean won't either.

Hold. Your. Line. #NoGreenPass #NoVaccinePassports pic.twitter.com/EATiIE7ETV

— Bernie's Tweets (@BernieSpofforth) October 25, 2021
Not because of the opposition to the vaccine mandates but because the protesters dared wave the AMERICAN flag.
Not the BLM one. Not the Rainbow one. Not whatever is this year's eco flag.
Those are OK.
ITEM 4: The government says vaccine mandates are needed because we don't want to leave our hospitals understaffed.
(1/2) In March 2020, @ChiaraElliott worked as a PSW at LHSC and was training to become a nurse. She worked in the Covid ward & contracted Covid. After being sick for a month, she went back to the ward. Last April she became a nurse.

Chiara was terminated on Friday. Cont' #onpoli pic.twitter.com/dnLJczYK5U

— Roman Baber (@Roman_Baber) October 25, 2021
The mandates allow hospitals to fire experienced staff members.
ITEM 5: Need a reason to side with the anti-mandate protesters? This next story provides it.
Life Site News reported, "Washington, D.C. Assistant Police Chief Chanel Dickerson accused her employer of pregnancy discrimination Tuesday, saying the department threatened to fire her if she did not abort her unborn baby.
"Fox 4 reports Dickerson, one of several black female officers suing the department, made the accusation during a community meeting Tuesday at Unity Baptist Church in Northeast.
"Dickerson said she was an 18-year-old police cadet when the department pressured her to have an abortion."
Pro-choice?
She said, "I was told I had to have an abortion or be fired from the MPD cadet program. Wow. My choice to have a baby was personal, and it should've been mine alone and not for an employer ultimatum."
The only choice they gave her was between an abortion and a job. She was 18. She did not know no job is worth it.
ITEM 6: The Washington Free Beacon reported, "The Department of Education earlier this month tapped the president of the National School Board Association to serve on a federal board that tracks student progress, the latest indication of the Biden administration's collaboration with the group that compared parents to domestic terrorists.
"Education Secretary Miguel Cardona on Oct. 13 appointed National School Board Association president Viola Garcia to the National Assessment Governing Board, which develops the tests used to track student achievement across the country. Garcia was behind a Sept. 29 letter urging President Joe Biden to have the FBI monitor school board meetings for potential violence. The Department of Justice formed a task force on Oct. 4 consisting of the FBI and Justice Department's national security and civil rights divisions, sparking outrage from parents groups who say the administration is trying to stifle parents who oppose mask mandates and left-wing curricula.
"Garcia's position on the board could raise questions about whether the appointment was linked to her advocacy work at the National School Board Association. Emails reported by the Washington Free Beacon show Garcia coordinated with the Biden White House and Department of Education in the weeks before releasing the controversial letter. "These are troubling times. NSBA has been engaged with the White House and the Department of Education on these and other issues related to the pandemic for several weeks now," Garcia wrote in an Oct. 2 email obtained by the group Parents Defending Education."
This makes sense because anyone who disagrees with this administration about anything is a domestic terrorist.
And all unapproved protests are insurrections.
Our constitutional republic ended on 20 January 2021. We are trying to take it back.
ITEM 7: The Daily Caller reported, "Republican Florida Gov. Ron DeSantis said that he is planning to sign legislation during an upcoming special session that will give a $5,000 bonus to law enforcement personnel who relocate to the state of Florida."
Should we elect him in 2024 or wait till 2028?
ITEM 8: This is what a government-approved protest looks like.
Dear commuters: we are interrupting traffic this morning not to annoy you, but to force the public to confront the true dangers of unchecked climate change. If we do not act today, if @potus does not act today, NYC will be underwater by 2100. It's a matter of life and death. pic.twitter.com/2gTTal0zgA

— Extinction Rebellion NYC 🌎 (@XR_NYC) October 25, 2021
They get a police escort instead of being locked up in a paddy wagon.
ITEM 9: Hamas-Shielding AP reported, "Democrats are working frantically to shore up the revenue side of President Joe Biden's domestic package, poised to unveil a new billionaires' tax to help pay for his social services and climate change plan after earlier tax plans fizzled.
"Biden said Monday he's hopeful the talks with Congress can wrap up overall agreement on the package this week. It's tallying at least $1.75 trillion, and could still be more. Biden said it would be 'very, very positive to get it done' before he departs for two overseas global summits."
Too bad, boys. The Billionaire Bros installed him in office, so I don't care what happens to them. They won't pay it anyway. They have lawyers and accountants.
ITEM 10: CNN reported, "A CNN analysis of Biden's public schedule indicates the President has spent a significant amount of time away from the White House, particularly on weekends, since his January inauguration. Including this weekend's trip to Delaware, Biden has taken 35 personal trips and spent all or part of 108 of his first 276 days in office at one of his Delaware homes or at Camp David in Maryland. That includes partial days, like Friday -- when he spent the day at the White House and departed in the evening."
And it said, "While most presidents have prioritized taking time away from 1600 Pennsylvania Avenue, this is the most time a president has spent away from the White House on personal travel at this point in the presidency in recent history."
Wow, he has taken almost as much time off as the Paternity Leaver Pete Buttigieg.
Biden is so incompetent that his laziness is considered a blessing.
ITEM 11: The Epoch Times reported, "The largest New York City Police Department union on Monday filed a lawsuit to block a citywide covid-19 vaccine mandate that's slated to go into effect by the end of this month.
"The Police Benevolent Association union sued over Mayor Bill de Blasio's covid-19 vaccine mandate, which goes into effect for all police officers and other city workers on Friday, Oct. 29."
I liked it better when only gay men had mandates.
ITEM 12: In Music News, it is rare for a song to be both No. 1 and No. 3 on the charts.
WE DID IT. FROM BANNED ON YOUTUBE TO PASSING ADELE ON THE ITUNES CHARTS TO BECOME THE #1 SONG IN THE COUNTRY!

Stop being afraid of censorship. Stop being afraid to be cancelled. STAND UP.

Thank y'all so much! KEEP IT GOING! pic.twitter.com/rIfsJjSxEG

— CCG BRYSON (@RealBrysonGray) October 24, 2021
And now for
a long distance dedication from Alec to Halyna
.
ITEM 13: Breaking 911 reported, "Airlines operating in the United Stares will be forced to check for a passenger's proof of vaccination and require contact tracing when international visitor restrictions end next month, the Biden Administration announced Monday.
"Arriving unvaxxed travelers will need to show proof of a negative covid-19 test from within one day of departure – this includes United States citizens.
"Today's announcement means that on November 8, non-U.S. citizens who are not immigrants to the United States will be required to be fully vaccinated and provide proof of their vaccination status to fly to the United States. There will be very limited exceptions to this vaccination requirement for certain non-U.S. citizens who are not immigrants, including children under the age of 18."
So we have a vaccine mandate that excludes immigrants.
Meanwhile, actual citizens must be vaccinated or lose their job.
1951: I want my Maypo.
1981: I want my MTV.
2021: I want my Mean Tweets Back.
ITEM 14: That was then.
Planning a cookout this year? Ketchup on the news. According to the Farm Bureau, the cost of a 4th of July BBQ is down from last year. It's a fact you must-hear(d). Hot dog, the Biden economic plan is working. And that's something we can all relish. pic.twitter.com/7h9qLauIbC

— The White House (@WhiteHouse) July 1, 2021
This is now.
Thanksgiving 2021 is shaping up to be the most expensive meal in the history of the holiday. Nearly every ingredient, from the turkey to the after-dinner coffee, is expected to cost more than ever. https://t.co/JIVaUiucuC

— The New York Times (@nytimes) October 25, 2021
We went from Make America Great Again to Bidenflation in less than a year.
ITEM 15: The Daily Caller reported, "Maskless Biden Hacks A Cough Into His Hand, Then Greets People With Handshake."
Doctor Doofus strikes again.
ITEM 16: Hamas-Shielding AP reported, "A Wisconsin judge laid out the final ground rules Monday on what evidence will be allowed when Kyle Rittenhouse goes on trial next week for shooting three people during a protest against police brutality — ruling that he will allow testimony from the defense's use-of-force expert and he will allow evidence that police welcomed Rittenhouse and others carrying guns during the demonstration.
"Binger asked Schroeder to bar a video that shows police telling Rittenhouse and other armed militia members on the streets that they appreciated their presence and tossing Rittenhouse a bottle of water. The prosecutor said the video would transform the trial into a referendum on police procedure that night when it isn't relevant.
"Defense attorney Corey Chirafisi argued the video shows that police felt Rittenhouse wasn't acting recklessly. Binger countered that the shootings happened after Rittenhouse interacted with the police."
Hmm.
The kid may get a fair trial after all.
ITEM 17: Guess which state is No. 1 in stopping covid.
PSA: Florida now has the lowest COVID-19 case rate per capita of all 50 states. No mandates, no vaxpass, no forced-masking, everything is open.

Yet the media wants you to think California is doing better because they have extremist mandates. pic.twitter.com/sPxVFn3l2t

— Christina Pushaw 🐊 (@ChristinaPushaw) October 25, 2021
FINALLY, Dave Chappelle addressed the controversy over his Netflix show.
He said: "It's been said in the press that I was invited to speak to the transgender employees at Netflix and I refused. That is not true.
"If they had invited me, I would have accepted it, although I am confused about what we're speaking about.
"I said what I said, and boy, I heard what you said. My God, how could I not? You said you want a safe working environment at Netflix. Well, it seems like I'm the only one that can't go to the office anymore.
"I want everyone in this audience to know that even though the media frames this as me-versus-that community. It is not that. Do not blame the LGBTQ Community for any of this shit, this is about corporate interests and what I can say and can not say.
"For the record, and you need to know this, everyone I know from that community has been nothing but loving and supportive, so I don't know what all this nonsense is about...
"This controversy came out of my special 'Closer.' They began disiniviting me from film festivals. And now today, not a film company, not a movie studio, not a film festival, nobody will touch [my upcoming documentary 'Untitled']. Thank God for Ted Sarandos and Netflix. He's the only one who didn't cancel me yet...
"To the transgender community: I am more than willing to give you an audience, but you will not summon me. I am not bending to anybody's demands. And if you want to meet with me, I'd be more than willing to, but I have some conditions. First of all, you cannot come if you have not watched my special from beginning to end. You must come to a place of my choosing and a time of my choosing. And thirdly, you must admit that Hannah Gadsby is not funny...
"Answer the question: Am I canceled or not?"
***
Sorry but if you have to ask, you are.
Never complain. Never explain. Just move ahead. Don't let the evil little bastards define you.