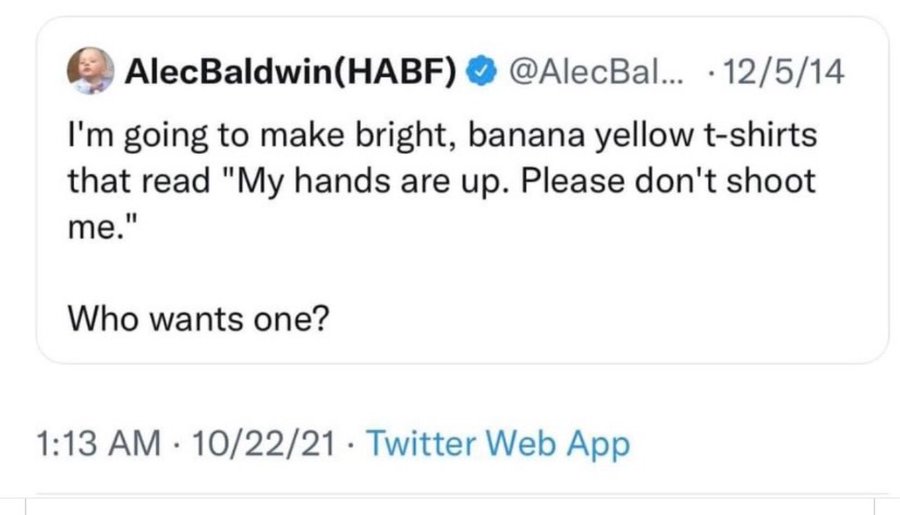 ANSWER: Halyna Hutchins. (Hat tip: Citizen Free Press.)
ITEM 1
:
WJLA reported
, "Loudoun County Public School students planned a walkout Tuesday morning to protest for safer schools after two recent assaults were reported at two different Loudoun schools.
"Crowds of students were seen outside schools in the district, including Stone Bridge, Loudoun County High School, Briar Woods High School, Broad Run High School and Lightridge High School.
"On Monday, the teen suspect in a sex assault at Stone Bridge High School in May was found guilty on all charges. The victim's legal team, The Stanley Law Group, tells 7News that the Judge determined that there were facts sufficient that the defendant committed a forcible assault.
"Scott Smith, the father of the victim, spoke to 7News investigator Scott Taylor four months after he was arrested at a Loudoun County school board meeting. He said he went there looking for answers after his daughter was assaulted."
They chanted, "Loudon County protects rapists."
Here is the walk out of students at @LCPSOfficial Broad Run High School in Loudoun County. Students in support of recent sex assault victims in the District including this school & asking for safer schools. @7NewsDC #7NewsITeam #Loudoun pic.twitter.com/CdZjqTBIdK

— Scott Taylor 7 News I-Team (@ScottTaylorTV) October 26, 2021
Old: Believe all women.
New: Believe all verdicts.
Women, Democrats no more care about you than Ted Kennedy cared about Mary Jo Kopechne.
If they cared, they would not allow a boy in a skirt in the girls' bathroom.
ITEM 2: Breitbart reported, "Sen. Tom Cotton (R-AR) slammed Facebook today in a comment to Breitbart News, arguing that it is playing favorites with political parties in the United States and should lose its Section 230 protections as a consequence."
Clinton conned a Republican Congress to create Section 230. Democrats knew they could co-opt online social media back when social media was chatrooms on AOL and CompuServe.
ITEM 3: Valley News Live reported, "In Fergus Falls, MN, hundreds of people gathered in the town for a peaceful protest in support of Dr. Jeffrey Horak outside the Lake Region Healthcare Facility. While it is not clear why Dr. Horak is no longer with the hospital, some speculate that it has to do with statements he made earlier this month at the Fergus Falls school board meeting, where he spoke out against their mask mandate."
The story said, "Dr. Greg Smith, the president of the Medical Group Board, also provided a statement to Valley News Live: 'The Medical Group Board made a decision to discontinue Dr. Jeff Horak's employment contract after a thorough review process. The Board is comprised of nine of Dr. Horak's partners, physicians in specialties ranging from Primary to Specialty and Surgical Care, who have been serving our communities for decades, and who care deeply about the people we serve together with Lake Region Healthcare.'
"Smith also said the reasons for Dr. Horak's separation are confidential. He reiterated that the decision was solely made by Horak's peers serving on the Medical Group Board and not by Lake Region Healthcare."
Well, they can always explain the reasons to a civil jury then.
ITEM 4: The Epoch Times reported, "Toilet Paper, Tissues, Diapers About to Get More Expensive: Consumer Goods Company."
The story said, "Consumer goods manufacturer Kimberly-Clark Corp. said it is planning to raise prices for the second time this year due to 'significant inflation,' according to its CEO.
"The company, which makes Kleenex and Huggies diapers, expects input costs to rise by $1.4 billion to $1.5 billion during the current fiscal year, which is above a prior estimate that called for an increase of $1.3 billion."
FJB.
Now excuse me while I make a Toilet Paper Run.
ITEM 5: Kyrie Irving is getting some old school support.
Choice is defined as an act of selecting or making a decision when faced with two or more possibilities. America gave us the choice to take the vaccine or not take the vaccine. As time moves on, that choice is gradually being stripped from us. pic.twitter.com/7F6RsWaDkL

— Floyd Mayweather (@FloydMayweather) October 25, 2021
Yes to vaccines. No to mandates. Kapeesh?
ITEM 6: Axios reported, "Confidence in President Biden's ability to rescue the economy from COVID-19 has dropped since January, even as Americans' faith rises in his ability to make the vaccine widely accessible, according to the latest installment of the Axios/Ipsos Coronavirus Index."
It was a paltry 52% confidence in January.
It is 44% confidence now.
Cliff Young, president of Ipsos U.S. Public Affairs, said, "The problem is not the unvaccinated. The problem is convincing those who are vaccinated that they have the tools to navigate a COVID world ... [and reassuring] those who've been vaccinated that they can live a normal life again."
The problem is Democrats are having too much fun forcing people through hoops. None of them wear masks when cameras are not around. Nancy got to fine MTG again. Whitmer in Michigan, Hochul in New York, and Newsom in California are going Mean Girls on their populations. The Party of Karens is having the time of their lives, even as they kill the economy.
ITEM 7: American Greatness reported, "A judge has ruled that the three men who were shot by Kyle Rittenhouse during a riot in Kenosha, Wisconsin, last year, may not be referred to as victims during the trial, but defense attorneys may refer to them as rioters, looters, or arsonists as long as they provide evidence."
Kenosha County Circuit Judge Bruce Schroeder said, "'If more than one of them were engaged in arson, rioting, looting, I'm not going to tell the defense you can't call them that. [On the other hand,] the word victim is a loaded, loaded word. Alleged victim is a cousin to it."
The right to a fair trial is still acknowledged in Kenosha, Wisconsin.
ITEM 8: We Love Trump reported, "Democrats seem to be in trouble.
"They're hemorrhaging party members, and I feel as if this could signal a red wave in 2022, as Democrats lose their majority in both chambers of Congress.
"Each one cites different reasons for leaving, ranging from the personal, to renewing their focus and future projects to state and local issues.
"Could the timing be a coincidence though?
"It's no secret that the Biden administration is failing, and perhaps these Democrats are jumping ship before they're stuck on a sinking vessel unable to escape."
Biden is his own iceberg in this replay of Titanic.
ITEM 9: Maggie Donica reported, "Minnesota Public School Encourages Students to Role Play Gay Sex Scenarios."
It is called grooming.
It is done on your dime by perverts.
And if you complain, you are a domestic terrorist.
ITEM 10: Yahoo reported, "A worker performing maintenance on a faulty water well unknowingly disturbed what was apparently a popular watering hole for snakes, Iowa photos show.
"The worker, an employee of Mort's Water Company based in Latimer, went out to check on a well earlier this month, the business told McClatchy News.
"When he arrived at the site, he pulled a pipe up from the underground well and was greeted by a slithering bundle of serpents.
"There were between 8-9 of them, all bull snakes, Mort's Water Company said in a Facebook post."
Samuel L. Jackson finally gets to do a sequel to "Snakes on a Plane."
ITEM 11: The Daily Wire reported, "Texas Republican Governor Greg Abbott signed a bill into law on Monday that effectively bans biological males from being able to compete against biological females in public schools.
"The bill, which impacts K-12 sports, is due to take effect in mid-January and is aimed at protecting fairness in sports by eliminating what opponents say is an unfair competitive advantage."
Normalizing the abnormal is what liberals do to undermine society.
Good for Old Ironsides to fight the (bad word).
ITEM 12: The New York Times reported, "Nearly every component of the traditional American Thanksgiving dinner, from the disposable aluminum turkey roasting pan to the coffee and pie, will cost more this year, according to agricultural economists, farmers and grocery executives. Major food companies like Nestlé and Procter & Gamble have already warned consumers to brace for more price increases.
"Granted, last year the cost of a Thanksgiving dinner for 10 was the lowest it had been since 2010, according to the American Farm Bureau, whose annual survey of large dinners will be released Nov. 18. But because of the pandemic, fewer people bought for big gatherings, and turkey prices were kept low to entice shoppers. This year, turkey prices are likely to hit record highs, and the cost of many foods has jumped sharply.
"There is no single culprit. The nation's food supply has been battered by a knotted supply chain, high transportation expenses, labor shortages, trade policies and bad weather. Inflation is at play, too. In September, the Consumer Price Index for food was up 4.6% from a year ago. Prices for meat, poultry, fish and eggs soared 10.5%."
I had this the other day, but Drudge finally linked it.
And there is a single culprit.
Biden.
The docks are clogged and Biden let the man (well, person) in charge take a permanent paternity leave that is now in its third month.
And Biden pumped trillions into the economy, which leads to inflation.
His is that 70s show. His Fall of Kabul was his Fall of Saigon. And now inflation is roaring.
Get President Trump back in there.
ITEM 13: The Daily Mail reported, "Gas prices continue to rise, and are now at their highest level in seven years, according to the AAA Gas Price Index.
"The national average price for a gallon of regular gasoline rose six cents over the past week to hit $3.38 on Monday, up $1.22 from a year ago, or an increase of 57%."
Oh, and did I mention Biden shut down drilling and stopped construction of pipelines?
He did.
President OPEC.
ITEM 14: The Guardian reported, "Huma Abedin, a longtime close aide to Hillary Clinton, has written in a new book that she was sexually assaulted by a US senator, an incident she buried until allegations against the Supreme Court justice Brett Kavanaugh triggered her memory years later.
"Abedin makes the shocking claim in a memoir, 'Both/And: A Life in Many Worlds,' which will be published next week. The Guardian obtained a copy. Abedin does not name the senator or his party or give any other clues as to his identity."
Ah, but she did manage to drag Donald Trump into her allegation.
She said it happened after his wedding to Melania.
As for the rape, well, he invited her to his apartment. She went. She wrote, "Then, in an instant, it all changed. He plopped down to my right, put his left arm around my shoulder, and kissed me, pushing his tongue into my mouth, pressing me back on the sofa.
"I was so utterly shocked, I pushed him away. All I wanted was for the last 10 seconds to be erased."
He stopped, apologized, and said he misread her.
Zzz.
Book deals in DC are like the opposite of Arkancide, aren't they?
ITEM 15: James Hohmann of the Washington Post wrote, "I obtained a 45-slide PowerPoint recently presented to Republican senators that summarizes findings from a previously unreported internal poll of 1,200 likely voters in 2022 suburban battlegrounds. Notable results included:
*78% agreed that 'many public-school systems in America are failing and children are falling behind the rest of the world.'
*65% agreed that 'allowing biological males to compete against women in high school and college sports is hugely unfair and will erase many of the gains women have made in athletics over the last 50 years.'
*58% agreed that 'critical race theory should not be taught in schools' because 'children should not be told they are inherently racist simply because of the color of their skin.'"
Paul Mirengoff wrote, "The GOP's advantage when it comes to education will very likely persist, and quite possibly become more pronounced."
Especially when Democrats say, "I don't think parents should be telling schools what they should teach."
ITEM 16: The New York Post reported, "A veteran prop master has revealed he was offered the job to work on Alec Baldwin's 'Rust' — but turned it down after 'massive red flags' left him convinced it was 'an accident waiting to happen.'
"Neal Zoromski told the Los Angeles Times that he was approached on Sept. 20 and initially said he was 'very interested' to work on the Baldwin-produced Western.
"But during four days of negotiations, he became alarmed that "Rust" appeared to be a slapdash production that put saving money over people's safety, he told the California paper."
A civil lawsuit seem s inevitable, but it is beginning to look a lot like prosecution.
FINALLY, the Alligator State may have the best governor.
34 days ago, @FLSurgeonGen signed a rule that empowered FL parents, eliminated healthy quarantines & kept healthy kids in school. Now, FL has the lowest COVID rate in the nation, our schools had a 76% decrease in cases since the rule became effective & a 90% decrease since August

— Ron DeSantis (@GovRonDeSantis) October 26, 2021