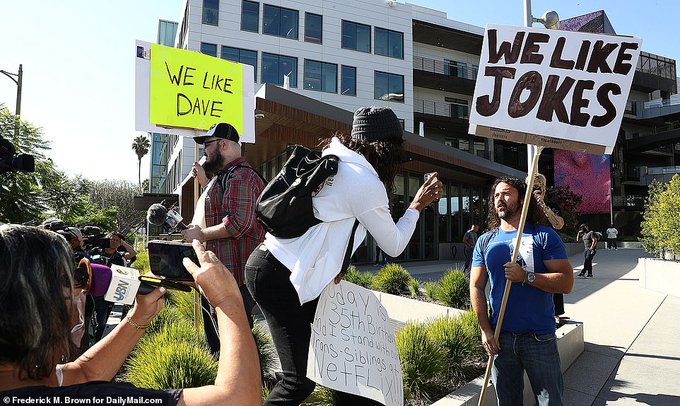 In the 21st century, liberals are the uptight reactionaries.
ITEM 1
: Now for the rest of the story.
🚨#BREAKING: Dozens of Netflix employees and their supporters staged a walkout outside Netflix Headquarters

📌#Hollywood l #California

To protest the transphobic comments made by Dave Chappelle in his latest comedy special released earlier this month by the streaming giant pic.twitter.com/zkNnSDaE95

— R A W S A L E R T S (@rawsalerts) October 20, 2021
Of course they attacked the man with the "We Love Dave" sign. They hate free speech and they hate America.
In other words, they are Democrats.
ITEM 2: CNBC reported, "Billionaire hedge fund manager Paul Tudor Jones believes inflation is here to stay, posing a major threat to the U.S. markets and economy.
"'I think to me the No. 1 issue facing Main Street investors is inflation, and it's pretty clear to me that inflation is not transitory,' Jones said. 'It's probably the single biggest threat to certainly financial markets and I think to society just in general.'
"Jones said the trillions of dollars in fiscal and monetary stimulus is the impetus for inflation to run hotter for longer. To rescue the economy from the Covid-19 pandemic, the Federal Reserve has added more than $4 trillion to its balance sheet through its open-ended quantitative easing program, while the U.S. government has unleashed over $5 trillion in fiscal stimulus."
Quantitative easing has turned millionaires into billionaires -- and turned Wall Street into a stimulus junkie.
ITEM 3: CNBC also reported, "Free community college, corporate tax hikes in peril as Democrats try to win votes for Biden's economic plan."
It is like giving Bigfoot a manicure.
This drama over a few frills is a sideshow to the real spectacle of spending trillions of dollars we don't have on programs the Constitution does not authorize.
Call the Democrat plan what it is: Empty Shelves and Higher Prices.
Under Biden, you wait for food.
BB -- Before Biden -- food wait for you.
(Stolen from Yakov Smirnoff.)
ITEM 4: Hawaii News Now reported, "The Hawaii ACLU is demanding change from the state Department of Education and HPD following the arrest of a 10-year-old girl last year."
Red flag goes up.
The story said, "Hawaii News Now asked to see the drawing, but was denied."
Every red flag in Hawaii goes up.
Attorney Mateo Caballero, who is representing the student and her mother, said, "We don't want it to be about the drawing. This is about a 10-year-old black girl who was arrested and there was no reason to believe that she was violent."
Every red flag in the world has risen.
ITEM 5: The Epoch Times reported, "Facebook has agreed to pay up to $14.25 million to settle civil claims by the federal government that the social media company discriminated against American workers and violated federal recruitment rules, officials said on Tuesday."
Pocket change.
And it proves this is not about money. This is about firing American workers because Facebook has better control over foreign workers who get deported if they quit.
ITEM 6: The New York Post reported, "Michelle Yi, who competed on CBS reality TV's 'Survivor: Fiji' in 2006, was stabbed and beaten with a metal baton by a homeless woman last Thursday in Santa Monica, California. Bloody images of the attack's aftermath have now been shared on social media by digital personality Murtz Jaffer, who bills himself as the 'World's Foremost Reality TV Expert.'
"Authorities said the alleged perpetrator had attacked two others before Yi and appeared to be off her medication, according to People. Yi, 37, arrived at the pilates studio where she was teaching a class shortly before 6 a.m., but as her students started to arrive, she noticed a disheveled woman heading toward the door."
It is not a jungle out there because California now is more dangerous than a jungle.
ITEM 7: The Daily Mail reported, "Passengers on board a metro Philadelphia train filmed a man raping a stranger for over 30 minutes, cops said, as its revealed that the alleged culprit has been living in the U.S. illegally since 2015.
"Fiston Ngoy, 35, was arrested and charged in the horrifying attack last Wednesday on board a Southeastern Pennsylvania Transportation Authority (SEPTA) train near the suburb of Upper Darby.
"Police say that as many as 10 bystanders on the train did nothing but pull out their phones to film as Ngoy sexually assaulted the stranger shortly after 9.15 pm through 9.52 pm - when an off-duty transit worker eventually called 911.
"Whether the bystanders would be penalized for recording and not intervening has caused friction between local officials after Upper Darby Police Superintendent Timothy Bernhardt said they could face criminal charges."
Shouldn't the man most responsible for keeping Ngoy in the USA be charged?
That would be Barack Obama who was president in 2015.
ITEM 8: The Washington Times reported, "The federal vaccine mandate will soon apply to Justice Department employees, contractors and visitors to its buildings, but one group it won't apply to is illegal immigrants showing up for their deportation case hearings. The migrants are deemed an exception to President Biden's mandates because they are seeking a public benefit or service.
"That means they will not have to prove they've been vaccinated or show a negative covid-19 test from the previous three days. Their attorneys are also exempt. Those exemptions aren't sitting well with immigration judges and other employees who will have to interact with the unvaccinated."
Illegal aliens have more rights than you do.
ITEM 9: A Politico/Morning Consult showed 62% of registered voters hold the Biden administration responsible for the 13-year high in inflation.
31% hold President Trump responsible for the economy. 52% hold Biden responsible,
The poll also asked, "How much have you seen, read, or heard about the following? Consumer prices in September 2021 rising 5.4% from a year ago, matching a 13-year high in inflation."
34% said a lot.
And it asked, "How much have you seen, read, or heard about the following? Law enforcement officials searching for Brian Laundrie, the former boyfriend of Gabby Petito and a person of interest in the investigation of her homicide."
47% said a lot.
America deserves a news media that covers the news.
ITEM 10: The Post Millennial reported, "White House officials don't care about religious exemptions from vaccine mandates, and they don't think people who bring religious exemptions from vaccine mandates are 'sincere' in their beliefs.
"Human Events senior editor Jack Posobiec broke the news on Human Events Daily, exposing the Biden administration's complete disregard for Americans' religious liberty rights. DOJ attorney Marty Lederman can be heard on a phone call from September advising the administration as to how to combat employees religious exemption demands from the vaccine mandate."
There is no sincerity clause in the Constitution.
Fire and disbar the lawyer.
Hey, Biden wanted Giuliani and others disbarred. It is our turn now.
ITEM 11: David Corn said Manchin was going to leave the Democrat Party. He also was the first reporter to bite on the Russian Collusion Hoax.
As expected, Manchin called it bullshit.
This whole conservative Manchin thing is a charade. Democrats want to spend $4.7 trillion as they please. Republicans gave them $1.2 trillion. That leaves $3.5 trillion, and Manchin (for now) agrees "only" to $1.75 trillion.
That's a shade under $3 trillion total -- or 4 times that first stimulus Obama had.
Biden is not on the ropes. The legislation is not DOA. There is plenty of time left to OK this overspending.
And Joe Manchin definitely is not leaving the Democrat Party, especially as it prepares to throw $3 trillion to its donor-owners.
ITEM 12: NBC reported, "Actress Ruby Rose alleges that she was fired from the CW's 'Batwoman' after being seriously injured on set.
"Rose, who starred as the title superhero character in the first season of the show, posted a series of Instagram stories Wednesday alleging that she was recast last year after two herniated discs required her to undergo surgery. She alleged that former Warner Bros. Television Group Chairman Peter Roth threatened to replace Rose because she had 'just lost the studio millions (by getting injured on his set).'
"In addition to Rose's injuries, she alleged that one crew member got third-degree burns and a production assistant was 'left quadriplegic.' Rose added in the list of allegations that the 'Batwoman' showrunner refused to suspend filming during the pandemic until local government mandates shut down the set."
The show is woke. Its title character is Jewish and lesbian.
So that makes up for treating its employees like dirt.
ITEM 13: Fox (which doesn't accept my links) reported, "With hospitals in Colorado denying unvaccinated patients organ transplants, more people are looking to Texas in the hopes of obtaining the potentially life-saving procedure.
"Colorado's UCHealth recently told Dawn McLaughlin, a woman with polycystic kidney disease, she was being kicked off the waitlist to receive a transplant because she hadn't gotten the covid vaccine, CBS4 reported.
"And earlier this month, another Colorado woman, Leilani Lutali, despite having stage 5 kidney disease, found out her hospital won't approve her kidney transplant surgery until she's gotten the covid vaccine."
Colorado has a mandate.
Texas has a heart.
ITEM 14: CBS reported, "The Duchess of Sussex has penned a letter to Congress advocating for a national paid leave program for new parents. The letter, addressed to Senate Majority Leader Chuck Schumer and House Speaker Nancy Pelosi, describes the Duchess' experience growing up and becoming a mother herself."
Will someone please explain to Her Royal Highness that we stopped being a colony in 1776.
She was born here?
So was Benedict Arnold.
ITEM 15: Via Kane at Citizen Free Press, President Trump made a little announcement.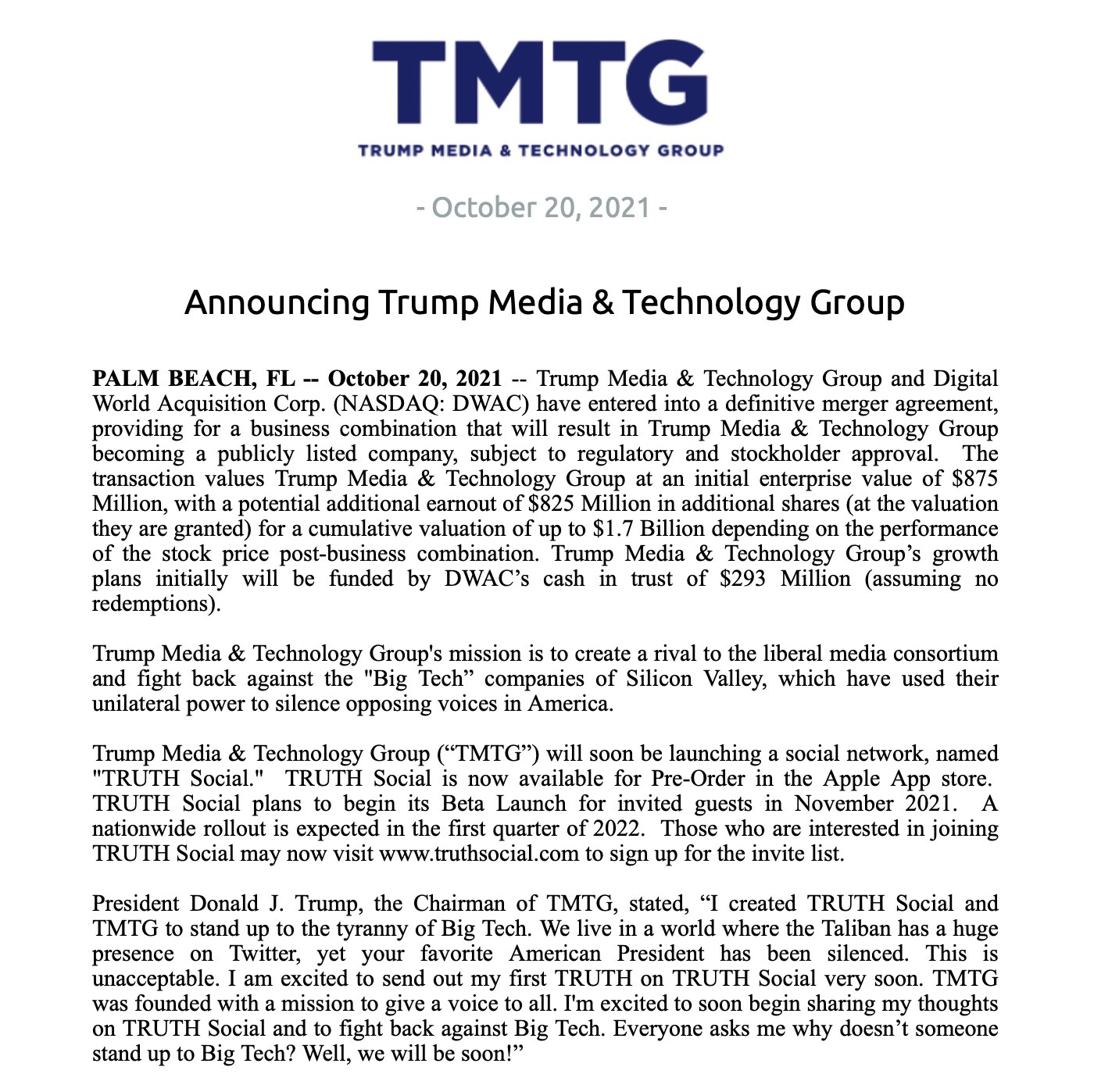 Gab, Parler, et cetera, et cetera.
But eventually we will bring down Twitter. And Donald John Trump is just the man to do it.
ITEM 16: Grinnell College released a poll showing 37% approval for FJB.
50% disapprove.
He's at 46% approval on covid, 36% on the economy, and 27% on immigration.
History shows presidential approval bounces around in the 40s and 50s. Only a cataclysmic event brings it past 60, and then it usually hits or nears 90% approval.
The danger zone is in the 30s. His Real Clear Politics average is a shade under 43%. Grinnell is either an outlier poll or a sign of trouble for FJB.
ITEM 17: Deer are dangerous, especially in rutting season.
Massive sex-crazed deer turns kiddie soccer game into stag party https://t.co/dwDOGMDA3c pic.twitter.com/SxpAW1cBf2

— New York Post (@nypost) October 20, 2021
Put down the cellphone and grab a rifle because those children are in danger.
ITEM 18
:
The Daily Mail reported
, "Three Miss France beauty pageant contestants have joined a leading feminist group in suing the contest for alleged discrimination based on their appearance.
"The 'Osez le feminisme' (Dare to be a Feminist) group, along with three failed contestants, said they were targeting the Miss France company as well as Endemol Production, which makes the annual TV program screened on the TF1 channel.
"Osez le feminisme said that it had filed a complaint with the state labour tribunal on behalf of the three former contestants, who didn't make the cut, saying they had given up trying to get their arguments across by other methods."
Dare to be a Feminist?
How about Dare to be Stupid?
We live in a post-logical world.
ITEM 19
: They tried.
The WNBA championship parade is the funniest thing I've seen in years

pic.twitter.com/CoJGTV0xT9

— Matt Walsh (@MattWalshBlog) October 20, 2021
Give them a participation trophy.
FINALLY, that Grinnell poll asked, "How much confidence do you have in your own ability to decide what is best for you—are you very confident, mostly confident, mostly doubtful, or very doubtful?"
99% said confident.
70% said very confident.
So why do we have a vaccine mandate?