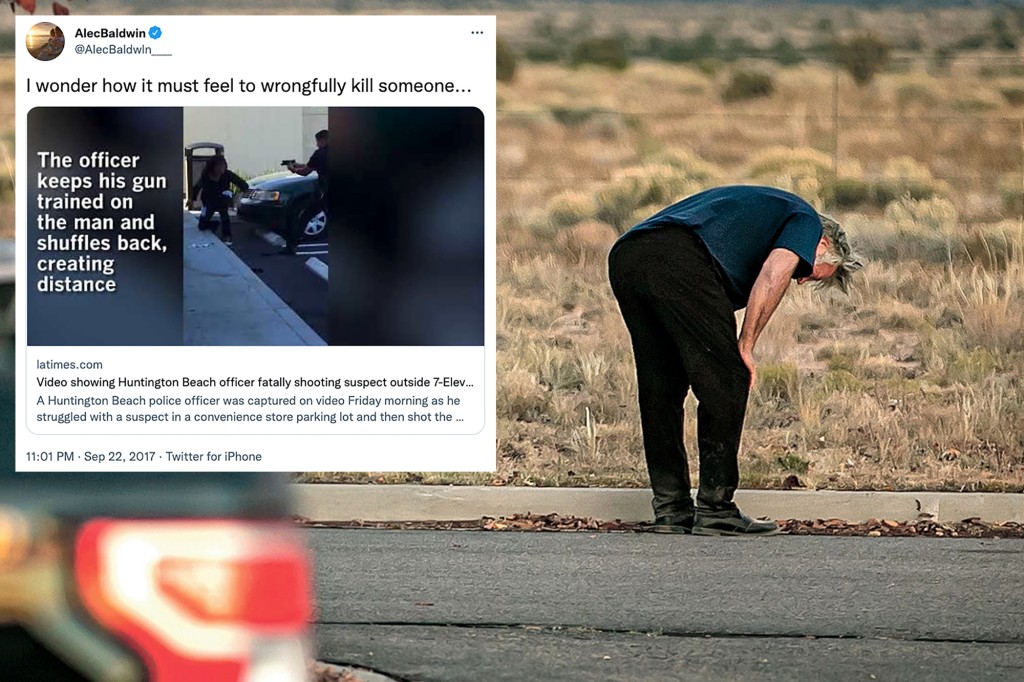 ITEM 1: Alec Baldwin tweeted in response to a police shooting on September 22, 2017, "I wonder how it feels to wrongly kill someone."
Sadly, he now knows. This isn't karma because the woman he killed, Halyna Hutchins, did nothing to warrant her death.
No, the lesson here is that Bill S. Preston (played by Alex Winter in "Bill and Ted's Excellent Adventure") was right when he said, "Be excellent to each other."
I would have to have a heart of stone not to feel some of Baldwin's pain. Please pray for him.
ITEM 2: It is not as if he isn't a jerk.
There is plenty of evidence he is a major league jerk. For example, New York magazine reported on July 22, 2008, "Alec Baldwin supposedly got really angry with Diane Sawyer after she had to reschedule their interview about his new divorce memoir because of her husband Mike Nichols's heart surgery."
You pray for him because you aren't a jerk.
ITEM 3: Hot Air reported, "Camera crew walked off set of Baldwin movie due to working conditions hours before shooting.
"Camera crews aren't responsible for handling props on the set, are they?
"Even so, this LA Times scoop raises the obvious possibility that if the camera crew was disgruntled about labor conditions, maybe the prop master was too. And if the camera crew was replaced by non-union labor, maybe the prop master was replaced by someone who wasn't up to the job.
"In fact, the bombshell here — if true — is that there were problems with props on the set before the fatal shooting yesterday.
"Per the Times, the crew was upset about long hours, low pay, and the fact that they were being asked to commute to Santa Fe from Albuquerque, a 50-mile drive, instead of being allowed to stay at hotels in town. This was a low-budget production and producers evidently didn't want to foot that bill.
"Eventually it reached the point where they walked — just hours before cinematographer Halyna Hutchins was killed."
This story just became far more interesting.
ITEM 4: Matt Posky reported, "AutoNation Wildly Profitable While Car Prices Are Grotesquely High."
AutoNation under its CEO Mike Jackson provides a service and deserves compensation.
ITEM 5: Buried in the story was this: "Supply chains remain upended due to pandemic-related restrictions and manufacturers are still suppressing output due to the chip shortage. There are even claims that the industry is cutting production intentionally to reduce overhead and artificially spur demand to keep prices high — using the chip shortage as a convenient excuse.
"Whatever the reality, vehicle demand is likely to remain high for the foreseeable future and businesses are keen to capitalize on that fact. Jackson confessed that 'pent-up demand is building' and assumed the hardcore holdouts would eventually return to the dealership once inventories stabilized a bit. Considering people across the globe have only become more interested in private vehicle ownership as the pandemic has dragged on, there's reason to believe him. But we'll have to see how things shake down in 2022."
I would not put it above companies to do this. Anyone who does business with a slave country like Red China should not be trusted.
WARNING: BAD HISTORY AHEAD.
Robert Alexander wrote at Real Clear Politics, "The Framers Likely Would've Flunked the Filibuster."
The Founding Fathers begat the filibuster.
The official U.S. Senate History says, "The tactic of using long speeches to delay action on legislation appeared in the very first session of the Senate. On September 22, 1789, Pennsylvania Senator William Maclay wrote in his diary that the 'design of the Virginians . . . was to talk away the time, so that we could not get the bill passed.' As the number of filibusters grew in the 19th century, the Senate had no formal process to allow a majority to end debate and force a vote on legislation or nominations."
Of course the Founding Fathers supported the filibuster. The Constitution protects the rights of minorities from the mob.
ITEM 6: Jordan Schachtel reported, "The Revolving Door: All 3 FDA-Authorized Covid Shot Companies Now Employ Former FDA Commissioners."
One little piggy went to Pfizer, one little piggy went to Moderna, and one little piggy ran all the way to his new home at Johnson & Johnson.
And they are far from the first.
I used to think power corrupts. Now I realize power is a magnet for corrupt people.
ITEM 7: The late night idiocy continues.
Meyers: The Taliban has reportedly instructed its religious police to be more moderate. Which means even the Taliban passed police reform before we did.

— Andrew Malcolm (@AHMalcolm) October 22, 2021
We don't have religious police who go around beheading infidels and apostates.
But we do have the Capitol Police who shoot unarmed protesters. Reform them.
ITEM 8: Jacob Rubashkin reported, "Democrats are less worried about anything McAuliffe has done than they are about the larger political environment, specifically the drop in Biden's job rating, which stood at 44% approve/50% disapprove in the latest 538 average."
Good.
Let them blame Biden.
Let McAuliffe believe that his tone-deaf response to parents concerned about schools -- "I don't think parents should be telling schools what they should teach" -- was a nothingburger.
Let them learn the hard way.
ITEM 9: Breitbart reported, "Democrat-Run Chicago Leads Pack on Orkin's 'Top 50 Rattiest Cities List.'"
You cannot spell Democrats without rats.
ITEM 10: The Catholic News Agency reported, "The Supreme Court on Friday agreed to consider two legal challenges to Texas' pro-life heartbeat law, just weeks before it hears oral arguments in another major abortion case.
"Both the Biden administration and abortion providers had challenged the Texas Heartbeat Act, a law which went into effect Sept. 1 and which restricts most abortions after detection of a fetal heartbeat. The law is enforced through private civil lawsuits.
"On Friday, Oct. 22, the U.S. Supreme Court agreed to consider both challenges to the law and expedited the cases, with oral arguments scheduled for Nov. 1. The court will consider whether the federal government can sue to block implementation of the law by the state, state courts, and private citizens; it will also consider whether lawsuits under the law can move forward, according to the website SCOTUSBlog.
"In the meantime, the court is leaving the law in place as it considers both cases."
The court may abort Roe v. Wade this session.
ITEM 11: Biden held a townhall meeting and held his hands in a peculiar position. Someone filled in the blank. Who is the dog-faced pony soldier now?
I smell a Fact Check coming from our sane, sober not biased at all media https://t.co/7wAFDXzVdG

— Christian Toto (@HollywoodInToto) October 22, 2021
Let's go Brandon! And the horse he rode in on.
ITEM 12: OutKick reported, "Biden Sees Record Drop In Approval Ratings, Sharpest Drop For Any U.S. President Since World War II."
Take THAT, Dick Nixon.
Not only does everyone want to have sex with Biden but he broke Nixon's record.
ITEM 13: Batya Ungar-Sargon wrote, "The Times has run articles declaring that wine and surfing are racist, and that it's time to 'decolonize botanical collections' by ridding them of 'structural racism'. It even ran an article about a 15-year-old girl who used the 'N-word' when she bragged about passing her driving test in a private video to a friend — which another student got his hands on and saved for three years until he could use it to get her kicked out of college.
"Stories like this seem to attract an unlimited audience in the way stories of crime once did for Joseph Pulitzer's papers. That's because articles that offend the woke person are crime stories for the affluent: stories of people just like themselves who commit crimes of thought or speech, and lose everything when they fall on the wrong side of the reigning orthodoxy. As the Twitter mob pursues small infractions as avidly as it does large ones, and as the etiquette keeps shifting, who dares trust their own ability to judge right from wrong?"
Woke is the new bigotry.
ITEM 14: Just the News reported, "A federal judge ruled Tuesday that a Guantánamo Bay prisoner was being unlawfully detained by the U.S. government.
"According to The Hill, U.S. District Court Judge Amit Mehta granted Asadullah Haroon Gul's petition for a writ of habeas corpus, subsequently ruling that the U.S. was detaining him illegally."
Obama judge.
Now do the January 6 Capitol protesters.
ITEM 15: Fox 40 reported, "Former Sacramento Kings broadcaster and popular radio talk show host Grant Napear has filed a lawsuit against the company that fired him following a controversial tweet."
He dared to tweet, "All Lives Matter."
This is America. We take free speech seriously. If the owner of KHTK, which fired him, cannot understand that, it should lose its license.
ITEM 16: The Atlantic reported:

None will dare call it an insurrection.
But thanks for exonerating Donald Trump and his supporters.
FINALLY, the LGBT protest of David Chappelle proves his point. Netflix broadcast a tape of one of his concerts. Roxane Gay wrote in the New York Times, "One of the strangest but most telling moments in 'The Closer' is when Mr. Chappelle defends DaBaby, a rapper in the news for making pretty egregious homophobic remarks."
What did Chappelle say about DaBaby's bit?
He said, "Now you know, I go hard in the paint, but even I saw that shit and was like, 'God damn, DaBaby.'
"Can't do that. Can't do that. But I do believe and I'll make this point later that the kid made a very egregious mistake. I will acknowledge that. But, you know a lot of the LBGTQ community doesn't know DaBaby's history. He's a wild guy. He once shot a nigga and killed him, in Walmart. Oh, this is true. Google it. DaBaby shot and killed a nigga in Walmart in North Carolina. Nothing bad happened to his career.
"Do you see where I am going with this? In our country, you can shoot and kill a nigga, but you better not hurt a gay person's feelings."
Alec Baldwin, take note.