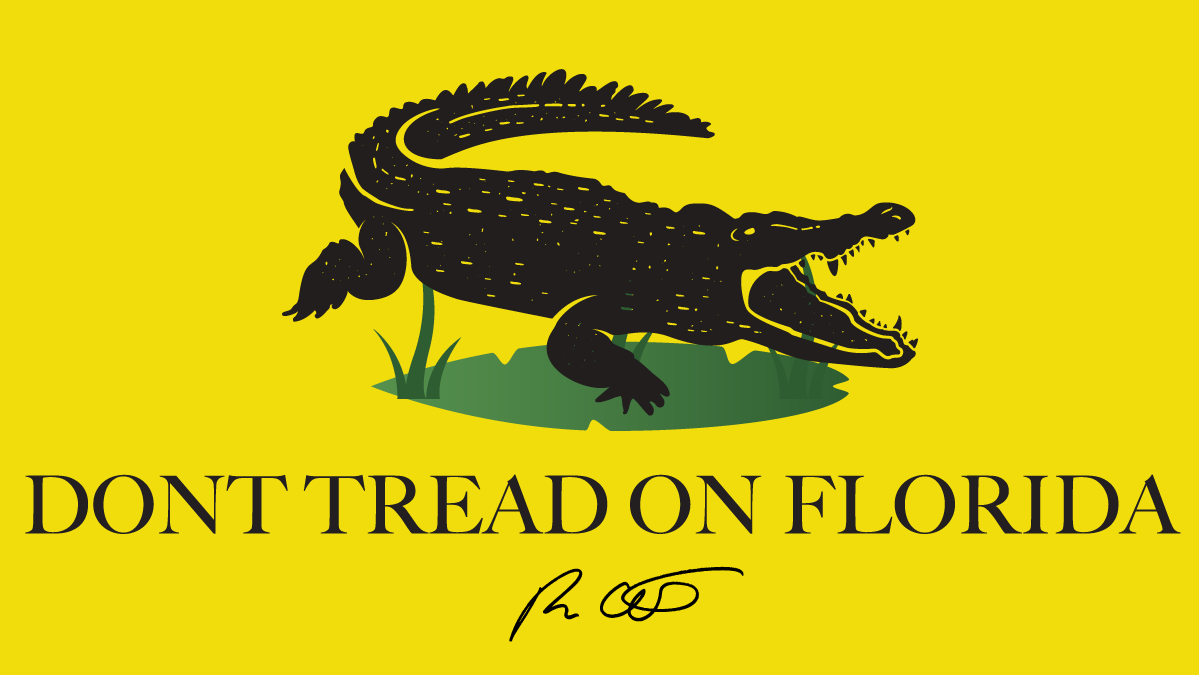 ITEM 1: While he was keeping his state's economy from being swallowed by the pandemic panic, Ron DeSantis apparently designed a new flag for Florida.
We ought to let him have a crack at the American flag.
ITEM 2: The Kanakee Daily Journal reported, "Illinois Supreme Court strikes down Cook County tax on guns."
The story said, "The taxes were challenged by the trade group Guns Save Life Inc. in a lawsuit against the county.
"The Supreme Court's Thursday opinion, written by Justice Mary Jane Theis, stated that, 'While the taxes do not directly burden a law-abiding citizen's right to use a firearm for self-defense, they do directly burden a law-abiding citizen's right to acquire a firearm and the necessary ammunition for self-defense.'
"In the 14-page, 6-0 opinion, the Supreme Court reversed an appellate court ruling that would have allowed the taxes to stay in place. Chief Justice Anne Burke did not take part in the decision."
Strict gun laws have helped Chicago become the murder capital of America.
Chicago needs more guns in the hands of law-abiding citizens. The criminals are armed despite the law.
ITEM 3: The Sun reported, "Alec Baldwin accidentally shot and killed a crew member on set of his new movie, Rust, The Sun can exclusively reveal.
"The tragic death was caused by a prop gun firing off on the set for the actor's latest film which resulted in both the cinematographer and the director getting shot."
The killing of Halyna Hutchins was an avoidable tragedy. Baldwin is a big gun control freak. If he walked his talk, he would not be making movies that have guns in them.
ITEM 4: NBC reported, "Florida's new surgeon general Dr. Joseph Ladapo during a press conference Thursday questioned the efficacy of Covid-19 vaccines, denounced all mandates in workplaces and argued people would face more health repercussions by losing their jobs because they refused to comply with requirements."
Well, if vaccinated people are getting covid, maybe the efficacy of the vaccines is overstated.
ITEM 5: Axios reported, "Sens. Joe Manchin (D-W.Va.) and Bernie Sanders (I-Vt.) squabbled behind closed doors Wednesday, with Manchin using a raised-fist goose egg to tell his colleague he can live without any of President Biden's social spending plan, Axios has learned."
Let's see, a senator from a Trump state shows he's tough against a socialist while a senator from a tree-hugging state shows he's tough against a coal state senator.
Welcome to Ring of Honor politics, folks.
ITEM 6: DCist reported, "This Is What Climate Change Will Look Like In D.C."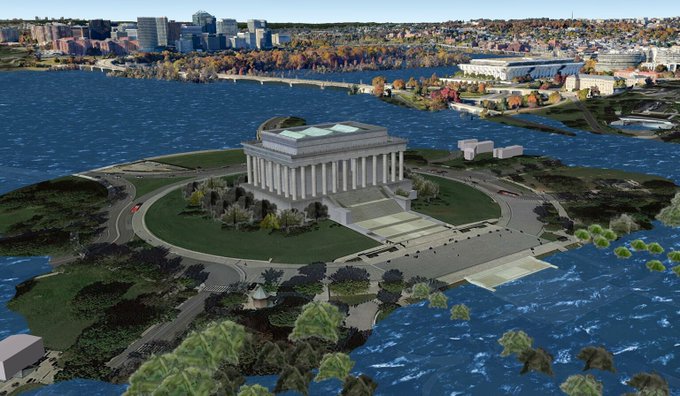 Manchin's houseboat does not look so dumb now, does it?
ITEM 7: National Review reported, "A top NIH official admitted in a Wednesday letter that U.S. taxpayers funded gain-of-function research on bat coronaviruses in Wuhan and revealed that EcoHealth Alliance, the U.S. non-profit that funneled NIH money to the Wuhan Institute of Virology, was not transparent about the work it was doing.
"In the letter to Representative James Comer (R., Ky.), Lawrence A. Tabak of the NIH cites a limited experiment that was conducted to test if 'spike proteins from naturally occurring bat coronaviruses circulating in China were capable of binding to the human ACE2 receptor in a mouse model.' The laboratory mice infected with the modified bat virus 'became sicker' than those infected with the unmodified bat virus.
"The revelation vindicates Republican senator Rand Paul, who got into heated exchanges with National Institute of Allergy and Infectious Disease director Anthony Fauci during his May and July testimonials before Congress over the gain-of-function question. At the second hearing, Paul accused Fauci of misleading Congress by denying that the U.S. had funded gain-of-function projects at the Wuhan Institute of Virology.
"Gain-of-function research involves extracting viruses from animals and artificially engineering them in a laboratory to make them more transmissible or deadly to humans."
Where is our Roy Cohn to prosecute Fauci and the rest of the traitors?
They enabled Red China to use U.S. money to build a biological weapon to use on us.
Global warming cannot come quick enough to D.C.
ITEM 8: Business Insider reported, "Influential Democratic donors who backed Pete Buttigieg in 2020 are privately chattering about prodding him to run for the White House in 2024 if President Joe Biden doesn't seek reelection, Insider has learned.
"More than two dozen Democratic donors who want to eventually see the 39-year-old transportation secretary in the White House have been attending secret and informal dinners over the summer and into late September in traditional Democratic money-raising hubs including Washington, Wall Street, and Silicon Valley, a former Buttigieg bundler who is familiar with the meetings said.
"They're driven in part by a lack of confidence in Vice President Kamala Harris' performance so far, and some don't think Buttigieg should wait in line behind Harris if Biden opts against running for a second term. Other dinner attendees think Buttigieg is better off waiting until 2028 or even later."
Forget 2024 or 2028. He's on paternity leave until the twins turn 18.
QUESTION OF THE DAY: Is there anyone in politics besides Michelle Obama who likes Kamala?
ITEM 9: Hot Air reported, "The caption on an AP photo from the Netflix walkout is completely false (and now retracted)."
Once again the leftist media smears someone who disagrees with the Official Party Line. No one is fired. The scalps pile up, while the credibility falls down. They don't care.
ITEM 10: UPI reported, "The Food and Drug Administration on Wednesday authorized boosters of the Moderna and Johnson & Johnson covid-19 vaccines and gave its approval for people to 'mix and match' booster shots.
"The agency granted emergency use authorization for the booster doses, but the Centers for Disease Control and Prevention must also give its approval before additional shots get in arms. The CDC is scheduled to meet Thursday to examine data and requests related to the available coronavirus vaccines."
Really?
You can just mix and match drugs made by different manufacturers who don't share proprietary secrets?
The FDA is no longer based on science. It is a pay-to-play service. Maybe it never was about science.
I wonder how many FDA relatives and retirees work for Big Pharma.
ITEM 11: The New York Post ran an editorial, "Democrats aim to make anyone who disagrees with them an enemy of the state."
The New York Post is now an enemy of the state, comrade.
Bear this in mind. The next Republican president must declare protests insurrections, lock up protesters indefinitely in solitary confinement, and must use the CIA and the rest to spy on political opponents.
We have to not only treat them like they treat us, but ramp it up a notch because we cannot let them get away with this.
We cannot.
RICO the Democrat Party.
ITEM 12: Instead of blowing money on a social media network, President Trump should hire private investigators and dig up the dirt on the deep state.
We must know the names of everyone's mistresses, the names of their drug dealers, and the passwords to their overseas bank accounts.
ITEM 13: News Busters reported, "DC Comics Employee Unloads on Company For 'Ruining' Superman."
He's now bi. He's an illegal alien. And he no longer fights for the American way.
It's like they bonked him on the head with Rainbow Kryptonite.
ITEM 14: Zero Hedge reported, "China Blocks All Boston Celtics Games After Enes Kanter Demands 'Dictator' Xi 'Free Tibet.'"
The story said, "Enes, who was born in Switzerland and raised partly in Turkey (by parents of Turkish origin), added in a second tweet that more than 150 Tibetans have set themselves on fire to raise awareness about the dire situation in Tibet."
Kyrie Irving. Enes Kanter. The NBA is finally getting some men to play.
ITEM 15: KCAL reported, "With the ports of Los Angeles and Long Beach now running 24/7 operations, a new problem has occurred. Many of the shipping containers that spent weeks onboard ships waiting to be unloaded are now being dumped in nearby neighborhoods once they're emptied.
"Sonia Cervantes lives along Anaheim Street, where UCTI Trucking Company is located.
"The company's lot only has a capacity for 65 containers so the additional containers now line up along Anaheim Street in front of some people's homes."
Cervantes said, "I would have to go in at 6:30 a.m. to go to work. There was a trailer already blocking my driveway so I couldn't get out. With no driver in the trailer, so we would honk and honk, and it was just crazy."
Shouldn't the police stop this?
Crazy.
ITEM 16: We Love Trump reported, "Queensland Premier Annastacia Palaszczuk said the quiet part out loud during a recent interview.
"She boldly stated quarantine facilities were needed going into 2022.
"Which Australians will be housed into these quarantine camps?
"The unvaccinated."
Unvaccinated people don't spread the virus. Even if they did, it would not harm the vaccinated.
ITEM 17: Bloomberg reported, "President Joe Biden said he doesn't think there are enough Democratic votes to raise tax rates in a deal on his economic agenda, but that he believes he'll reach an agreement on the overall legislative package."
Democrats will pass something, celebrate, and get head pats from their donor-owners.
The multi-trillion-dollar spending spree will guarantee plenty of hookers and blow for all the sons and grandsons of the Democrat politicians.
Every Democrat family is the Kennedy family now.
ITEM 18: The Daily Caller reported, "GOP lawmakers representing Maryland's three counties bordering West Virginia sent a letter Thursday to the neighboring state's General Assembly speaker and Senate president, requesting admission into West Virginia.
"Garret, Allegany and Washington county representatives asked in the two identically worded letters addressed to the West Virginia lawmakers to 'consider adding us as constituent counties to the State of West Virginia.'"
Bigger is not always better.
ITEM 19: Look for Liz's donors to close their wallets.
News: Jeff Miller, a lobbyist + close @GOPLeader friend, is warning GOP consultants - you can't work for Liz *and* Kevin

1 firm has dropped Cheney

"You're either w Kevin & the conference or the person who is undermining them"

On the ultimatum👇https://t.co/A9wUQSdLwn

— Jonathan Martin (@jmartNYT) October 21, 2021
Dead political career walking.
FINALLY, Merrick Garland appeared before a congressional committee. Republicans got some zingers in.
Fine.
But nothing will come of this. It is Benghazi 2.0 but without a dead diplomat.
Garland is attorney general because Republican senators failed Donald Trump by not having his back. This led to the Mueller circus. This undermined his presidency.
I want good governance, not zingers.