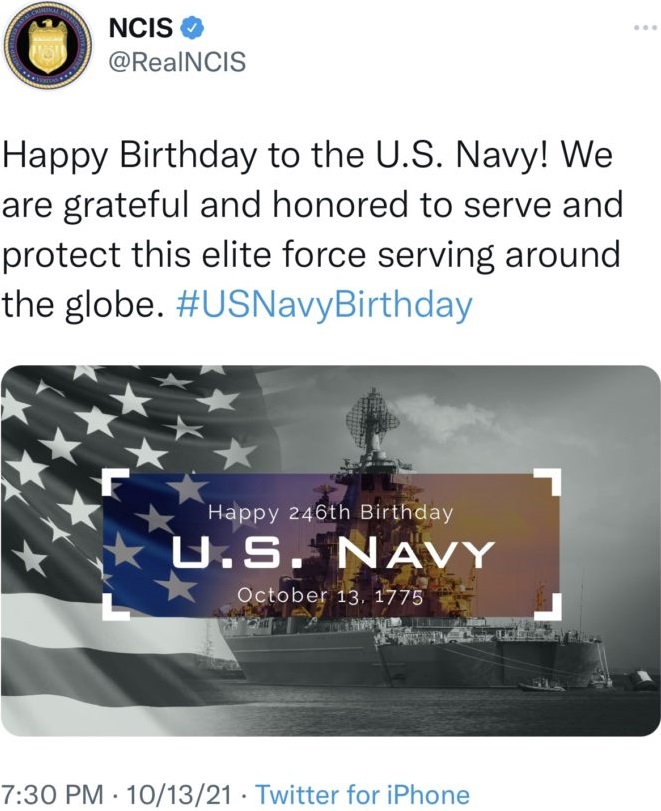 ITEM 1: Breitbart reported, "The Naval Criminal Investigative Service wished the Navy Happy Birthday in a tweet on Wednesday with a photo of a Russian ship."
Well, NCIS fell apart after Marc Harmon left.
Wait, this wasn't the TV series? This was the actual Navy unit?
Maybe it switched sides.
ITEM 2: Trafalgar Group announced its poll shows the Republican is ahead in the Virginia gubernatorial race by one point.
Fox immediately called the race for the Democrat.
ITEM 3: Trending Politics reported, "Mainstream Media SILENT After Florida Reports 3rd Lowest Rate Of Covid Infection."
Let us review. Masks did not stop the spread. Lockdowns did not stop the spread. Vaccines did not stop the spread. We are like the winless 2018 Browns. We cannot beat the spread.
Just live with it and move on.
ITEM 4: The New York Post reported, "At least 37 people were killed and over 70 wounded when explosions tore through a Shiite mosque in the southern Afghan city of Kandahar during Friday prayers—the second attack in a week that left worshipers from the minority sect dead, according to reports."
Seriously, do you want to split the USA?
The last country to do this was India. After independence, it agreed to a split. Muslims headed to Pakistan and Hindus to India. More than a million people died in battle and attacks.
ITEM 5: Breitbart reported, "A handful of open-border zealots and advocates of immigration enforcement as a deterrent have quit President Joe Biden's agencies amid infighting between the two camps over the president's chaotic and unpopular migration policies.
"The political turmoil born out of the Haitian migrant caravan that gathered at a makeshift camp in Del Rio, Texas, laid bare the months-long internal rift between political appointees with vastly different views on immigration.
"Even leftist outlets highlighted the infighting within the Biden administration, noting that it had drawn Democrat lawmakers into a rare political battle with the White House, several of them lambasting the president over his handling of the Haitian migrant crisis."
In reversing President Trump's policies which successfully drove illegal border jumping to decadal lows, Biden created a mess so foul that even open borders lobbyists cannot stand the smell.
ITEM 6: The Wall Street Journal reported, "The Food and Drug Administration is delaying a decision on authorizing Moderna Inc.'s covid-19 vaccine for adolescents to assess whether the shot may lead to heightened risk of a rare inflammatory heart condition, according to people familiar with the matter.
"After four Nordic countries strengthened their stances against giving Moderna vaccines to younger adults last week, the FDA has been taking another look at the risk of the condition, known as myocarditis, among younger men who took Moderna's vaccine, especially compared with those who received the vaccine from Pfizer Inc. and BioNTech ,the people said.
"So far, the regulators haven't determined whether there is an elevated risk, the people said. The delay could be several weeks, but the timing is unclear, one of the people said.
"The agency plans to further review data before deciding on whether to extend the vaccine's eligibility to younger people, the people said."
A vaccine that kills kids is a bad idea.
ITEM 7: ABC reported, "The Biden administration is preparing for if and when the FDA authorizes covid vaccines for kids ages 5 to 11, purchasing 65 million Pfizer pediatric vaccine doses.
"That's more than enough to fully vaccinate all 28 million U.S. children in that age group with a two-shot regimen.
"Federal officials say at least 31,000 providers have enrolled to administer the vaccines to children.
"The FDA could authorize the vaccine for kids within a few weeks."
My guess is Pfizer no longer cares if the FDA approves or not because it closed the sale.
I wonder whether Hunter's kickback was paid in cash, underage girls, or cocaine.
ITEM 8: The Washington Post said, "Climate protesters attempted to occupy the Department of the Interior on Thursday, with dozens holding a sit-in inside as those remaining outside clashed with the police who were blocking the entrance."
Climate protesters?
What the hell is that? What's next? Time protesters? History protesters?
I think the Post means communists but is too chicken to say so.
ITEM 9: The Washington Examiner reported, "A woman in Washington, D.C. , became combative and attempted to assault Capitol Police officers on Friday using a baseball bat , authorities said Friday.
"The woman, who was identified by the Capitol Police as 25-year-old Olivia Romano, came to the West Front of the Capitol at approximately 9:30 a.m. Friday carrying the bat, according to officers. Police moved in on the suspect, and she allegedly bit one officer."
She was not shot and killed because she is a liberal.
ITEM 10: The New York Post reported, "Woke Walmart has trained more than 1,000 employees in critical race theory, denouncing the US as a 'white-supremacy system'—and telling staffers to accept their 'guilt and shame' and stop thinking 'white is right,' according to leaked documents."
Walmart is not woke.
Walmart is racist.
Walmart does not want white customers.
Act accordingly.
ITEM 11: The Daily Wire reported, "Beth Barts, a far-left member of the Loudoun County School Board, has resigned from her position.
"First elected in 2019, Barts has been criticized by parent groups over Critical Race Theory and transgender policies in the school system. Her resignation, which will take effect on November 2, 2021, staves off an ongoing recall attempt."
That's one.
ITEM 12: But wait. There's more.
Fox reported, "The superintendent of Loudoun County Public Schools issued an apology and a school board member resigned on Friday as the district faces mounting backlash over its response to two alleged sexual assaults, one of which was allegedly carried out by a skirt-wearing male student in a girls' bathroom.
"Superintendent Scott Ziegler apologized for saying during a June event that the Virginia district had no record of assaults taking place in its bathrooms. His comments came amid debate about policy changes related to self-identified transgender students. Ziegler said Friday that he misunderstood the question when he made the comment."
Failure to report sex assaults is a violation of federal Title 9 rules.
The story also said, "Scott Smith, a Loudoun County father who was arrested at that June event, said this week that his daughter was sexually assaulted in a girls' bathroom at Stone Bridge High School by a male student who was wearing a skirt. The Loudoun County sheriff's office has confirmed that an on-campus sexual assault was reported on the day Smith says his daughter was victimized."
Ziegler is a pig. He needs to be canned and banned. Maybe even prosecuted.
ITEM 13: The Verge reported, "Netflix has fired a leader of the trans employee resource group who was organizing the upcoming October 20th walkout. The employee, who is Black and currently pregnant, asked not to be named for fear of online harassment. They have been encouraging trans employees and allies to walk out of work in protest of Netflix's handling of the Dave Chappelle special The Closer. The employee declined to speak to The Verge for this story."
Only the government tolerates such insubordination.
ITEM 14: The Lid reported, "In August, federal judge Judge Matthew Kacsmarykin sided with the states of Texas and Missouri by ordering the Biden administration to revive a Trump-era border policy that required migrants to stay in Mexico until their U.S. immigration court date. The supreme court refused to grant a stay as the case moved up the judicial ladder, but it didn't rule on the case's merits.
"Now, two months after the order, the Biden administration is finally ready to follow the order and restart the program providing it gets agreement from Mexico. Even if Mexico agrees with the program's revival, Team Biden will appeal Judge Kacsmarykin's ruling. They are hoping to eventually cancel the program again."
Live by the Hawaiian judge, Democrats, and die by the Hawaiian judge.
ITEM 15: The Hill reported, "Black students were suspended from their high school for planning a protest after another group of students came to school waving a Confederate flag.
"Last week, a group of students at Coosa High School in Rome, Ga., were filmed waving the Confederate flag and hurling racial slurs."
The story also said, "They did not face any repercussions."
Of course not.
The First Amendment protects the right to wave a flag, hurl insults, and say Fuck Joe Biden.
The ACLU said, "In 1969, the Supreme Court ruled that students don't shed their constitutional rights to freedom of speech or expression at the schoolhouse gate."
ITEM 16: National Review reported, "The Texas House of Representatives passed a bill on Friday mandating that transgender athletes participate in school sports teams corresponding to the biological sex listed on their birth certificate.
"The bill passed 76–54 after failing to advance on three previous attempts, and will now be sent to the state Senate for deliberation. Representative Valoree Swanson, the bill's sponsor, said it would protect women and girls from unfair competition."
Good.
ITEM 17: Quit giving Twitter good material for free.
This is exactly how the media covered McCain, right? https://t.co/Pifk8SQwER

— Fusilli Spock (@awstar11) October 15, 2021
Just stop it, I say.
But this is OK.
Biden cancelled Keystone XL and stopped oil and gas leases on federal lands.

Now, fuel prices are soaring and heating bills could rise as much as 54% this winter.

— Ronna McDaniel (@GOPChairwoman) October 15, 2021
She has to keep people informed.
ITEM 18: Human Events reported, "The Pennsylvania School Boards Association is one of 11 state boards that are officially withdrawing from the National School Boards Association following the infamous letter to the White House."
Good for PA because people who speak out at school board meetings are not terrorists, they are Americans exercising their God-given rights.
ITEM 19: The New York Times did a story on vacationing Transportation Secretary Pete Buttigieg, who after 6 months on the job has been on a 2 month vacation with his newly adopted twins.
In his absence, cargo ships have backed up at ports in California and elsewhere unable to unload.
He told the Times of his vacation, "The big thing is having a newly personal appreciation for the fact that this is work. It may be time away from a professional role, but it's very much time on."
If so, have his twins pay his salary.
Taxpayers are being screwed.
After 2 months, it is not paternity leave. It is theft of services.
QUESTION OF THE DAY:
Why is a germ considered life on Mars but an unborn baby in the womb isn't considered life on Earth?

— LifeNews.com (@LifeNewsHQ) October 15, 2021