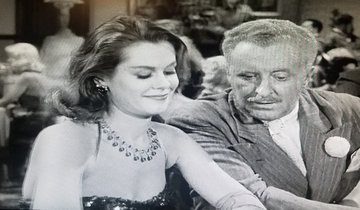 When Darren is away, Samantha and Mister Tate play.
ITEM 1
:
The Wall Street Journal reported
, "Indocency on Display at the Art Institute of Chicago. The museum fired all its volunteer greeters and guides because most were white women with above average means."
The firing of volunteer docents (as they call their greeters and guides) is racist and sexist.
It also is a warning to people of all races and sexes. Liberals will use you like toilet paper and flush you once they seize power. I am not saying the fired docents are liberals. I am saying well-off white women were the face of feminism in the 1960s, which Democrats used to elect socialists like Nancy Pelosi.
But having used them, liberals want to dump them. It is not just this institution. Liberals went after J.K. Rowling for saying women have periods.
BIPOC is the new in thing, until some other group with more votes or money comes along.
ITEM 2: Politico reported, "Bernie Sanders has been calling on Joe Manchin to support President Joe Biden's full agenda for weeks. On Friday night, Manchin signaled he's had enough of that.
"In response to an op-ed from Sanders (I-Vt.) published in Manchin's hometown paper on Friday night, Manchin snapped back: 'This isn't the first time an out-of-stater has tried to tell West Virginians what is best for them despite having no relationship to our state.'"
Sanders seems to think 48 senators are a majority and 52 are not. I hope Manchin and Sinema hang in there.
However, this may all be for show because the story also said, "Sanders' office ran a draft by Manchin's after the op-ed was submitted to the paper but before it published, according to aides in both offices. Both senators serve on Majority Leader Chuck Schumer's leadership team and come from polar opposites of the Democratic Caucus. They are often diplomatic, even when disagreeing in public."
ITEM 3: Page Six reported, "Actor Jussie Smollett will face trial over his alleged hate crime hoax beginning in late November, after a Chicago judge on Friday denied his lawyer's Hail Mary pass at getting the case dismissed."
This case is in its third year and still has not been tried.
ITEM 4: The Wall Street Journal reported, "Desperate to feed her family, Saleha, a housecleaner here in western Afghanistan, has incurred such an insurmountable debt that the only way she sees out is to hand over her 3-year-old daughter, Najiba, to the man who lent her the money.
"The debt is $550.
"Saleha, a 40-year-old mother of six who goes by one name, earns 70 cents a day cleaning homes in a wealthier neighborhood of Herat. Her much older husband doesn't have any work.
"Such is the starkness of deepening poverty in Afghanistan, a humanitarian crisis that is worsening fast after the Taliban seized power on Aug. 15, prompting the U.S. to freeze $9 billion in Afghan central-bank assets and causing a halt in most foreign aid."
Biden surrendered.
Najiba, age 3, pays the price.
ITEM 5: Scary word of the day: Hypersonic.
China fires hypersonic missile "round the Earth" in a dramatic display of advanced weapons. It caught US intelligence by surprise. pic.twitter.com/Oj1au3T6Kf

— Tim Xeriland (@Xeriland) October 17, 2021
Don't you have to travel at 5 times the speed of sound just to get into space?
ITEM 6: Media-ite reported, "Adam Kinzinger Lashes Out After Democrats Redraw His House District, Likely Ending His Congressional Career."
One less flake to primary.
ITEM 7: Zero Hedge reported, "UN Climate Change Conference Reportedly Using Diesel Generators To Charge Teslas Being Used As Shuttles."
Of course.
ITEM 8: Becker News reported, "Delta Airlines' CEO Ed Bastian appeared on Fox Business on Saturday and claimed that the airline he leads will respect employees' personal health decisions and not enforce a vaccine mandate."
The story also said, "It may be true that Delta is the only major airline that has not mandated that its employees be vaccinated for Covid-19 or be fired. But the truth is more complicated than that: Delta coerces employees to get vaccinated by slapping them with a $200 monthly fine and weekly testing if they do not comply."
Incentives, not mandates, are the way to go.
ITEM 9: The Daily Mail reported, "Father is SUING woke Loudoun County after his 15-year-old daughter was 'raped' in 'gender-fluid' girls' bathroom by a 'skirt-wearing male student' -- only for cops to arrest HIM after he complained at school board meeting."
Arresting the father of the rape victim should cost people their jobs and the school system millions.
His daughter was raped at the Altar of Transgendered Bullying.
Instead of inventing new rights, how about the government protecting the rights God gave us?
ITEM 10: The Post Millennial reported, "Dan Bongino drops MAJOR sponsor that caved to Antifa boycott campaign—'Cancelling works both ways.'"
Good for him. The world is a better place thanks to people like Bongino.
The richest people are those who do not care about money.
ITEM 11: WND reported, "Liberty Counsel on Friday announced a class action lawsuit on behalf of members of all five branches of the U.S. military – the Army, Navy, Air Force, Marines and Coast Guard – against President Joe Biden over his orders they take the experimental Covid shots or face dishonorable discharge."
Once again, the Space Force is left out.
ITEM 12: The New York Post reported, "As many as 17 U.S. Christian missionaries and their family members — including children — were kidnapped by gang members in Haiti while they were leaving an orphanage, Haitian security officials told The New York Times.
"Local officials said the missionaries were taken from a bus on its way to the airport to drop some members off in the island nation's capital Port-au-Prince before going to another location in Haiti, the paper reported."
Pray for them.
ITEM 13: Vax mandates make kids healthier...
Starting Monday (day of vaccine deadline) Seattle Public Schools is cancelling 142 bus routes due to driver shortages. Special education, McKinney Vento (families experiencing homelessness) and foster students will not be impacted. #FOX13

— Brandi Kruse (@BrandiKruse) October 15, 2021
...by forcing them to walk to school.
ITEM 14: Breitbart reported, "Secretary of Transportation Pete Buttigieg said Sunday on CNN that the supply chain backups at America's ports 'will continue into next year.'"
As will his paternity vacation.
ITEM 15: Alabama's AL.com reported, "Alexander City Schools has asked parents to start feeding their children breakfast at home or to send them to school with a snack because the district has not received food deliveries from their vendors."
Running out of food is a small price to pay so that Buttigieg can stay at home with his kids instead of doing his job.
ITEM 16: AP reported, "Bill Clinton was released Sunday from the Southern California hospital where he had been treated for an infection, and will head home to New York to continue his recovery, a spokesman said."
He walked out with Hillary on his arm. Poor guy. She's the infection that won't go away.
ITEM 17: Kane at Citizen Free Press reported, "Get paid $12,000 to move to West Virginia…"
After 70 years of economic exodus, you have to do something to win people back.
ITEM 18: Real Clear Politics reported that Biden's job approval is below 44%.
What does he care? The polls don't slow the bribes.
ITEM 19: The Epoch Times reported, "New York City residents have increasingly succumbed to overdoses on synthetic opioids such as fentanyl. These deaths have soared by more than 55% in the 12 months ending March, compared to the same period the year before.
"That means 1,778 died of this cause in the city by March 2021, compared with 1,145 by March 2020, based on estimates from Centers for Disease Control and Prevention."
The lockdown was worse than the covid.
ITEM 20: When you are a Biden, breaking the law is second nature.
President Biden & First Lady Jill caught on video MASKLESS during dinner date at the upscale Fiola Mare restaurant in Washington, DC — in violation of the district's indoor mask mandate.

pic.twitter.com/j5zYr3eF5p

— Breaking911 (@Breaking911) October 18, 2021
Impeach Brandon!
FINALLY, one of the rerun stations does a "The Untouchables" marathon on Sunday afternoons. This week included the "Rusty Heller Story" episode in which Samantha played a party girl. Both Eliot Ness and Mr. Tate were among her suitors.
The episode ended with Mr. Tate shooting Samantha and Eliot Ness killing Mr. Tate. She died in the arms of Eliot Ness.
Robert Stack said it was one of his favorite episodes because Eliot Ness almost got the girl. Plus, Elizabeth Montgomery was pretty hot stuff. David White (Mr. Tate), not so much.
UPDATE: A reader said that was Serena, not Samantha. Ah yes, the dark hair. I should have known. Good news, the Stevens marriage is saved.
That Serena is always getting her in trouble.