https://t.co/eIpumll5Bj pic.twitter.com/HNhtPxJayQ

— Biden Wears Diapers (@k_ovfefe2) October 26, 2021
ITEM 1
:
Politico reported
, "The Florida Department of Education this week stripped local school boards of federal aid money over their masking policy, directly defying the Biden administration, which cautioned the state against the sanctions.
"Florida officials yanked the federal grant money for Alachua and Broward counties that was meant to offset penalties for enacting a local mask mandate just one day after the U.S. Department of Education warned that the move would violate requirements in federal law, a clear sign that the state and feds are still at odds over Covid-19 policies."
President Trump left covid decisions to the states.
Biden wants to run the show from Washington.
More people died this year with a vaccine than last year without a vaccine.
ITEM 2: Milley said, "What we saw was a very significant event of a test of a hypersonic weapon system. And it is very concerning. I don't know if it's quite a Sputnik moment, but I think it's very close to that. It has all of our attention."
I don't know if he is bragging or complaining.
I do know that he is a traitor who failed to stop Biden's surrender of Afghanistan.
Hey, he admitted he would have stopped President Trump from doing anything to Red China. The head of the American military is openly an agent of the CCP.
No one seems to care.
Meanwhile, 1945 reported, "The Russian Air Force Has Big Plans To Get New Bombers And Stealth Fighters."
Don't worry.
Milley's 101st Transgendered Division will take care of it.
ITEM 3: The Daily Mail reported, "Former President Donald Trump wrote a letter to the editor to The Wall Street Journal to complain that a newspaper editorial didn't say the 2020 presidential election was 'rigged.'
"In a letter published by The Journal on Wednesday, Trump took offense that a WSJ editorial backing Pennsylvania Republican state Supreme Court nominee Judge Kevin Brobson said that now President Joe Biden 'won the state by 80,555.'
"'Well actually, the election was rigged, which you, unfortunately, still haven't figured out,' Trump told The Journal."
The Daily Mail also said, "Trump listed 20 bullet points to make his argument."
In 4 years as president, Donald Trump never once lied.
He still doesn't.
ITEM 4: The Hill reported, "The chairman of a Texas state House committee tasked with conducting investigations is launching a probe into books that school librarians keep on their shelves in the wake of a measure the legislature passed earlier this year to bar teaching of critical race theory in public schools.
"In a letter to the Texas Education Agency and unnamed school superintendents, state Rep. Matt Krause (R) asked school leaders to identify the number of copies of hundreds of specific books they have sitting on library shelves, and how much money the districts paid to purchase those books.
"Krause cited five Texas school districts that have recently removed some books from their libraries or classrooms after objections from parents and students. Krause asked the districts to provide information about books that deal with sexuality, sexually transmitted disease, AIDS and HIV and 'material that might make students feel discomfort, guilt, anguish, or any other form of psychological distress because of their race or sex.'"
The Hill didn't report, "After parent complaints about the use of racist epithets in 'To Kill a Mockingbird;' 'Adventures of Huckleberry Finn;' 'The Cay;' 'Of Mice and Men;' and 'Roll of Thunder, Hear My Cry', the Burbank (CA) Unified School District superintendent issued a statement removing the books from the district's required reading lists for its English curriculum and banned the use of the N-word in all school classes. The books will be allowed in classroom libraries, but no student can be required to read them. At a board meeting, the superintendent stated, 'This is not about censorship, this is about righting the wrongs of the past.'"
I don't want to hear any complaints about censorship from any liberal.
ITEM 5: The woman who would replace Biden.
This is the funniest thing you will see all day pic.twitter.com/OFeWhrqgus

— Benny (@bennyjohnson) October 27, 2021
Cackling Rose get on board. We're gonna ride till there ain't no more to go.
ITEM 6: The Epoch Times reported, "Florida Jobs Grow at Three Times US Rate, Report Shows."
The story said, "While Florida has seen consistent gains in the labor force, the nation saw a drop in job-growth rates."
DeSantis 2024.
ITEM 7: CNN whined, "Zuckerberg's power makes him untouchable."
CNN's complaint is not that he has power; it is that they want him to use his power for the Greater Evil.
ITEM 8: Hamas-Shielding AP said, "In fatal shooting, some political foes take aim at Baldwin,"
Ah, if only he had aimed at something other than Halyna Hutchins.
I love how AP made the killer the victim.
The hypocrisy of a gun control freak shooting and killing a person is lost on these mindless woke parrots.
ITEM 9: Via Citizen Free Press, chants of "We Love Trump" erupt at Biden's rally for McAuliffe.
If you really want to trigger a Democrat, chant "USA! USA! USA!"
ITEM 10: James Joyner is Professor and Department Head of Security Studies at Marine Corps University's Command and Staff College.
He wrote of Manchin and West Virginia, "Aside from vastly overstating West Virginia's role in mining coal and producing steel—they've historically been pretty far down both lists—the sense of being downtrodden and despised is thick. Then again, it's certainly true that they've been the target of federal regulation for unsafe practices. The state's coal mining practices were notoriously the worst in the industry and they're the site of the worst disaster in US coal mining history. Indeed, the Bureau of Mines was created in response to that disaster.
"Regardless, this sense that the poorest, least productive, least educated parts of society are what makes it great combined with a resentment that it's looked down upon explains a lot about the state of American politics."
This is what we teach Marines.
ITEM 11: The New York Post reported, "A group of lifeguards who were photographed carrying a 95-year-old vacationer across an Alabama beach are being praised for their kind act.
"Kimberly Waterbury, and her 95-year-old mother, Dottie Schneider, from Chandler, Indiana, headed to Orange Beach this October to vacation on the Gulf Coast.
"Schneider uses a wheelchair and was unable to walk in the sand on her own. The Beach Safety Division in the City of Orange Beach then went above and beyond after a guard first spotted Waterbury helping Schneider along the beach. The guard offered her a ride in his beach patrol vehicle and she accepted. The guard gave her the field office number, and they called every morning to let the guards know when they were ready to go to the beach."
95.
Those lifeguards carried a national treasure.
ITEM 12: Back to the evil section of the news.
Students at a Michigan State cafeteria are handing out masks for "minorities only" pic.twitter.com/TY3wMMCNkp

— Chrissy Clark (@chrissyclark_) October 27, 2021
The only systemic racism in America is against whites.
ITEM 13: Fox reported, "Andrew Ansbro, FDNY Firefighters Association President, spoke to Brian Kilmeade about the new mandates and requirements for the FDNY forcing them to get the Covid shot by Friday or they lose their jobs. Ansbro says if this mandate goes into effect the city will have to close down between 30 to 40% of the firehouses in New York City. Ansbro warns fires are going to burn longer, heart attack victims going to be laying on the floor longer for us to get there and people could be stuck in elevators for hours, if not days."
When the politicians hid from covid in their beds, the firemen, police officers, paramedics and nurses braved the unknown and showed up for work.
There are many bad politicians in America. I cannot think of anyone worse than De Blasio.
ITEM 14: Variety reported, "Because of issues around the life rights of Joan Rivers, a limited series in which Kathryn Hahn would have played the legendary comedian isn't moving forward.
"The project, called 'The Comeback Girl,' was announced last month in Variety. It had been in development at Showtime, and was to be produced by Warner Bros. Television, Atlas Entertainment and Berlanti Productions. Hahn was attached as its star and executive producer, and Greg Berlanti was going to direct and executive produce the series, which was based on a spec script by Cosmo Carlson.
"Yet Rivers' life rights, which are held by her daughter, Melissa Rivers, hadn't been secured by producers. The project could have proceeded as an unauthorized venture, but 'The Comeback Girl' wouldn't have been able to use any of Rivers' jokes or catchphrases, and, of course, risked running afoul of Melissa Rivers and the estate."

The Come Back When You Have Real Money Girl.
This is corporate incompetence at full federal government level.
ITEM 15: Reason reported, "Earlier this month, the Reno City Council passed an ordinance that prohibits people from using or possessing whips in the city's downtown without first obtaining a city permit. The policy is in response to an increasing number of 911 calls by people mistaking the periodic snaps and cracks of whips as gunshots.
"Reno City Attorney Karl Hall said that the new restrictions were commonsense whip control, reports the Reno Gazette-Journal. He stressed that the ban only applies in several downtown neighborhoods and that the archaeologists' accessory isn't restricted in other areas of the city where it might prove useful."
Am I the only who notices "commonsense" solutions always involve passing draconian laws?
ITEM 16: The New York Post reported, "Sanitation workers outraged over the order to get inoculated against covid19 are letting trash pile up across Staten Island and in parts of Brooklyn — and the head of their union said Wednesday that he's on their side.
"The protesting workers are engaging in a rule-book slowdown that includes returning to their garages for things like gloves or gas so collections don't get finished, sources said.
"Supervisors have even been warned to guard the garages this weekend to prevent trucks from getting vandalized, sources said."
Garbage mayor, garbage policies, garbage city.
ITEM 17: Conservative Brief reported, "First lady Jill Biden has been inquiring as to how to remove a sitting vice president from office, according to Human Events editor Jack Posobiec, who noted the development in a tweet.
"'Jill has been asking if there's a process to remove a sitting VP,' he tweeted on Wednesday."
A pay per view of this catfight would balance the budget.
ITEM 18: Zero Hedge reported, "A California man arrested last week for allegedly threatening to kill Rep. Matt Gaetz (R-FL) and his family is an Emmy-nominated cameraman who has worked for ABC, NBC and CNN, according to WEAR-TV.
"After the DOJ dragged its feet over the voicemail death threat left at Gaetz' office, 58-year-old Eugene Huelsman of Thousand Oaks was arrested.
"According to online databases, a Eugene Huelsman based in Thousand Oaks has worked for decades as a camera operator on film and television productions, garnering five Emmy nominations for his work on NBC's 'Late Night with Conan O'Brien.' –Politico
"'Tell [M.G.] to watch his back, tell him to watch his children,' Huelsman allegedly said, according to a grand jury indictment issued in May. 'I'm coming for him… I'm gonna f—ing kill him… I'm gonna put a bullet in you and I'm gonna put a bullet in one of your f—ing kids too.'
"On Tuesday, Gaetz confirmed to Politico that he was the target of the alleged threats — which came as he played a prominent role in advancing claims of election fraud in the 2020 US presidential election."
The James T. Hodgkinson Gun Club must be having a membership drive.
ITEM 19: Less than a week before the election, Terry McAuliffe holds a rally in Danville.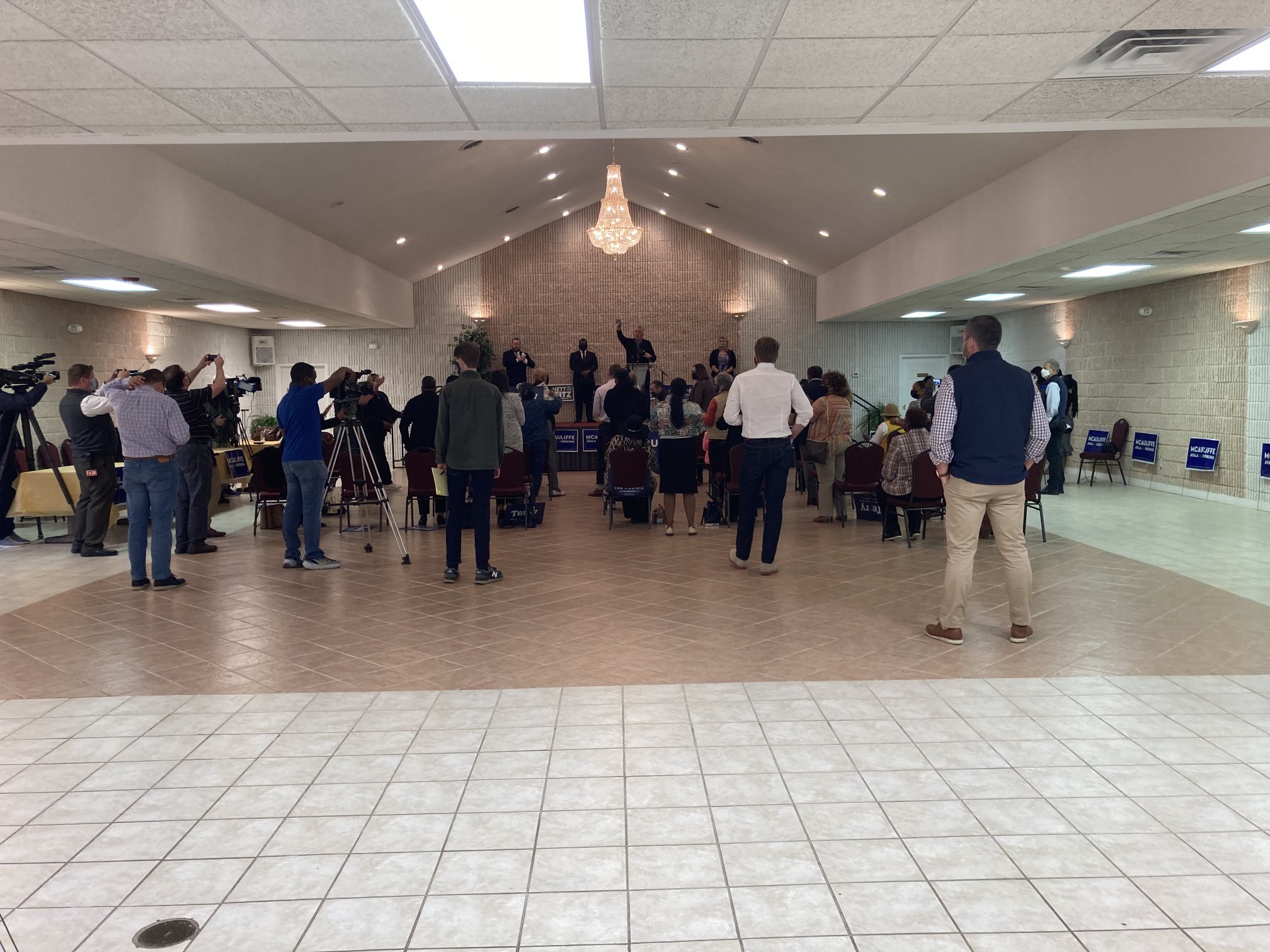 But he'll get 81 million votes.
ITEM 20: The Wall Street Journal reported, "Cigarette Sales Rose in 2020 for First Time in 20 Years."
So, it wasn't Big Pharma that was behind the pandemic panic.
It was Big Tobacco.
I should have bought tobacco stock last year.
ITEM 21: WKYC reported, "The Cleveland flat-track roller derby team known as the Guardians filed a federal lawsuit Wednesday to block the Cleveland Indians/Guardians baseball team from using the same name."
Of all the names in the world, they had to pick this one.
Why not Cleveland Rocks?
Everyone under 90 wanted that name.
But noooooo!
Enjoy deposition and discovery, lads.