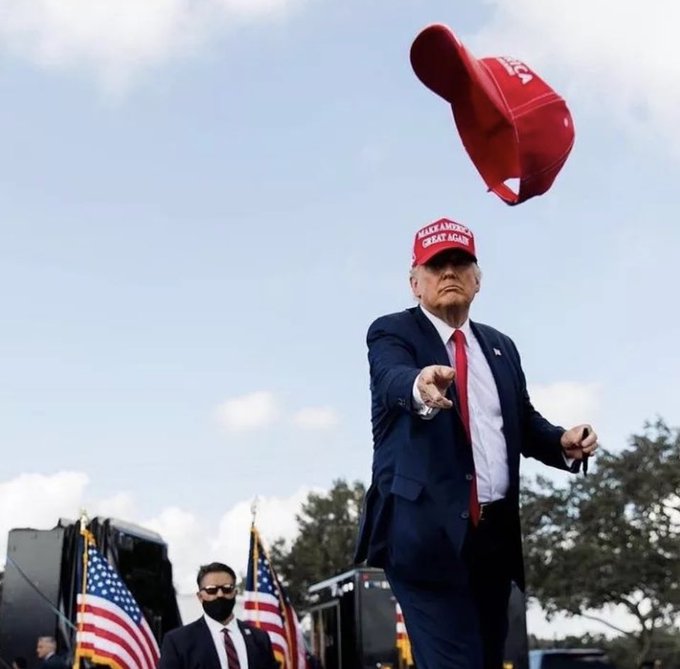 MAGA versus FJB in 2024?
ITEM 1
:
The New York Post reported
, "Mayor Bill de Blasio is phasing out New York City's Gifted and Talented program, he announced Friday — bowing to critics who assert that the coveted model is racist.
"Current students in the accelerated learning program can stay in their separate schools and classrooms to completion. But new cohorts will be completely eliminated by fall 2022, ending testing for kids as young as four.
"The model — which admits roughly 2,500 kids per year — is being replaced by Brilliant NYC, a program offering students aged 8 and up chances for accelerated learning while staying in their regular classrooms with other pupils.
"The Department of Education said teachers would identify kids best suited for the new initiative."
This is a hate crime because they changed the policy because too many Asian kids were doing well.
ITEM 2: John Nolte observed, "With his poll numbers cratering, we have only seen the beginning of His Fraudulency Joe Biden's dangerous and destructive radicalism.
"And once we hit a recession, which is almost certainly imminent, Biden will become even more desperate and dangerous.
"Biden is already flooding America with hundreds of thousands of unvaccinated illegal aliens, is already using his Gestapo FBI to terrorize parents opposed to Critical Race Theory as domestic terrorists, is already thrilling the Global Warming cult by wrist-flicking the horror of inflationary energy prices that threaten to pull the poor underwater this winter, and is already ordering fascist and unconstitutional vaccine mandates."
Nolte nailed it.
ITEM 3: Anthony Watts wrote, "This past week, Syukuro Manabe, Klaus Hasselmann, and Giorgio Parisi were awarded the 2021 Nobel Prize in Physics for research that led to early computer models of the Earth's climate. On the face of it, some people might think this is a grand achievement. In reality, unlike many Nobel-worthy accomplishments that are based on hard data or newly known processes, this one was simply a guess. Incredibly, we still don't have an answer, more than 60 years later."
Well, they gave an Emmy to Andrew Cuomo so why not give these crackpots a Nobel?
ITEM 4: Business Insider reported, "Democrat Sen. Joe Manchin sided with Senate Republicans in strongly disapproving of a fiery, partisan speech by Senate Majority Leader Chuck Schumer on Thursday night before a vote to raise the debt ceiling by $480 billion.
"Manchin reportedly told Schumer his speech was 'fucking stupid,' while Republican Sen. Mitt Romney of Utah said it was a 'time to be graceful' after 11 Senate Republicans had voted to break a GOP filibuster and allow the vote to take place."
Sometimes when you spike the ball, it bounces back right into your smug and arrogant face.
ITEM 5: Salon reported, "Biden is frustrated that Sen. Kyrsten Sinema, D-Ariz., is refusing to budge in negotiations on his Build Back Better plan and won't even return his calls, according to CNN."
If the Taliban, Chairman Xi, and Kim Jong Un can ignore him, why not her?
And you thought Mister Irrelevant was the last man taken in the NFL draft.
ITEM 6: Becker News reported, "Donald Trump, 45th President of the United States, has instructed four top aides to defy sweeping subpoenas issued by the partisan January 6 commission. The act of defiance is provoking desperation among 'Never Trump' operatives and partisan leftists who believe that the House committee lacks the political will to enforce the subpoenas."
Liz Cheney has to be fuming.
ITEM 7: The Epoch Times reported, "White House officials said President Joe Biden's covid 19 vaccine mandate for all federal workers and contractors allows for some religious or medical exemptions, but agencies may still fire certain employees where no other safety protocols are enough."
The virus is not a threat to the nation.
The edicts are.
ITEM 8: Citizen Free Press reported, "Fox News Decision Desk Director Arnon Mishkin, who called Arizona for Biden during the 2020 election, will return for the network's coverage of the 2022 and 2024 elections, according to a new report.
"Fox News media correspondent Howard Kurtz reported Jared Kushner, the president's son-in-law and a senior White House adviser, had called Fox News owner Rupert Murdoch to complain about Mishkin's call of Arizona.
"After the Arizona call he made last November, The Trump campaign issued a statement attacking Mishkin as a 'Hillary Clinton-voting, Biden-donating Democrat.' Mishkin was awarded a fellowship at the Institute of Politics at Harvard University's Kennedy School earlier this year."
Fox is the Bill Kristol of TV news.
Ahoy!
ITEM 9: CNBC reported, "The Organization for Economic Cooperation and Development on Friday announced a major breakthrough on corporate tax rates, after years of disagreement.
"The group of developed nations agreed to a global minimum corporate tax rate of 15%. This marks a huge shift for smaller economies, such as the Republic of Ireland, which have attracted international firms — to a large extent — via a lower tax rate."
West Virginia should become a corporate tax sanctuary state, which would allow companies to skip paying the global tax.
If California can ignore immigration law, we can ignore tax laws.
ITEM 10: The Hill reported, "Democrats are worried about another White House bid by former President Trump, something that is appearing increasingly likely on the eve of an Iowa rally by the leading potential GOP candidate.
"Democrats say Trump can't be taken for granted. While some are confident a new Trump candidacy would bring out a wave of Democratic voters to defeat him, others are worried he could return to power. And that's enough to bring shudders to most in the party."
Had they not cheated in 2020, he would be gone in 2024. But noooooooo! They had to cheat.
ITEM 11: Hamas-Shielding AP reported, "Firefighters and numerous studies credit intensive forest thinning projects with helping save communities like those recently threatened near Lake Tahoe in California and Nevada, but dissent from some environmental advocacy groups is roiling the scientific community.
"States in the U.S. West and the federal government each year thin thousands of acres of dense timber and carve broad swaths through the forest near remote communities, all designed to slow the spread of massive wildfires.
"The projects aim to return overgrown forests to the way they were more than a century ago, when lower-intensity blazes cleared the underbrush regularly and before land managers began reflexively extinguishing every wildfire as soon as possible."
Environmentalists usually know nothing about the environment.
ITEM 12: The Washington Examiner reported, "The price of coal has exploded this year as worldwide demand has surged, but mining operations in the United States are struggling to keep up.
"The price of central Appalachia coal averaged $73.25 per short ton, according to the U.S. Energy Information Administration's most recent report."
No miners, no coal. Baby boomers have retired and their sons and grandsons have moved on to other lines of work.
As I said the other day, the canary in the coal mine is that no canaries are going into the coal mines.
ITEM 13: Fox reported, "Abby Johnson responds to Billie Eilish on abortion: An unborn baby is 'NOT. YOUR. BODY.'"
Eilish is a teen singer.
Johnson is a former director of Planned Parenthood. She said, "News Flash: If it has a separate heartbeat and DNA than you, it's NOT. YOUR. BODY!"
ITEM 14: The Hill reported, "A U.S. court of appeals temporarily reinstated Texas's six-week abortion law, issuing an administrative stay of a preliminary injunction granted to the Biden administration earlier this week by a federal judge that blocked the controversial law's implementation.
"'It is ordered that Appellant's emergency motion to stay the preliminary injunction pending appeal is temporarily held in abeyance pending further order by this motions panel,' the 5th Circuit Court of Appeals ruled on Friday. The U.S. court of appeals directed the Department of Justice to respond to the emergency motion by 5 p.m. next Tuesday."
Fetal rights are human rights.
ITEM 15: People magazine reported, "Urban Meyer's wife is speaking out after viral photos and videos showed her husband getting close to another woman at a bar in Ohio over the weekend."
Meyer is the head coach of the Jacksonville Jaguars. She tweeted, "We all make mistakes-we are all sinners. If you think you aren't? Then cast the first stone."
I get that we are all sinners, but must we all become prudes as well? His critics need to re-watch "Footloose."
ITEM 16: The Daily Caller reported, "The New York Times (NYT) issued a correction Thursday after overstating the number of kids who have been hospitalized in the U.S. with the coronavirus.
"The article, originally published Wednesday, discussed COVID-19 cases among children. 'Nearly 900,000 children have been hospitalized with Covid-19 since the pandemic began, and about 520 have died,' NYT reporter Apoorva Mandavilli initially wrote.
"An updated correction said the original publication "misstated the number of Covid hospitalizations in U.S. children. It is more than 63,000 from August 2020 to October 2021, not 900,000 since the beginning of the pandemic.'"
Donald McNeil, a 45-year veteran at NYT, covered covid until he was fired last year after complaints from rich teens he escorted on a trip to Peru.
Competence does not matter. He was old and white. Mandavilli isn't. She is just incompetent.