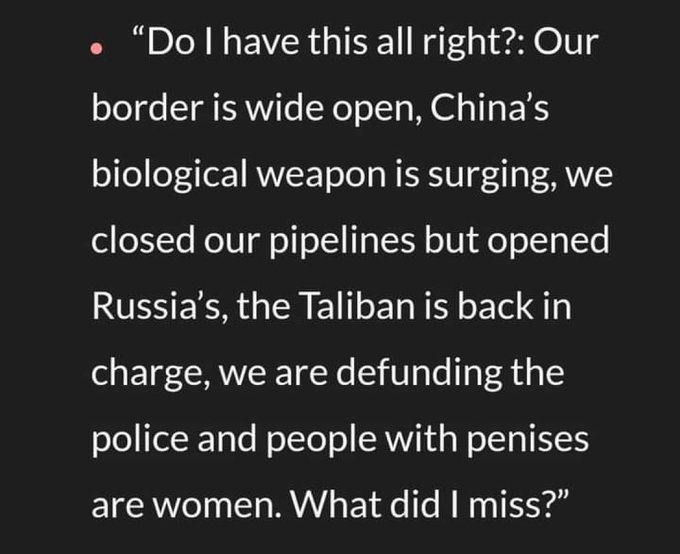 The Trump presidency was a bright shining moment in the history of the United States of America. Wages rose. Unemployment fell to 3.5%. Our foreign policy put America first. ISIS was gone. The Taliban quit killing American soldiers. Illegal border crossings were low. Mexico protected our borders. Taxes fell. Revenues rose. For the first time in 50 years, we were energy independent and a net exporter of oil.
President Trump was the first president in 40 years not to start a war.
On January 20, the Washington Establishment installed Biden as president.
Inflation rose. As did the Taliban. As did ISIS. As did Red China, Russia, and Iran.
Open borders are now our policy as illegal aliens have more rights than citizens do. Illegals don't have to wear masks or get vaxxed.
Instead of going after lawbreakers who jumped the border, Biden's DOJ calls any parent who dares speak at a public school board meeting a domestic terrorist.
President Trump's children are all hard-working, patriotic and productive Americans.
Biden's son is a cokehead who collects his father's bribes.
While Washington hounded Trump for 4 years over an imaginary collusion story, no one in Washington cares that Red China handed Hunter a billion dollars to "invest." The media ignored and covered up Hunter's laptop which revealed the bribes paid and his dalliances with underage girls.
Trump could put in a 12-hour day and then hold a rally in which he would speak for an hour unscripted.
Biden has yet to make a public appearance without screwing up. The Washington Examiner reported on his latest attempt to speak, "Biden hit for mentioning 'waitress senator' alongside those who would not 'disrespect a waitress.'"
It was at an event honoring the father of crooked Democrat Senator Chris Dodd.
The story said Biden "cited the mistreatment of servers as an example of people who do not 'do simple, decent things for ordinary people' in a way that is revealing of their character."
Dodd and Ted Kennedy revealed their lack of character in 1985.
The story said, "In 1990, GQ described an incident in which 'the six-foot-two, 225-plus-pound Kennedy grabs the five-foot-three, 103-pound waitress and throws her on the table. She lands on her back, scattering crystal, plates and cutlery and the lit candles. Several glasses and a crystal candlestick are broken. Kennedy then picks her up from the table and throws her on Dodd, who is sprawled in a chair.'
"The episode has also long been characterized as the infamous Kennedy-Dodd 'waitress sandwich.'"
Of course, to a perv like Biden, waitress sandwiches are normal. Tara Reade said Biden molested her.
But more important than Biden's perversion is comparing what 45 and 46 did as president. In less than 3 years, Donald Trump made America great again. Red China retaliated with covid. He responded with Operation Warp Speed, which made 3 vaccines available in short time.
Biden has failed to get Americans to take the vaccine. He couldn't sell ice water in hell.
To be fair, there was a toilet paper shortage under Trump because consumers emptied the shelves in a panic.
Under Biden, there is a shortage of everything because cargo ships go unloaded, while his transportation secretary is in the second month of a vacation that may never end.
When Trump left office, I thought he was the best president in my lifetime.
After seeing Biden stumble, fumble, and mumble, I appreciate Donald Trump even more than before.
I cannot wait to vote for Donald Trump again.