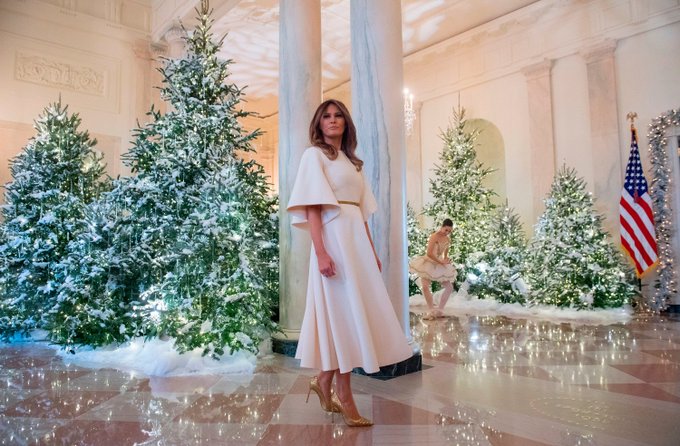 Last year, the White House embraced Christmas like no other holiday.
This year, Biden is going full Grinch.
Reuters reported
, "White House officials, scrambling to relieve global supply bottlenecks choking U.S. ports, highways and railways, warn Americans may face higher prices and some empty shelves this Christmas season.
"The supply crisis, driven in part by the global covid pandemic, not only threatens to dampen U.S. spending at a critical time, it also poses a political risk for U.S. President Joe Biden.
"The latest Reuters/Ipsos poll shows the economy continues to be the most important issue to Democrats and Republicans alike.
"The White House has been trying to tackle inflation-inducing supply bottlenecks of everything from meat to semiconductors, and formed a task force in June that meets weekly and named a bottleneck czar to push private sector companies to ease snarls.
"Still, supply chain woes are weighing on retail and transportation companies, which recently issued a series of downbeat earnings outlooks. Meanwhile, the Federal Reserve last month predicted a 2021 inflation rate of 4.2%, well above its 2% target.
"American consumers, unused to empty store shelves, may need to be flexible and patient, White House officials said."
He is surrendering Christmas just like he surrendered Afghanistan.
What a dunce.
Biden is a political savant and a genius at getting elected.
But he is a nincompoop when it comes to doing his job. He surrendered Afghanistan, opened the borders, and pumped up the inflation. His handling of covid is a joke.
And now he cannot get anyone to unload the boats that are backing up at every port in the nation, even the ones in the Great Lakes.
Biden -- excuse me, "a White House official" -- said, "There will be things that people can't get. At the same time, a lot of these goods are hopefully substitutable by other things ... I don't think there's any real reason to be panicked, but we all feel the frustration and there's a certain need for patience to help get through a relatively short period of time."
Substitutes?
We are Americans. We do not want substitutes. Look at the substitute we got for president.
Donald Trump would not tolerate this. He would get on the horn (I had a boss who called the telephone that) and get the problem cleared in days if not hours. Certainly he would not throw up his hands and tell people to substitute an "official Red Ryder, carbine action, 200-shot, range model air rifle, with a compass in the stock and this thing that tells time" with a football.
It is a little more than 2 months till Christmas. That is plenty of time for a leader.
But Biden is a DC lifer who doesn't understand business. First he needs to dump his vax mandate (which he has not committed to writing). Then he needs to get the ships unloaded, the trucks loaded, and cargo shipped to their destinations.
One more thing, I am not looking forward to Jill's Christmas White House.