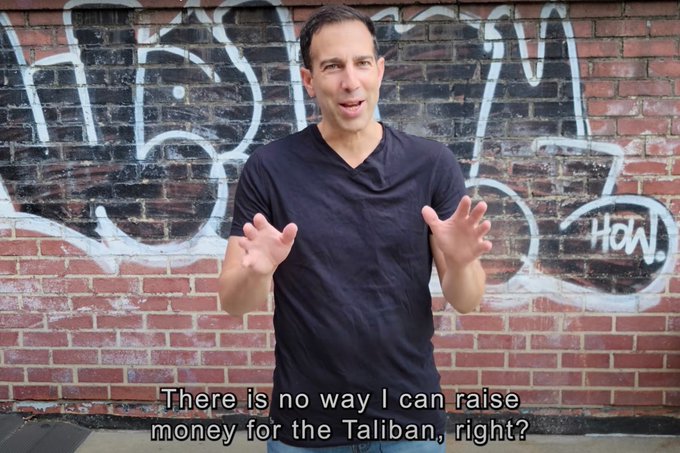 New York filmmaker Ami Horowitz went to the campus of the University of California, Berkeley, to film their reaction to his attempt to raise money for the Taliban so they could train their soldiers to use American equipment to fight Americans.
The New York Post reported
that Horowitz makes many of these kind of videos.
He once got Yale students to sign a petition to repeal the First Amendment.
It was easy.
He told the paper, "Every time I dream up an idea for a new video, I always have the same conversation with myself: 'I've gone too far, this is too insane.' There's no way that people will accept the premise I'm going to present them with.
"I thought, 'How can I go to a major American university and ask people to give me money for the Taliban, specifically to kill Americans? What universe do I have to be in to find American kids willing to give me money to kill Americans?' But that's exactly what we found."
The Post story also said, "the video reveals one student after another inspired to take up the cause of the Taliban, which seized on the disastrous US troop withdrawal from Afghanistan in August. 'We're Taliban 2.0 — we're kinder, gentler … not really' and 'We want to be able to train our fighters to fight back against American interests,' were some of the filmmaker's appeals to passersby in his straight-faced pitch.
"Students caught on camera enthuse, 'That sounds great!' and 'Appreciate what you're doing' while pledging anywhere from $5 to $50. One student even professed his sympathies for Horowitz's mission, declaring, 'I would work for you.'"
Horowitz said, "Not a single person told me to go to hell or go f – – k myself."
Welcome to Biden's Banana Republic of America.
After decades of indoctrinating Americans in school with anti-American slurs, what do you expect?
Patriotism?
They mock it.
We elected a president in 2008 who sat in a church 5 days after 9/11 and did not object when the preacher said America deserved 9/11.
He appointed a communist as the head of our spying, and then used the FBI to spy on political opponents.
When we elected a president who said Make America Great Again, the federal government staged a 4-year insurrection in which government workers openly resisted his administration. They framed him in that Russian Collusion Hoax in order to hound him with the Mueller investigation.
The general in charge of the Pentagon promised Red China he would inform them of any attack. We should bill Beijing for his salary.
After this became public knowledge, no one in Washington much cared. He still has a job.
We have a presidential press secretary, who when asked about Red China's new ability to match us in ICBMs, "We welcome stiff competition, but we not — we do not want that competition to veer into conflict. And that is certainly what we convey privately as well."
We welcome stiff competition?
If Biden were president in 1945, he would have given Japan atomic bombs. Call it nuclear equity.
We have in Congress Ilhan Omar who openly sides with 9/11 terrorists saying, "CAIR was founded after 9/11, because they recognized that some people did something and that all of us were starting to lose access to our civil liberties."
For two decades, Omar, Obama's preacher, and others have twisted 9/11 into a heroic event that punished America.
Why would students at Berkeley not fund the Taliban? That is what they were taught.
America is in a very sick place.
UPDATE: India Today reported, "Taliban militants allegedly beheaded a member of the Afghan junior women's national volleyball team, a coach told the Persian Independent.
"In an interview, coach Suraya Afzali (name changed) said a woman player named Mahjabin Hakimi was killed by the Taliban earlier in October, but nobody learnt about the gruesome murder as the insurgents had threatened her family not to talk about it.
"Mahjabin played for the Kabul Municipality Volleyball Club before the collapse of the Ashraf Ghani government, and was one of the club's star players. Then, a few days ago, pictures of what seemed to be her severed head and bloodied neck turned up on social media.
"The coach of the Afghan women's national volleyball team said that only two of the team's players was able to escape from the country before the Taliban wrested complete control in August. Mahjabin Hakimi was among the many other unfortunate women sportspersons who were left behind."
The same students who would fund the Taliban also demand that WNBA players be paid what NBA players make.