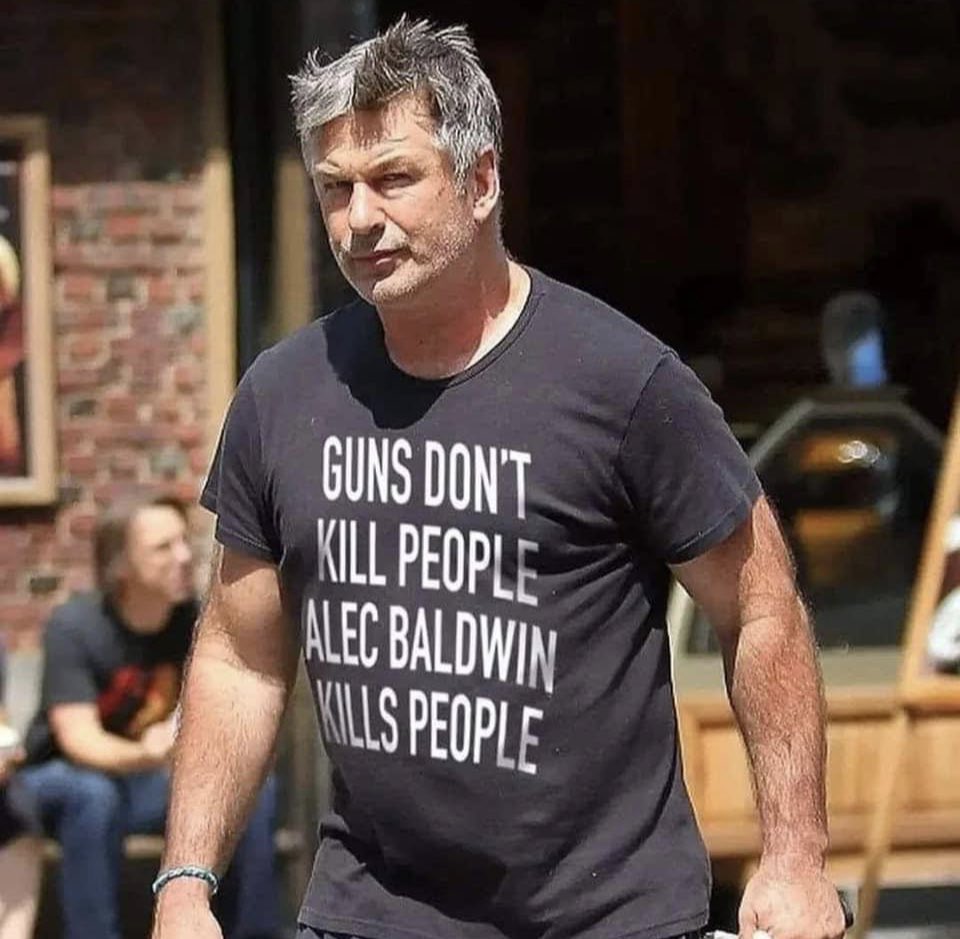 As I read the accounts of Alec Baldwin shooting and killing Halyna Hutchins on a movie set, everyone seems to sidestep the real issue.
What was Baldwin doing playing a gunslinger in a movie? He hates guns. He also is too temperamental and unstable to be producing anything. Both are factors in his killing Halyna Hutchins.
The media has been too kind to him by ignoring the hypocrisy of a man who publicly condemns guns trying to make a buck off playing a gunslinger in a movie.
His tweets are out there.
March 5, 2018, he tweeted, "I see that Dana Loesch wants to 'take back the truth.' And she doesn't care how many dead bodies she has to step over in that pursuit.
"The Second Amendment is not a moral credit card that buys you all the guns you want.
"That law needs to be rethought."
Good luck getting 38 states to rethink "that law" and pass an amendment to repeal our rights to bear arms.
His scorn of guns apparently extends to gun safety. The New York Post reported, "Alec Baldwin failed to follow the No. 1 rule of gun safety before the fatal shooting on the set of 'Rust,' a Hollywood weapons expert tells The Post.
"'Loaded or unloaded, a weapon never gets pointed at another human being,' said Bryan Carpenter, who heads Dark Thirty Film Services.
"Even on a film or TV set, he said 'you never let the muzzle of a weapon cover something you don't intend to destroy.'"
A reader told me his father was adamant about this rule that he did not want his kids to point a cap gun at each other.
Baldwin also made the tragic mistake of considering it to be a cold gun. There is no such thing. You treat every gun as being loaded. Better to be safe than a killer.
His management skills leave a lot to be desired.
Radar reported, "Members of Alec Baldwin's Rust crew walked off the New Mexico filming location, hours before the actor's fatally shot the movie's cinematographer with what was supposed to be a prop gun.
"According to the Los Angeles Times, a half-dozen camera crew workers left the low-budget set on Thursday in protest of the poor work conditions. One insider eerily told the outlet, 'there was a serious lack of safety meetings on this set.'
"Besides the alleged lack of safety concerns, camera operators and their assistants were reportedly upset at the long hours they were expected to endure, the low pay, and that they were allegedly forced to drive 50 miles one way to work per day."
Making people commute 100 miles a day in a bus on a ride that includes dirt roads is inhumane. Liberals make the worst bosses.
The woman who handed him the gun was non-union.
The New York Post reported, "The Hollywood armorer who tended to the deadly weapon used by Alec Baldwin on the set of 'Rust' had expressed doubts about her skills and ability to load prop guns.
"'You know, I was really nervous about it at first, and I almost didn't take the job because I wasn't sure if I was ready … but, doing it, like, it went really smoothly,' Hannah Reed said last month in the Voices of the West podcast.
"Reed, whose dad is well known Hollywood armorer Thell Reed, made the podcast appearance while working on the set of the Nicholas Cage movie 'The Old Way.' That production just weeks ago marked her first time as a head armorer.
"She was working this past week with Baldwin on 'Rust' in New Mexico when the longtime actor killed director of photography Halyna Hutchins and wounded director Joel Souza using a prop weapon."
Finally, the Hollywood Reporter in June asked him about "Rust," which was then an upcoming production.
The news outlet asked him, "How are your gun slinging and horse-riding skills?"
Baldwin said, "They're always at the ready. I'm an actor of the old school. So if you read my resume — my motorcycle riding, my French, juggling, my horseback riding, my gunplay — is all right at my fingertips at all times."
Falling off a horse hurts you. Screwing up "gunplay" gets someone else killed.
Engineers say there is no such thing as an accident. Human error always comes into play. So it is in this case. Hypocrisy. Bad temper. Poor management skills. Overconfidence.
Alec Baldwin shooting and killing Halyna Hutchins was not intentional. It was a tragedy, but it was no accident.