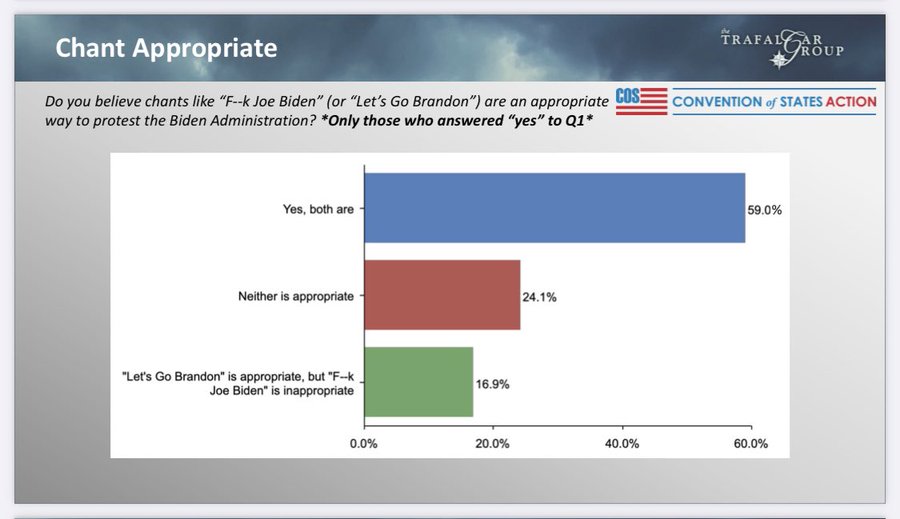 The rebellion goes well this afternoon.
Students in Loudoun County, Virginia, walked out of school on Tuesday to protest a boy in a skirt being allowed to rape girls in the girls bathroom. This refusal to accept transgenderism as normal is happening in a colony of federal workers and others who leech off the central government.
Imagine how well transgenderism goes in real America.
People are chanting FJB. It's on.
I have no problem spelling out FJB and I have in the past. And readers generally don't care. And 59% of Americans now say it is OK to chant FJB. But in deference to the 25% who oppose chanting FJB or Let's Go Brandon, I shall refrain from spelling it out.
The Trafalgar group polled Americans and found 76% of the people know about FJB despite media reluctance (some would say refusal) to acknowledge FJB.
Of those in the know, 59% support saying it.
The Washington Examiner reported, "The chant started at college football games, and it exploded after a NASCAR reporter mistook it for 'Let's Go Brandon' when interviewing driver Brandon Brown. Now they are both used interchangeably."
Mark Meckler, president of Convention of States Action which paid for the poll, said, "This data reveals that the phenomenon we're seeing everywhere in this great nation is real, widespread, and has support from the people across party lines. The 'Great American Pushback' has begun and it's going to grow. Americans have never taken well to tyranny, and they are not going to start now."
The chant came out of the student sections at college football games.
It caught on because there is a need for it. The vax mandates, the mask mandates, the food shortages, the coming inflation, the surrender of Afghanistan, the surrender of the Mexican border, and the trans mandates are just too much.
Americans woke up this summer and discovered they live in a totalitarian state. Hundreds of political prisoners are jailed in DC for daring to protest inside the Capitol.
We are not going to take this.
The popularity of FJB -- songs about it top the iTunes chart -- is a sign that the Potemkin Village that elected him (he won with 81 million ballots, not people) is about to collapse.
Biden is a bully, which means he will push around people who are smaller than him, but he will cower before anyone who stands up to him.
We are standing up to this coward. he will back down.
Students chanting FJB is a reminder that this nation was founded by rebels.
We stopped the tax on every printed piece of paper -- the Stamp Act -- in 1765. A decade later, we fired the shot heard 'round the world and a year after that, we declared our independence. We took on the most powerful military in the world and defeated it with long rifles and Christmas raids.
Lefties protest. Americans rebel. As president, George Washington had to send in the army to collect his whiskey tax from the hillbillies. Moonshining is not about Prohibition. It is about taxes. Mountaineers do not want to pay a tax on booze.
Some may say we are lowering our standards by accepting FJB.
Pshah. We cannot go any lower after Democrats installed this brazen bully and crook as president.