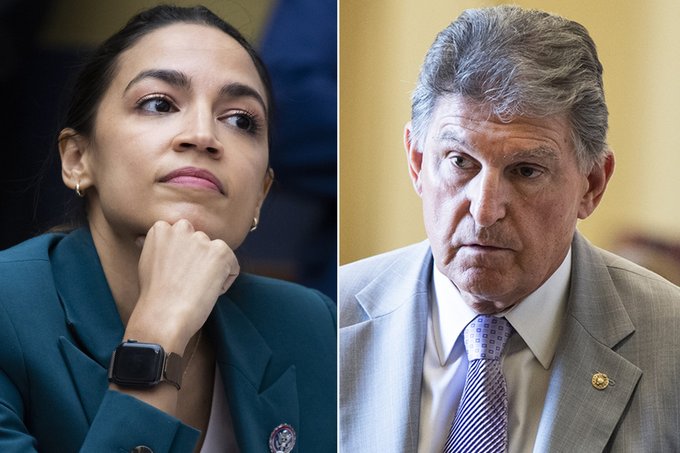 Democrats don't care about 2022. It is all about the Benjamins. (Actually, Salmon Chases. He's on the $10,000 bill.) That is why Biden's only domestic policy is a $3.5 million million ($3.5 trillion) spending spree. Democrats will pay off donors, fund social justice warrior programs, and live large until another economic collapse puts them back in power.
And then Happy Days are here again for Democrats forever!
Right now, Manchin is gumming up the works. They sent AOC to attack him. He called her young lady and this big strong woman is whyyyyyyyyyyyning.
History shows Democrats get a two-year window to do what they want. They learned from Obamacare. They are not going to blow this opportunity on some peevish new technocratic program. Nope. They are going to party hearty.
It is all about the Salmons.
Don't get me wrong. I want the Democrats to implode in 2022 and maybe lose Biden too. He's disposable.
Signs look good.
Douglas E. Schoen is a political consultant who served as an adviser to President Clinton and to the 2020 presidential campaign of Michael Bloomberg.
He wrote in The Hill, "The marked decline in support for President Biden and his administration nationally and in key swing states indicates that the Democratic Party could endure a blowout defeat in the 2022 midterm elections.
"Moreover, Biden is in a significantly weaker position now than both of his most recent Democratic predecessors — Bill Clinton and Barack Obama — at this point in their presidencies, which suggests that Democrats could suffer even more substantial losses in 2022 than the party did in 1994 and 2010.
"Indeed, voters nationally and in seven key swing states disapprove, rather than approve, of the job Biden is doing by a margin of 7 points or greater, according to a Civiqs survey released last week.
"Nationally, 50% of voters disapprove of the job Biden is doing as president, while just 42 percent approve.
"For reference, at the same point in Obama's first term, Obama's net approval rating was 19 points higher than Biden's is right now."
Democrats know this.
They are in a Going Out Of Power sale. Everything must be taken now.
Power in DC is temporary. The goal of the swamp critters is to make permanent changes whilst they can.
The last three Democrat presidents (Clinton, Obama, and this one) had both houses of Congress for their first two years and that was it.
Clinton blew his on three initiatives aimed to draw conservatives into his party: DADT, DOMA, and Biden's Lock-em-up bill, which was dog whistle racism.
Obama got Democrats half of what they wanted: a big stimulus to give Solyndra-sized gifts to his billionaire donors and Obamacare. The latter proved worthless. They had to put free birth control lipstick on their pig.
Biden ain't bothering with that.
He ain't demented. He's just greedy. His presidency is all about looting the treasury.
A very wise reader laid it out to me in an email, "A lot has been bugled by the right lately out about the regret Democrats should feel for electing Biden. But they feel none and never will because the Dem voter acts either for his own financial interest, to which Biden is ministering with his trillions for you payouts, or for some emotional psychotic based reason of ideology for which there is no cure so no regrets. As members of diligent Red cadres many have become single tasked ants that cannot act otherwise.
"However the intellectuals on the R side promote themselves as thinking men who make rational decisions founded on logic and principle. Yet Biden was known for every one of the appalling traits he is now exhibiting for decades past. Still people like Paul Mirengoff gave him tacit and sometimes vocal support by trashing Trump as the barbarian at the gate. Where is their regret, their apologies? Nowhere to be found.
"To me they are worse than the ant cadre commissars, the morons for money, the rich hypocrites of the left.
"They are similar to war planners who, even if they get it so wrong that tens of thousands are lost, are never called to account, or historians who always have a good word for the cleverness or endurance of the enemy, for Stalin's necessary murders or Hitler's iron will, statements designed to convey objective diligence.
"They share a single trait with the Marxists they pretend to oppose: they are never wrong, never regret."
Paul Ryan and his protegee Kevin McCarthy do have a regret.
They regret that they could not raid the treasury first.