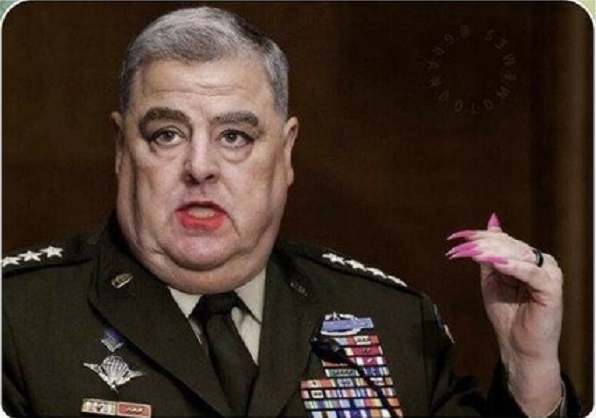 Biden demanded $715 billion for the Pentagon. Congress is adding another $24 billion. There will be raises for everyone.
Why?
We just lost a war.
A raise?
Why should I pay Milley a single cent?
He is a loser. A woke loser. A woke loser who left behind to the Taliban 22,174 Humvees; 634 M117s; 8,000 trucks; 155 MaxPro mine-proof vehicles; 169 M113s; 162,043 radios; 16,035 night vision goggles; 358,530 rifles; 126,295 pistols; 33Mi17 helicopters; 33 Blackhawk helicopters; MDS30 helicopters; 4 C-130s; 23 Super Tucanos; 28 Cessna 208s and 10 Cessna AC-208s.
Despite his efforts to appease an enemy who had been subdued under President Trump, the Taliban did not think his army was leaving fast enough and killed (through its al-Qaeda affiliate) 11 Marines, a Navy corpsman, and an Army staff sergeant.
To be sure, Biden made the decision to surrender Afghanistan to the Taliban despite no allied combat deaths in 18 months.
But Milley was the chief cheerleader and architect of this retreat. The guy who stood up to President Trump for visiting a church never once rebuked Biden for giving up without a fight.
Good grief. At least Custer fought.
At an August 18 press conference, Milley defended abandoning and turning over Bagram Air Base to the Taliban.
He told reporters, "On your question of Bagram, securing Bagram, you know how big Bagram is. You've been there many times. Securing Bagram is a significant level of military effort of forces, and it would also require external support from the Afghan Security Forces.
"Our task given to us at that time, our task was protect the embassy in order for the embassy personnel to continue to function with their consular service and all that. If we were to keep both Bagram and the embassy going, that would be a significant number of military forces that would have exceeded what we had or stayed the same or exceeded what we had.
"So we had to collapse one or the other, and a decision was made. The proposal was made form CENTCOM commander and the commander on the grounds, Scott Miller, to go ahead and collapse Bagram. That was all briefed and approved, and we estimated that the risk of going out of HKIA or the risk of going out of Bagram about the same, so going out of HKIA -- was estimated to be the better tactical solution in accordance with the mission set we were given and in accordance with getting the troops down to about 600, 700 number."
If the Taliban asked, I am sure Milley would give them Andrews Air Force Base and the keys to Air Force One.
Conservatives despise Milley for abandoning Trump, abandoning Afghanistan, and abandoning American values with this woke nonsense.
Milley told Congress in June, "I do think it's important, actually, for those of us in uniform to be open-minded and be widely read.
"And the United States Military Academy is a university. And it is important that we train and we understand – and I want to understand white rage. And I'm white… So, what is it that caused thousands of people to assault this building and try to overturn the Constitution of the United States of America? What caused that? I want to find that out."
Where to begin?
West Point is not a university. It is a military academy.
Thousands did not assault the Capitol.
Hundreds protested inside, but they were peaceful (if noisy),
They did not try to overturn the Constitution. Jailing the protesters did.
By words and action, Milley has turned off a good many veterans and conservatives.
It is delusional to believe he is just one man and that he can be replaced with someone who wants to win wars.
But the fish rots from the head, and this fish's brain is missing. His rise to the top shows he represents today's Woke Military.
What good are a million fighting men and women if they are led by a big fat oaf who is more worried about transgendered rights and pronouns than he is about defending our bases, securing our weapons, and protecting our country?