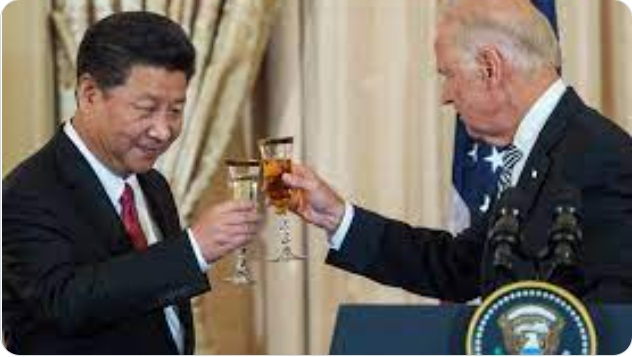 America's Tiananmen Square was on January 6 when 100,000 to 250,000 Trump supporters rallied at the National Mall. A few hundred entered the Capitol to protest a la Code Pink and other lefty groups.
But it wasn't a state-sponsored demonstration, unlike the George Floyd riots. Eight months later, hundreds of those protesters are political prisoners.
Welcome to Washington, CCP.
The constitutional republic gave way to a police state that day. One of Pelosi's Palace Guards shot and killed an unarmed woman. The media cheered.
But the foundation for our fall was laid long ago.
In 2008, we elected as president a man whose church cheered 9/11. Chickens were coming home to roost for Nagasaki and Hiroshima, and Wounded Knee, and some white kid giving Jeremiah Wright a dirty look when they were in second grade.
That Obama's politically shrewd but otherwise imbecilic veep is now president shows the power no longer lies in Washington. Our top general now reports to the People's Liberation Army. Milley vowed to tip Beijing off if we ever attacked Red China. He bragged to the press about doing so. Bob Woodward saw nothing wrong with it either.
Imagine George Marshall calling Tojo.
For decades, certain conservatives warned us that Maoists are on the rise.
But we dismissed them as John Birchers. After all, we had won the Cold War. Communism was dead, except on college campuses. Ha Ha Ha, we all laughed.
32 years ago, a fellow stood up to the tanks in Tiananmen Square. We never heard from the guy again. But we assured ourselves that Tiananmen Square scared the CCP into changing their ways. We told ourselves that their adoption of a capitalist economy would lead to an abandonment of communism as Red China would see the light, just as the Soviet Union did.
So we stopped calling it Red China. We started trading with them. Our manufacturers set up factories there. Sure, the Chinese stole trade secrets and never opened their markets to us, but we told ourselves that a conversion was inevitable.
There has been a conversion.
The George Bush I voted for in 2000 and 2004 has turned his back on America. Our political and business leaders suck up to Red China.
Chairman Xi will bury us.
After we dig the grave.
The National Pulse reported, "Various National Institutes of Health agencies – including Anthony Fauci's National Institute of Allergy and Infectious Diseases – have funded over 250 studies authored by researchers at institutions controlled by China's People's Liberation Army, The National Pulse can exclusively reveal.
"Following a unique investigation into the origins of scientific research papers, the whopping level of collaboration with the Chinese military will further concerns in the United States that the political class has surrendered to the Chinese Communist Party. Last week it emerged that the ranking General in the U.S. Armed Forces agreed to tip off China in advance of a U.S.-led attack.
"The unearthed studies, from the National Institutes online database, expand upon the People's Liberation Army's ties to the Wuhan Institute of Virology unearthed by The National Pulse."
What grinds my gears is that Americans support the changes Red China has brought. A majority of voters had no problem with Obama sitting in a church while his preacher cheered 9/11 just 5 days after the towers came crumbing down. This was an upper middle class church. Oprah attended it for a time.
Obama used the FBI to spy on Donald Trump, and America said so what?
The press went with the crazy conspiracy theory that Putin stole the election for Trump. Actually, Hillary was in cahoots with Putin.
Jonathan Turley reported, "The 26-page indictment of former cybersecurity attorney and Hillary Clinton campaign lawyer Michael Sussmann by special counsel John Durham is as detailed as it is damning on the alleged effort to push a false Russia collusion claim before the 2016 presidential campaign. One line, however, seems to reverberate for those of us who have followed this scandal for years now: 'You do realize that we will have to expose every trick we have in our bag.'
"That warning from an unnamed university researcher captures the most fascinating aspect of the indictment in describing a type of Nixonian dirty tricks operation run by — or at least billed to — the Clinton campaign. With Nixon, his personal attorney and the Committee to Re-Elect the President CREEP paid for operatives to engage in disruptive and ultimately criminal conduct targeting his opponents. With Clinton, the indictment and prior disclosures suggest that Clinton campaign lawyers at the law firm of Perkins Coie helped organize an effort to spread Russia collusion stories and trigger an investigation.
"Durham accuses Sussmann of lying to the general counsel of the FBI in September 2016 when Sussmann delivered documents and data to the FBI supposedly supporting a claim that Russia's Alfa Bank was used as a direct conduit between former President Trump's campaign and the Kremlin. According to Durham, Sussman told the FBI general counsel that he was not delivering the information on behalf of any client. The indictment not only details multiple billings to the Clinton campaign as the data was collected and the documents created; it claims Sussman billed the campaign for the actual meeting with the FBI. At the time, Perkins Coie attorney Marc Elias was general counsel for the Clinton campaign. Both men have since left the firm."
Nixon did not use the FBI to go after political opponents.
Obama, Clinton, and Biden did.
This is what dictators do. They use the state against dissidents.
While other conservatives mocked the FBI for flagrantly infiltrating Saturday's protest in Washington, CCP, I saw it for what it is: a means of undermining the anti-government movement. People can no longer trust the guy next to them at the rally. This is big.
Labelling protesters as white supremacists and domestic terrorists rationalizes this unprecedented use in America of the government to attack political opponents. Milley does not see Red China as a threat. He sees America as a threat because we elected Trump. Milley is not alone. This is how Washington views the USA.
Michael Goodwin wrote, "Milley is being treated as a hero by many on the left. Predictably, Joe Biden expressed confidence in him despite his dance with treason.
"And why not? Milley's defenders, including Biden, were all for blocking Trump or driving him from office, by hook or crook. Recall that Biden took part in an infamous White House meeting in January of 2017 where the FBI spying probe was discussed.
"The taint was so obvious that Susan Rice wrote a notorious memo two weeks later, on the day Trump was inaugurated, claiming Barack Obama had insisted the probe of Trump be done 'by the book.'
"If that were true, the last-minute memo to the file wouldn't have been needed."
They called January 6 an insurrection because the people in Washington, CCP, fear that some day soon, the American people will rise and toss them all out.
They have F-15s and nuclear bombs.
We have a chant.
Fuck Joe Biden.
And it is catching on.