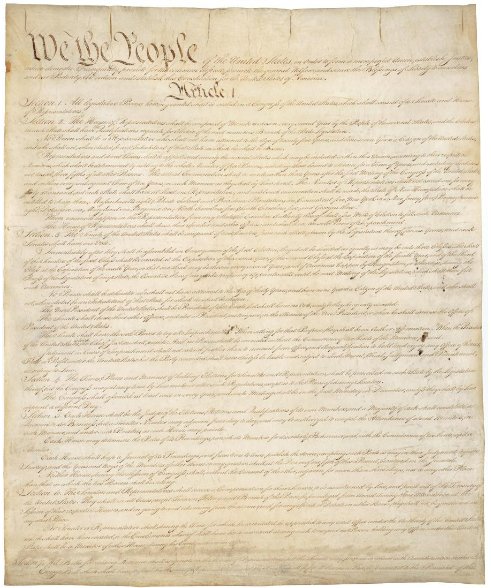 The National Pulse reported, "The webpage of the U.S. National Archives that hosts the nation's own Constitution has a 'harmful language alert' for readers at the top of the page."
The Pulse pointed out the definition the federal government site uses for harmful language:
reflect racist, sexist, ableist, misogynistic/misogynoir, and xenophobic opinions and attitudes;
be discriminatory towards or exclude diverse views on sexuality, gender, religion, and more;
include graphic content of historical events such as violent death, medical procedures, crime, wars/terrorist acts, natural disasters and more;
demonstrate bias and exclusion in institutional collecting and digitization policies.
Shades of Hillary's basket of deplorables: "The racist, sexist, homophobic, xenophobic, Islamaphobic—you name it. "
Of course, nothing in the Constitution is any of those things.
The Constitution is the government guarantee of banning discrimination based on sex, race, creed, religion, and national origin.
Which is why the federal government under Biden and the Democrats opposes the Constitution. The government wants to divide us by race and sex and you name it.
But they are, for now, reined in by the Constitution with its protection of peaceful assembly and the like. The government tries to get around the Constitution by labelling a protest inside the Capitol an insurrection and calling free speech hate speech.
United we stand for liberty.
Divided we fall for tyranny.
Just the News provided an example of the arrogance of power the government now displays with Biden behind the Resolute Desk.
In a story headlined, "USDA announces racial preferences in new 'climate smart agriculture' funding," Just the News reported, "Despite a recent court ruling against the department for a race-based loan forgiveness program, the USDA posted notice on Aug. 25 of a funding opportunity for a new program involving such preferences, Conservation Outreach: Racial Equity and Justice Conservation Cooperative Agreements."
USDA just mooned a federal judge.
So much for the 15th Amendment.
The attack on the Constitution is more brazen today than it was under Obama, and he was pretty blatant in his contempt for American norms.
This is an outgrowth of Critical Race Theory, which black Ivy League communists came up with in the 1970s. Their argument is because the Constitution was written by men who included slave owners, the Constitution is invalid.
Two generations of college students were indoctrinated in this sophomoric argument. Many of them took Civil Service tests. They now run the government.
I wish I could be shocked and surprised by this harmful language warning, but sadly I am not.
But if George Washington and his ragtag army could endure a smallpox epidemic that killed one-third of those infected, I suppose we can fight these bastards in court and at the voting booth.