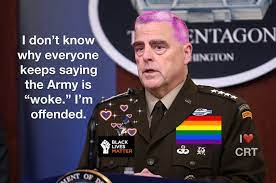 Australia, Britain, and the Biden administration signed a trilateral agreement to stand up to Red China. It is a joke and the commies are laughing out loud.
CNN reported
, "President Joe Biden on Wednesday unveiled a new effort to help Australia acquire nuclear-powered submarines, a major step toward countering China as he works to build international backing for his approach to Beijing.
"The announcement came as part of a new trilateral partnership among the United States, Australia and the United Kingdom that the three countries' leaders jointly revealed Wednesday afternoon."
Australia canceled its order for conventional submarines that would start arriving in 2027.
So when will those nuke subs start arriving?
Buried in Paragraph 14 of AP's reported was the answer.
2040.
AP said, Prime Minister Scott Morrison "said he expects the first of the nuclear subs, which are to be constructed in the Australian city of Adelaide, will be built by 2040."
This is a joke.
This is Wile E. Coyote cringing beneath a parasol as the boulder falls back to earth with him as the target.
A year ago, President Trump began forming the Quad -- America, Australia, India, and Japan -- to stand up to Red China. You can bet your boots that he offered more than some subs 20 years from now.
After Biden surrendered Afghanistan and $90 billion in cash and our best military equipment to the Taliban (and by extension Red China), I am sure that no one trusts the USA anymore, nor should they. Japan has to be scared to death, and India realizes it has to square off with Red China on its own or face a surrender by some scumbag Democrat president on down the road.
Also, everyone knows our top general -- Milley the Meek -- works for Red China. He has promised to inform them of our battleplans, has he not?
But there is hope, watered down as it may be. The White House announced, "President Joseph R. Biden, Jr. will host the first-ever Quad Leaders Summit at the White House on September 24. President Biden is looking forward to welcoming to the White House Prime Minister Scott Morrison of Australia, Prime Minister Narendra Modi of India, and Prime Minister Yoshihide Suga of Japan.
"The Biden-Harris Administration has made elevating the Quad a priority, as seen through the first-ever Quad Leaders-level engagement in March, which was virtual, and now this Summit, which will be in-person. Hosting the leaders of the Quad demonstrates the Biden-Harris Administration's priority of engaging in the Indo-Pacific, including through new multilateral configurations to meet the challenges of the 21st century.
"The Quad Leaders will be focused on deepening our ties and advancing practical cooperation on areas such as combatting covid-19, addressing the climate crisis, partnering on emerging technologies and cyberspace, and promoting a free and open Indo-Pacific."
I wish Morrison, Modi, and Suga some advice when dealing with Biden. Trust but verify.
And do buy a couple of Hunter's paintings. That may help.