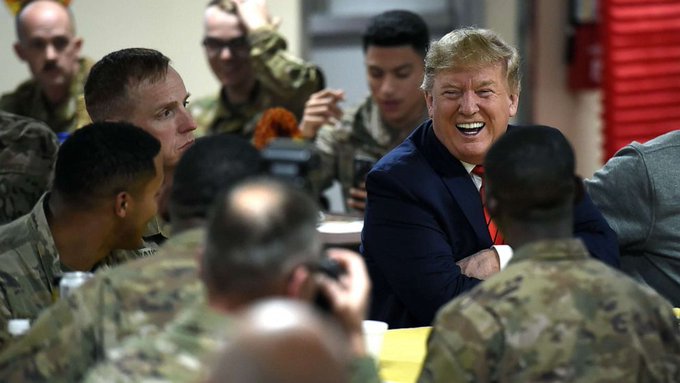 A year ago, there was no border crisis. Mexico put up a wall of 15,000 National Guardsmen to protect our border. People seeking asylum here stayed in Mexico, not under some bridge in Del Rio, Texas.
Afghanistan was calm. The Taliban had stopped fighting. President Donald John Trump was working with allies, the Afghanistan and the Taliban toward an orderly end to the war. We were in the seventh of 18 months of no allied combat deaths. Peace was at hand.
Researchers were busy at three drug companies working on a vaccine for covid 19. NBC smirked and said it would take a miracle to have one by the year's end. President Trump delivered two with a third one close behind.
Then Establishment in DC proceeded to steal the election by ignoring state election laws in Arizona, Georgia, Pennsylvania, and elsewhere. The Supreme Court looked the other way as the Biden campaign stuffed the ballots with unverified mail-in ballots. For a century, presidential elections saw voter turnout of under 60%.
Last year it shot up from 56% participation to 67%. The highest turnout in a century was 61% in 1964.
No one should believe the election was legitimate.
But here we are. Biden is president. He is undoing everything President Trump did.
Biden replaced those 15,000 Mexican Guardsmen with 15,000 Haitian invaders.
He arbitrarily dumped Stay in Mexico with Welcome to America.
He pulled our troops without telling our allies.
He left behind $90 billion in cash and war materiel (including Blackhawk helicopters).
The New York Times called it "The UnTrump Presidency."
It sure the hell is.
The Daily Mail reported, "Former President Donald Trump has overtaken President Joe Biden in approval ratings for the first time since his loss at the 2020 presidential elections, according to a new Harvard/Harris poll.
"While Biden enjoyed his highest approval rating of 57% in May, support for the president dropped dramatically to 46% as of September following the nation's chaotic exit from Afghanistan, crisis at the southern border with Mexico, and deadlock in Congress over his infrastructure bills.
"Meanwhile, Trump's approval ratings remained at about 46% since 2020 and surpassed Biden after rising to 48% in September.
"'The mounting issues on all fronts have led to the surprise conclusion that Trump is now seen as being as good a president as Biden, suggesting the honeymoon is being replaced with buyer's remorse,' Mark Penn, co-director of the Harvard/Harris survey said."
Penn was a chief strategist and pollster for Hillary in 2008.
Donald Trump was the most successful one-term president since James Polk.
Biden is undoing everything he did.
People have noticed.
So the New York Times decided to blame Trump for President FUBAR's mess.
Its Frank Bruni wrote, "The UnTrump Presidency Slams Into Trumpness."
After praising Biden for not being Donald Trump, Bruni wrote, Biden "pulled out of Afghanistan without the degree of consultation, coordination and competence that allies expected, at least of any American president not named Trump."
What is Bruni talking about?
President Trump got an anti-Trump president of Mexico to agree to protect our border.
President Trump left Biden with a plan to exit Afghanistan without leaving anyone or any equipment behind.
President Trump knew what he was doing.
In just 8 months as president, Biden has made the world less safe, more chaotic, and crisis ridden.
The New York Times fought President Donald Trump for 4 years with lies, distortions, and fairy tales. Now that they have an anti-Trump president, the entire nation and world realizes just what a great job Donald Trump did despite a seditious resistance by Obama, his party, the RINOs, the press, and the fat-cat billionaires.
Blaming Trump for Biden's mess just underscores what a pack of liars the press is, and what a failure Biden is.