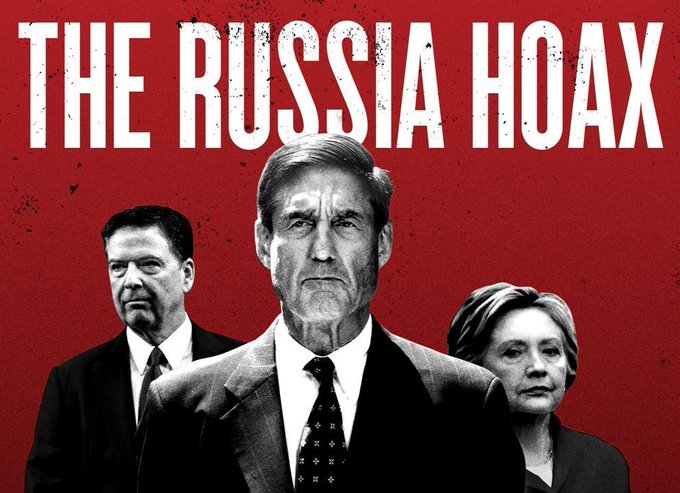 Today, after 2 federal investigations covering 4 years, we finally have someone indicted for something related to Russiagate.
And it turned out to be the fellow who peddled the Russiagate Hoax.
The unindicted co-conspirators are CNN, Jake Tapper, Carl Bernstein, the Washington Post, the New York Times, the Pulitzer Committee which honored and vouched for the Post and the Times, and just about every political reporter and columnist in America.
So is anyone in the media going to apologize for lying for more than 4 years about Putin somehow fixing the 2016 election for Donald Trump?
Of course not. I should save my breath. But I breathe for the truth and have known from the get-go that Russiagate was BS.
ABC reported today, "A lawyer whose firm represented Hillary Clinton's campaign during the 2016 presidential election was indicted Thursday by special counsel John Durham on a single charge of making a false statement to the FBI.
"Michael Sussmann, an attorney for the Perkins Coie law firm who previously represented the Democratic National Committee following the hacking of its servers by Russia during the 2016 campaign, is accused of lying 'about the capacity in which he was providing allegations to the FBI' when he met with a top lawyer from the bureau in September 2016 and provided him information about potential ties between a Russian bank and computer servers in the Trump Organization."
ABC implies that he was not working for Clinton.
No, no, no.
He's just some guy who worked at a law firm that once represented Hillary.
Never mind that Sussmann was a partner in the law firm. Never mind that he was peddling Hillary's fake opposition research to the FBI. ABC wants you to believe he was just some guy who did something that day.
ABC lives in a fantasy world created by Disney. I am being literal. Disney owns it. Never forget that the media in America is owned by globalists who suck up to Red China in the false hope that they will get access to a population 4 times larger than the USA.
The New York Times spun it as strictly partisan, billing its story, "Trump-Era Special Counsel Secures Indictment of Lawyer for Firm With Democratic Ties."
Not "Lawyer Charged With Misleading The FBI About Russiagate."
But why would NYT start being honest? You don't get Pulitzers by telling the truth anymore. NYT wion 2 Pulitzers for promoting Russiagate.
Hamas-Shielding AP was even worse in its report, as it did not mention Hillary until Paragraph 4. Most news outlets ran just 3 paragraphs.
Instead, AP continued to peddle its Fake News that Mueller somehow verified Russiagate, even though not one of his indictments was related to Russiagate.
I will let readers decide how much AP lied in its first 4 paragraphs.
AP said, "The prosecutor tasked with examining the U.S. government's investigation into Russian election interference charged a prominent cybersecurity lawyer on Thursday with making a false statement to the FBI.
"The case against the attorney, Michael Sussmann of the Perkins Coie law firm, is just the second prosecution brought by special counsel John Durham in two-and-a-half years of work. Yet neither case brought by Durham undoes the core finding of an earlier investigation by Robert Mueller that Russia had interfered in sweeping fashion on behalf of Donald Trump's 2016 presidential campaign and that the Trump campaign welcomed that aid.
"It lays bare the wide-ranging and evolving nature of Durham's investigation. In addition to having scrutinized the activities of FBI and CIA officials during the early days of the Russia probe, it has also looked at the behavior of private individuals like Sussman who provided the U.S. government with information as it scrambled to determine whether Trump associates were coordinating with Russia to tip the election's outcome.
"The indictment accuses Sussmann of hiding that he was working with Hillary Clinton's presidential campaign during a September 2016 conversation he had with the FBI's general counsel, when he relayed concerns from cybersecurity researchers about potentially suspicious contacts between Russia-based Alfa Bank and a Trump organization server. The FBI looked into the matter but found no connections. Sussmann is a former federal prosecutor who specializes in cybersecurity."
Let me be the first to say "Sussman did not kill himself."
Of course, Sussmann is just the fall guy who is taking one for the team.
He'll keep his trap shut because he knows Arkancide is real. Besides, he's taken care of. Oh, he won't get a book deal like Jimmy the Weasel Comey got for letting Hillary off the hook in her emailing of state secrets to Red China.
Durham knows this. The deal is to go after the little guys first and work your way up to the statue of limitations expiring because, hey, Durham does not want anyone someday writing, "Durham did not kill himself."
For several years now, I have told readers, no excitement without an indictment.
I looked at the indictment.
I am unexcited because none of the co-conspirators -- Hillary, Obama, Comey, and the media -- were indicted.