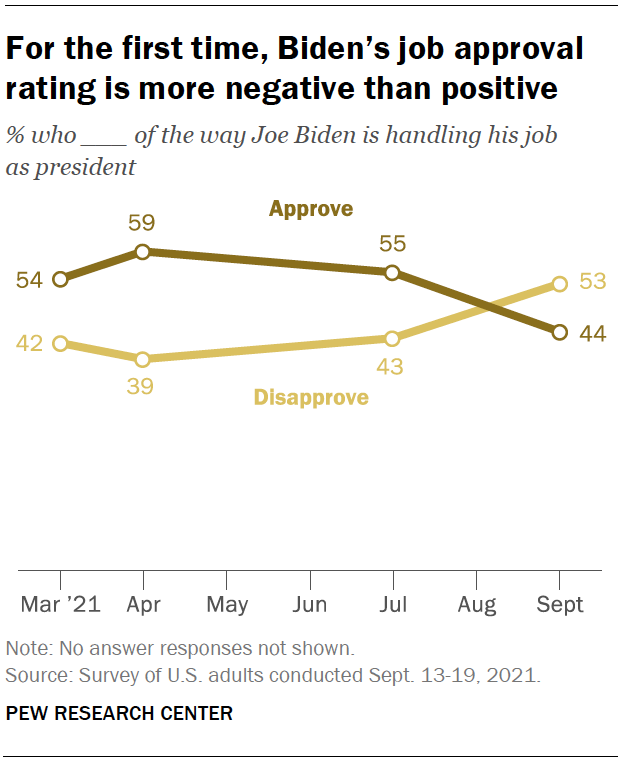 Pew Research is the latest pollster to turn on Biden.
Pew announced
, "With his administration facing multiple challenges at home and abroad, President Joe Biden's job approval rating has fallen sharply in the past two months. Fewer than half of U.S. adults (44%) now approve of the way Biden is handling his job as president, while 53% disapprove. This marks a reversal in Biden's job ratings since July, when a 55% majority approved of his job performance and 43% disapproved."
That is a negative 9 points, down 21 points in two months. His popularity dropped when he surrendered Afghanistan to the Taliban, the very people we went to war with because they enabled 9/11.
Pew said, "Positive evaluations of several of Biden's personal traits and characteristics have shown similar decreases. Compared with March, fewer adults say Biden cares about people like them, and fewer describe him as standing up for his beliefs, honest, a good role model and mentally sharp.
"While opinions about Biden remain sharply divided along partisan lines, the decline in his public standing has come among members of both parties. On his job rating, for example, there has been a 13 percentage point decline in the share of Democrats and Democratic-leaning independents who approve of Biden's performance (from 88% in July to 75% today); only 9% of Republicans and GOP leaners approve, down from 17% two months ago."
That 9% includes Jeb's brother.
The end of a war usually brings inflation which is then cured by a recession.
Pew said, "A majority of adults (63%) say they are very concerned about rising prices for food and consumer goods. That is larger than the shares citing other economic issues – employers being unable to hire workers (42% very concerned), people facing eviction or foreclosure (35%) or people who want to work being unable to find jobs (29%). Republicans are more likely than Democrats to cite rising prices and a shortage of workers as top concerns; Democrats are more likely to be very concerned over evictions and foreclosures and people who want to work struggling to find jobs."
By race, Biden's support fell 8 points among whites, 18 points among blacks, and 16 points among Hispanics. Majorities of the latter two still support Biden.
How bad are things going for Biden?
The New Yorker posted a story, "It's Too Early to Consign Joe Biden to the Ash Heap of History."
We are 8 months into his presidency.
Other presidents have had rough starts but the belief is Biden -- whose campaign was based solely on his not being Donald Trump -- does not seem to have a plan. He's adrift in an administration staffed by the second bananas in the Obama administration, which makes sense because he, too, was a second banana.
His mad dash to leave Afghanistan without bringing home American citizens and our war materiel made no sense.
He lost a war we had won.
The American people may make him pay.