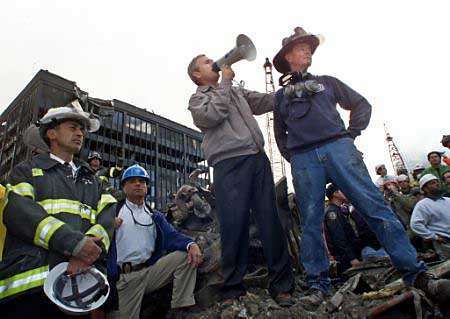 I was not going to do a 9/11 post. Not this year. Not after Biden gave away Afghanistan. Not after Biden waved the White Flag after a hard-fought victory. The war was over. No U.S. casualties for over a year. And he gave it all away.
But as I was preparing today's Highlights Of The News, I came across the I Can Hear You video.
And I realized just how lucky we were to have George Walker Bush as president on 9/11. He was the right man in the right place.
He had the intelligence and humility to maneuver the country through its worst moment since the Kennedy assassination. Clinton, Obama, and Trump could not handle it. All were too large in the ego for the suit.
Bush had an inner calm and determination that helped him overcome a lot in life, including alcoholism. I don't want a man who has had it easy in life as president. I want some callouses.
The Florida election shaded his presidency early on. A senator he had campaigned for in November flipped Democrat and flipped the Senate itself Democrat. Bush was a One Termer Walking, just like his dad.
But he moved forward and never complained publicly. He did his job.
Bush started the day in Florida. He was reading a book -- "My Pet Goat" -- to a group of schoolchildren for the daily photo op when an aide whispered the news to him.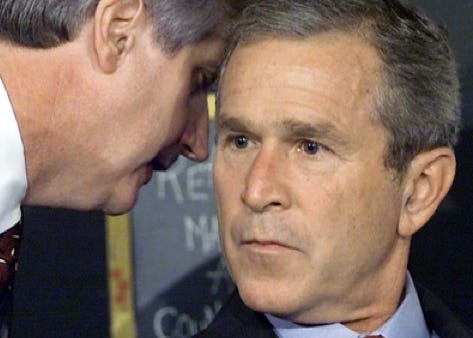 Bush calmly finished the story for the children. This caught him a lot of grief at the time from the hyena liberals.
Ten years after, the Telegraph reported, "He wasn't rattled; instead, George W. Bush was attempting to project an aura of calm as he mulled over news that terrorists had flown hijacked airplanes into the World Trade Center in New York."
I don't agree with everything he did (really, the department of Homeland Security was unnecessary) and I wish he had fired a few people in the intelligence community to send the signal that this means war.
But Bush had the temperament to handle the crisis and restore America's faith in itself. He did not have to say he was focused like a laser on 9/11. We saw it.
He inspired a nation when he stood on the rubble of the Twin Towers and used a bullhorn to speak to rescue workers.
President Bush: Thank you all. I want you all to know -- it [bullhorn] can't go any louder -- I want you all to know that American today, American today is on bended knee, in prayer for the people whose lives were lost here, for the workers who work here, for the families who mourn. The nation stands with the good people of New York City and New Jersey and Connecticut as we mourn the loss of thousands of our citizens
Rescue Worker: I can't hear you!
President Bush: I can hear you! I can hear you! The rest of the world hears you! And the people -- and the people who knocked these buildings down will hear all of us soon!
Rescue Workers: [Chanting] U.S.A.! U.S.A.! U.S.A.! U.S.A.! U.S.A.! U.S.A.! U.S.A.! U.S.A.!
President Bush: The nation -- The nation sends its love and compassion --
Rescue Worker: God bless America!
I can hear you.
We had a president who listened.
What an honor it was to have voted for that man twice. Actually three times if you count the 2004 primary. I was registered as a Democrat in 2000.
His best moment came on October 30th. He did not have to tell the nation that the time for mourning had ended. He simply threw out the first pitch in the third game of the World Series at Yankee Stadium. From the mound. Right across the plate.
20 years ago today, we had the right man as president.
It's easy to look at the evil man currently behind the Resolute Desk and give up, believing we will never be as free and as united as we were in the fall of 2001.
But we are not a nation of quitters. An assassination, Vietnam, Watergate, and 9/11 did not bring us down.
Afghanistan won't either.
Have faith in God.
And yourself.
Pray.
And thank the Good Lord for George Walker Bush. He wasn't perfect, but his leadership on 9/11 was. He inspired a nation to pick itself up off the canvas.
And President Bush inspired me today.