ITEM 1: Democrat ex-Senator Claire McCaskill blasted the Supreme Court for not taking up the challenge to the new restriction on abortion in Texas.
She said, "I got to tell you my heart is beating so fast right now. It is very hard for me to stay calm."
A heartbeat.
Congratulations to her because now she cannot be aborted in Texas.
Hamas-Shielding AP reported, "The new Texas law could affect thousands of women seeking abortions, though precise estimates are difficult. In 2020, Texas facilities performed about 54,000 abortions on residents. More than 45,000 of those occurred at eight weeks of pregnancy or less. Some of those abortions still could have been legal under the new law, if they occurred before cardiac activity was detected."
54,000 minus 45,000 is 9,000 babies being saved.
This abortion ruling has more beneficial side effects than I even imagined!

Stopping killing babies? Yay!

Keeping obnoxious lefties in CA where they belong? Added benefit. https://t.co/9pOAzVxMH2

— Melissa Mackenzie (@MelissaTweets) September 3, 2021
God bless Texas.
ITEM 2: Fox reported, "California officials who helped rescue El Cajon-area students stranded in Afghanistan after the U.S. military withdrew all troops Monday said there could easily be thousands more who were left behind.
"Based on conversations that the Cajon Valley Union School District and Republican California Rep. Darrell Issa's office has had with their contacts in Afghanistan, officials and families estimate that more than 1,000 U.S. students and children of Special Immigrant Visa holders are still stuck in the country."
Corporate Media has imposed a cone of silence over Afghanistan and has dropped the subject almost entirely.
With Paul Ryan on its board of directors, expect Fox to follow suit.
If McCaskill cared, her heart would be upset by those abandoned in Afghanistan.
ITEM 3: Newsweek reported, "An Army staff sergeant and Marine staff sergeant are suing various federal government agencies due to the recent actions regarding mandatory COVID-19 vaccinations for all military troops.
"On Friday, Army Staff Sgt. Dan Robert, a drill sergeant at Fort Bragg, North Carolina, and Marine Staff Sgt. Hollie Mulvihill, an air traffic controller at Marine Corps Air Station in New River, North Carolina finalized their lawsuit, which was filed on August 17.
"On August 30, both Robert and Mulvihill asked U.S. District Court Judge Raymond Moore for a temporary restraining order regarding the vaccinations for military members who have already been affected by covid-19 along with other legal measures surrounding the vaccine."
Forget it, Jake. It's Obama judge town.
ITEM 4: The Daily Mail reported, "Taliban fighters have been left feeling 'angry' and 'betrayed' after discovering the US had disabled military helicopters and planes before their departure from Kabul.
"US troops 'demilitarized' 73 aircraft before their departure this week according to the commander of the US evacuation mission, Gen. Frank McKenzie.
"That left up to 48 aircraft in the hands of the terror group, although it was not known how many were operable."
So the Deep State spin is we left $90 billion worth of equipment but we disabled some of them, which makes it all better.
The big danger is the Taliban selling equipment to Red China which will then reverse engineer our vehicles, aircraft, and guns.
ITEM 5: According to the Washington Post, only 1/3rd of those who wanted to withdraw from Afghanistan support Biden's surrender.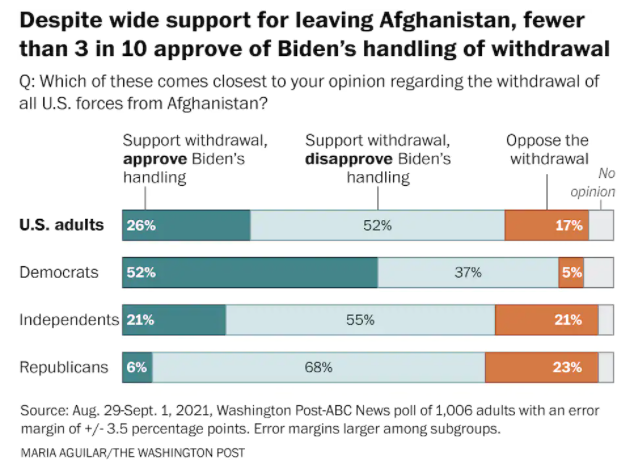 He may survive it.
We might not.
ITEM 6: Scientific American reported, "China wants to build a mega spaceship that's nearly a mile long."
Also a death star.
ITEM 7: The Blaze reported, "The American Civil Liberties Union is arguing that COVID-19 vaccine mandates serve to advance civil liberties."
Also, abortion is reproductive health; excluding whites is inclusive; voting laws are voting restrictions; riots are mostly peaceful protests; mostly peaceful protests are insurrections; and voting Republican s white supremacy.
ITEM 8: Newsweek reported, "President Joe Biden has told insurance companies dealing with Louisiana property owners not to 'hide behind the fine print and technicality' when it comes to paying people what they're owed for damage claims resulting from Hurricane Ida."
Demagogues gotta demagogue.
And insurance companies are laughing because they and the rest of Corporate America own the Democrat Party. Obamacare is a fountain of gold for them in subsidies.
ITEM 9: The New York Post reported, "The number of people worldwide suffering from dementia is expecting to rise to 78 million by 2030, according to a report published Thursday by the World Health Organization.
"That's a 40% increase from the estimated number of people worldwide currently suffering from the neurological disorder. As populations age, the number of people with dementia is expected to rise to a whopping 139 million by 2050, the WHO said."
I blame cigarettes.
ITEM 10: The New York Times (which I don't link) alleged, "New Jersey's Stunning Storm Toll Includes Many Who Drowned in Cars."
Let's go over this again.
Do not drive into water.
ITEM 11: Deadline reported, "Mark Cuban, a regular on ABC's Shark Tank and the owner of the NBA's Dallas Mavericks, could potentially face millions of dollars in government givebacks, thanks to a new Texas state law.
"The Texas Star Spangled Banner Protection Act law went into effect Wednesday, requiring pro teams in the state that take public money to play the national anthem.
"Cuban decided to no longer play the national anthem in pregame ceremonies at the beginning of the 2020-2021 season. It was only noticed in February of this year. The NBA subsequently issued a statement saying 'All teams will play the national anthem in keeping with longstanding league policy,' but did not provide any penalties for not doing so.
"Cuban said at the time he would comply. Now, the new Texas law mandates his compliance. It specifies that teams need to return government funding if they don't play the song."
He who pays the Cuban calls the tune.
ITEM 12: ABC reported, "Texas Right to Life has been at the forefront of the push for civilians citizens to enforce the ban and has launched a website for people to submit claims that they know someone who gave or aided an abortion after six weeks of pregnancy.
"The filing had claimed Texas Right to Life's 'threatened implementation of the six-week ban and its enforcement scheme, as well as S.B. 8's fee-shifting provision, would cause imminent, irreparable injury' to Planned Parenthood providers and workers."
Democrat judge.
Pretty sad when a judge bars someone from using the court to settle a dispute.
Impeach her.
ITEM 13: Al Jazeera reported, "Zambia's parliament has elected its first female speaker, more than a week after longtime opposition leader Hakainde Hichilema was sworn in as the country's new president."
Have they never heard of Nancy Pelosi?
Zambia, that foot you shot is your own.
ITEM 14: CBS reported, "U.S. authorities are now investigating the cases of so-called child brides among the Afghans who fled Afghanistan in the past few weeks and are now in U.S. custody both inside the U.S. and in facilities abroad.
"CBS News has learned that several Afghan women and girls who were evacuated to facilities in the United Arab Emirates have told officials that their families forced them into marriage outside of the Kabul airport so that they could be eligible for evacuation.
"A senior State Department official said authorities are taking the claims seriously and investigating. Human trafficking is a federal crime and also illegal in every state. It is not clear how the U.S. would handle the case of an Afghan evacuee found guilty of child trafficking."
That's good.
After that, the Biden administration can investigate the rape and molestation of women and girls who travel north to come to the United States. Amnesty International estimates 2 out of 3 are.
ITEM 15: The Post Millennial reported, "LAPD have arrested an Antifa member who stabbed a Latino man during an August 14 riot near LA City Hall. Eric Cohen, 30, of Long Beach, California, has been charged with attempted murder and is being held on a $1 million bail.
"Cohen stabbed a man on August 14 at around 2 PM near the intersection of 1st Street and Spring Street. He allegedly used a knife to stab the victim once in the upper right chest area. The victim was later hospitalized for a lacerated heart and punctured lung."
It was a mostly peaceful stabbing.
ITEM 16: Zogby reported, "According to the latest Zogby Poll® one-fifth of likely voters regret voting for President Biden. On the surface it doesn't seem like much, especially if you look at the three quarters of likely voters who did not regret their vote; 4% were not sure how they felt."
Trump went from 62 million votes in 2016 to 75 million four years later. With him, the only thing voters regretted was not voting for Trump.
FINALLY, college football is back. I am not as big an Ohio State fan as I am WVU, but please enjoy this Big Man Touchdown.
🚨 SCOOP AND SCORE 🚨@HaskellGarrett_ with the big man TD for @OhioStateFB pic.twitter.com/paBwcwP7qp

— FOX College Football (@CFBONFOX) September 3, 2021
I love Big Man Touchdowns.