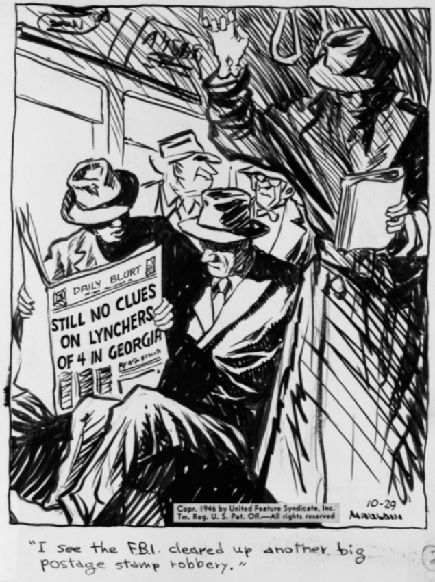 Same as it ever was. Bill Mauldin's cartoon is from 1946, which was 75 years ago.
ITEM 1
:
Via Zero Hedge, your favorite president said
, "If the story of Dumbass General Mark Milley is true, then I assume he would be tried for TREASON in that he would have been dealing with his Chinese counterpart behind the President's back and telling China that he would be giving them notification of an attack."
Trump also said, "The good news is that the story is Fake News concocted by a weak and ineffective General together with two authors who I refused to give an interview to because they write fiction, not fact. Actions should be taken immediately against Milley, and better generals in our Military, of which we have many, should get involved so that another Afghanistan disaster never happens again.
"For the record, I never even thought of attacking China, and China knows that."
As comfortable as a general is in saying that he talked to Red China behind the president's back, you wonder how common it is for others in the military to ignore protocol and act independently of civilian authority.
ITEM 2: Jack Posobiec tweeted, "Several Pentagon officers present in Milley's secret meeting are willing to testify against him under oath, per White House official."
To quell the Fuck Joe Biden movement, the White House will throw Milley overboard.
My gut also tells me that won't work.
But Woodward may retract the quote because he does what the Deep State tells him to do.
ITEM 3: The Daily Mail reported, "Speaker Nancy Pelosi slammed then-President Donald Trump in the days following the January 6th riot on Capitol Hill, mocking him for having a 'fat butt' and saying he's been 'crazy for a long time,' a bombshell new book revealed.
"While Trump's close friend and ally, Republican Senator Lindsey Graham, said the former president has 'personality problems' that will need to be dealt with if he seeks the GOP presidential nomination in 2024.
"Pelosi had a blunt phone call with General Mark Milley, chairman of the Joint Chiefs of Staff, in the days after the insurrection to discuss the process to launch America's nuclear weapons.
"She expressed her concern about Trump's fitness to make such a decision, according to Bob Woodward and Bob Costa's forthcoming book Peril, excerpts of which were published by CNN, the New York Times and the Washington Post.
"'What I'm saying to you is that if they couldn't even stop him from an assault on the Capitol, who even knows what else he may do? And is there anybody in charge at the White House who was doing anything but kissing his fat butt all over this?' she said, according to the book.
"'This is bad, but who knows what he might do?' Pelosi said. 'He's crazy. You know he's crazy. He's been crazy for a long time. So don't say you don't know what his state of mind is.'
"According to Woodward and Costa, who said they had a transcript of the conversation, Milley responded: 'Madam Speaker, I agree with you on everything.'"
The real Peril was from the Deep State which vetoed the will of the people who elected Trump president.
This was a coup d'etat by the swamp.
ITEM 4: Meanwhile, flying under the radar is a book worthy of splash.
Breitbart reported, "A new book released Monday indicates Biden family corruption schemes sought to enrich son Hunter and brother Jim Biden while Joe Biden was the ranking member of the Senate Foreign Relations Committee.
"Author of 'The Bidens: Inside the First Family's Fifty-Year Rise to Power,' Ben Schreckinger, was told by one of Jim's former business partners, 'Jim's job is to ensure the lifestyle is good for the family.' The method of doing so reportedly entailed Hunter and Jim acquiring a hedge fund, Paradigm Global Advisors, which was founded and run by cocaine addict James Park."
Evil.
And an evil press covers it up for an evil president.
ITEM 5: The National Pulse reported, "Peaceful protesters caught in the maelstrom of the January 6th riot at the U.S. Capitol are being held as 'political prisoners' and are being persecuted by law enforcement, says a plurality of American voters.
"The data, from a new Rasmussen poll, reveals that 49% of American likely voters either strongly or somewhat agree with the concept that the U.S. government is holding political prisoners. 42% are in disagreement, with 9% unsure."
The real insurrection was by Pelosi's Palace Guard, whose Michael Byrd shot and killed an unarmed Ashli Babbitt.
ITEM 6: ABC reported, "Senate Democrats on Tuesday introduced their latest version of a sweeping election reform bill to counter the record-number of voting restrictions that have passed in GOP-led states, which they say make it harder for minorities and low-income Americans to cast a ballot."
It is the usual partisan garbage journalists in DC churn out. Democrat machinations of the ballot box are considered "voting rights" while Republican ones are considered "voter suppression."
But the news is Manchin won't allow a simple majority to pass it. 10 RINOs must agree to it.
ITEM 7: The New York Post reported, "The Pentagon defended a deadly August drone strike in Kabul on Monday – despite a report that the attack actually killed an innocent man and his family.
"The second of a pair of drone airstrikes in the waning days of the Afghanistan war is now being investigated by Central Command, but details are scarce and there remains a question of how much information will be shared once the probe is completed."
Odd that a military so concerned about political correctness is so cavalier in killing innocent Asians.
Trump did not use drones to kill al-Baghdadi. I suggest we go back to that and leave droning alone.
ITEM 8: Just the News reported, "Illinois Sen. Dick Durbin, the second-ranking Democrat in the Senate, said Tuesday his conference is offering a path to citizenship in the filibuster-proof budget reconciliation bill, despite the cost to taxpayers in the form of government assistance programs because 'we need workers' in various sectors of the U.S. economy.
"Republicans have argued that much of the worker shortage has resulted from the expanded safety net during the pandemic, such as the continuation of the $300 bonus federal jobless benefits that recently ended.
"Throughout the summer, small businesses around the country started offering signing bonuses as a way to encourage individuals to accept job offers. The grocery store chain Harris Teeter recently announced it is reducing store hours due to the worker shortage."
Well, we need workers but I don't see any welders among the illegal aliens.
Besides, has anyone asked them if they WANT to be citizens? I mean they seem to be going out of their way to avoid the path to citizenship we have in place.
ITEM 9: The Washington Examiner reported, "President Joe Biden's administration assessed thousands of lawful permanent residents of the United States remain in Afghanistan following the tumultuous evacuation of Kabul, according to Secretary of State Antony Blinken.
"'I think the best estimates are that there's several thousand green card holders in Afghanistan,' Blinken told the House Foreign Affairs Committee on Monday."
Last week, it was hundreds.
This week, it is thousands.
Next week, it may be millions.
They are so incompetent they truly do not know the depth of their ineptitude.
ITEM 10: Breitbart reported, "Secretary of State Tony Blinken confirmed reports during a Senate hearing on Tuesday that young children were transported from Afghanistan with older men as child brides.
"During the hearing, Sen. Ted Cruz (R-TX) grilled Blinken about the numbers, citing data form the World Health Organization that over 50 percent of wives in Afghanistan were married as child brides.
"Blinken said he did not know the exact number of underage girls who were evacuated with older men or how many were separated by officials after they landed."
So we are importing the child brides of Afghanistan refugees while not lifting a finger to bring thousands of Americans home.
Blinken is an amazing fellow. He is so incompetent on so many, many fronts.
He multi-tasks stupidity.
ITEM 11: Breitbart reported, "New York passed a law last week that will outlaw the sale of new passenger vehicles that produce emissions by the year 2035."
Everything emits something.
I imagine New York will be like Cuba with nothing but 1958 Buicks.
The BBC movement has begun: Bring Back Cuomo.
ITEM 11: Reuters reported, "U.S. President Joe Biden denied on Tuesday a media report that his Chinese counterpart, Xi Jinping, last week turned down an offer from Biden for a face-to-face meeting.
"The Financial Times cited multiple people briefed on a 90-minute call between the two leaders last week as saying Xi did not take Biden up on the offer and instead insisted that Washington adopt a less strident tone toward Beijing."
When Trump was president, Xi visited him less than 90 days after the inauguration.
Real men don't hang out with chumps.
ITEM 12: Shucks.
😂😂😂 pic.twitter.com/oozPQ2lInO

— Catturd ™ (@catturd2) September 14, 2021
ITEM 13
:
Becker Hospital Review reported
, "Nearly 140 rural hospitals have closed since 2010, and the federal COVID-19 vaccine mandate could force at least one more to shut its doors.
"President Joe Biden's administration is taking steps to require millions of American workers, including certain healthcare workers, to get a COVID-19 vaccine. The plan requires those who work at hospitals and other types of medical facilities that receive Medicare and Medicaid funding to get a COVID-19 vaccine.
"Brownfield (Texas) Regional Medical Center, a rural hospital, will lose up to 25% of its employees if the vaccine mandate is enforced, CEO Jerry Jasper told KCBD. Losing those workers would probably shut down the hospital because some nurses have already quit to take jobs with nursing agencies that offer higher pay, according to the report.
"Not complying with the vaccine mandate and losing Medicare and Medicaid funding isn't an option for Brownfield Regional Medical Center. About 80% of the hospital's funding comes from Medicare and Medicaid, Mr. Jasper told KCBD."
The vaccine mandate puts the health of Texans at risk.
Heckuva job, Biden.
ITEM 14: Trending Politics reported, "The Texas government is set to sign a contract with private firms to build hundreds of miles of wall along the state's border with Mexico, continuing a federal project begun under former President Donald Trump.
"The plan is to build an additional 700 miles of wall, according to a post on the website of the Texas Facilities Commission.
"The agency announced that it had selected an engineering and design firm to oversee wall construction."
This is the infrastructure America really, really needs.
ITEM 15: Big League Politics reported, "Four Chinese Navy warships were spotted sailing just outside the United States' exclusive economic zone late last month, in a development likely to raise tensions between the two world powers.
"Coast Guard personnel photographed four warships just outside US territorial waters near the Aleutian Islands. The Chinese vessels included a a guided missile cruiser, a guided missile destroyer, an intelligence vessel, and an auxiliary vessel. The Coast Guard doesn't believe the vessels entered the US exclusive economic zone in their pass of the Aleutian Islands, making the exercise legal, if not provocative.
"The Defense Visual Information Distribution Service published photos of the close exchange between the Coast Guard and Chinese Navy on Sunday.
"The Aleutian Islands, located south of the Bering Strait in the north Pacific Ocean, have national security implications. Several of the islands were occupied by Japan during World War II, in one of the few instances in American history in which a US territory was occupied by a foreign power. The islands have since become part of the US mainland through Alaska's statehood. Some of the Aleutian Islands remain part of the Russian federation."
I wonder if General Li called Milley to give him a head's up.
Not that Milley would do anything to stop him. After all this is a systemic racist country not worth defending.
FINALLY, California's efforts to recall Gavin Newsom failed. Newsom made it a race between him and Larry Elder. Good plan. Well executed.