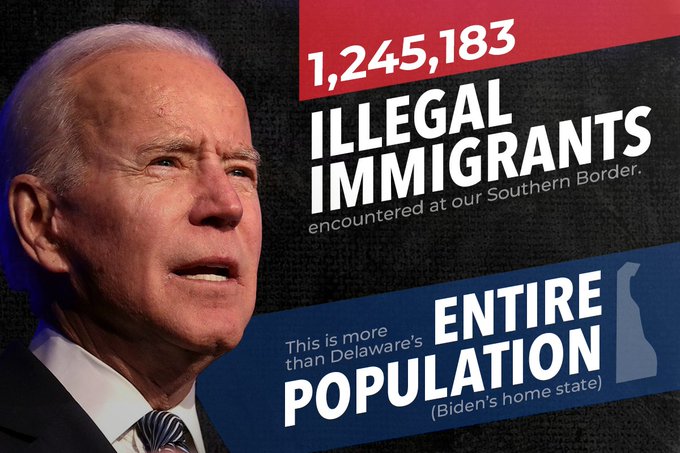 While 15,000 Haitians slept under a bridge, while the Taliban beheaded homosexuals, and while inflation starts to take off, Biden was in Delaware riding his bicycle. Kamala flipped a coin at a college football game thousands of miles from the border crisis she is supposed to be managing.
(
The Hill had one of the weirdest headlines I have encountered in awhile
: "Harris facilitates coin toss at Howard University football game." Facilitates. Good gravy, the joint is run by Russian bots.)
Democrat Bruno "Ralphy" Lozano of Del Rio Texas, where the Haitians are hanging out, tweeted, "The VP is able to visit the fun events across the country, while American communities continue to grapple with failed immigration reform. Where is the visit to Del Rio, Texas?"
He also responded to Kamala tweeting, "The U.S. is falling behind, on a global scale, on investing in childcare. We invest fewer public dollars in early childhood education and care relative to GDP than almost all other developed countries. With our Build Back Better Agenda, POTUS and I are determined to change that."
Lozano replied, "The U.S. is failing to protect its borders. Why aren't you here?"
The White House is not getting the routine things done. Inspiration4 launched 4 civilians into space this week to raise money for St. Jude Children's Research Hospital in Memphis, Tennessee.
He's still sleeping

— Elon Musk (@elonmusk) September 19, 2021
Musk pledged $50 million by the way.
President FUBAR is in over his head and his comic relief, Kamala, is showing she is just a party girl who used BIPOC and female privilege to turn a brief affair with Willie Brown into the vice presidency.
Chuck Todd, star of NBC's "Meet the Weasel," criticized them this weekend, a rarity for a Democrat administration.
Via Jonathan Davis, Todd said, "I think he's got a pretty big credibility crisis on his hands. All of these problems, in some ways, showed up after he said something, basically, the exact opposite. Afghanistan withdrawal: It wasn't going to be messy. It was going to look like Saigon."
(Todd does not realize the Fall of Saigon was a disaster. But he is right. The Fall of Kabul was worse.)
Todd went on, saying, "The booster shots, he came out and essentially said at eight months and maybe we should start it as soon as five months. Now, we're not sure that anybody younger than 65 is going to get a booster shot."
Being a weasel, Todd tried to blame President Donald Trump -- who dropped illegal migration to a 20-year low -- for the Kamala Calamity.
But Todd said, "He's got a lot of work to do."
Todd pushed the $3.5 trillion spending spree Democrats want.
He said, "If that thing is passed, I think he can start to take a few breaths here for a bit, but he's going a lot on the line here in the next month."
If Todd is saying this in public, imagine the consternation his Democrat masters are suffering in private.