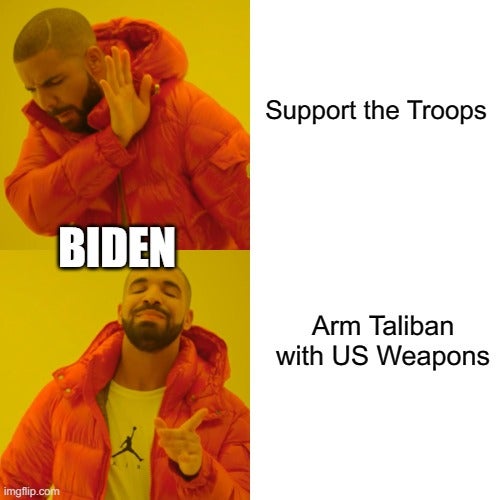 Democrats left $83 billion worth of weapons, ammo and equipment for the Taliban as Biden surrendered an American victory in Afghanistan. The Taliban had not killed an American or any other allied troop in 18 months.
This was not the first time Democrats armed the enemy.
There was Obama's Operation Fast and Furious in which his ATF sent thousands of firearms over the Mexican border and directly into the hands of criminals. Who knows how many of these weapons wound up in the hands of gangbangers in Obama's adopted home of Chicago and other Democrat cities.
Forbes reported a decade ago, "Fast and Furious was an operation so cloak-and-dagger Mexican authorities weren't even notified that thousands of semi-automatic firearms were being sold to people in Arizona thought to have links to Mexican drug cartels. According to ATF whistleblowers, in 2009 the U.S. government began instructing gun storeowners to break the law by selling firearms to suspected criminals. ATF agents then, again according to testimony by ATF agents turned whistleblowers, were ordered not to intercept the smugglers but rather to let the guns walk across the U.S.-Mexican border and into the hands of Mexican drug-trafficking organizations."
Then there was the $100 billion Obama gave Iran. That was assets Carter froze that belonged to the Shah, plus interest. Tons and tons of interest. This was part of Obama's bogus nuclear deal that paid Iran to slow its development of a nuclear bomb.
Obama knew the money would finance terrorism.
The Daily Beast reported in 2015 before the deal was consummated, "A nuclear agreement with Iran could give Tehran a $100 billion financial windfall—a sum that even the Obama administration is concerned could be used to finance terrorism against American interests.
"Iran has billions in assets frozen by an international sanctions regime led by the United States and other world powers. Should a nuclear agreement be reached, as is expected later this week, these assets would be eventually released to the Iranian government."
Iran did just that.
Under Obama, Democrats armed the Taliban through the Afghanistan army.
Newsweek reported in 2015, "Arming the Enemy in Afghanistan."
The story said, "There are only a few ways the Taliban get U.S. weapons. Insurgents sometimes capture them from Afghan police or soldiers. But usually, U.S. and Afghan officials say, they just buy them from corrupt members of the Afghan security forces. One Afghan army colonel, who asked to be identified only by his last name, Ahmadzai, said entire groups of soldiers manning various checkpoints have sold their weapons and ammunition to the insurgents. And Taliban commanders say there's a thriving black market for U.S.-supplied guns that even includes dealers from neighboring Iran."
And yet, Democrats continued to arm the untrustworthy Afghanistan army.
I am not saying the Democrats might be the enemy from within.
I am saying they are.