ITEM 1: Big League Politics reported, "Parents and community members have redecorated the grounds of a southern California school with American flags, in an act of protest in response to a teacher revealing that she had instructed her students to pledge allegiance to the LGBT Pride flag as an alternative to the national flag."
Repeat after me, "I pledge allegiance to the flag of the United States of America, and to the republic for which it stands, one nation under God, indivisible, with liberty and justice for all."
We are not a gay nation.
We are not a straight nation.
We are one nation under God, indivisible, with liberty and justice for all.
Temporarily under mismanagement.
ITEM 2: Breitbart Politics reported, "Vice President Kamala Harris on Wednesday released a statement in reaction to the Texas abortion law that went into effect, asserting it will 'dramatically reduce access to reproductive care' for 'women of color.' She ultimately joined President Biden and other left-wing politicians in promising to fight for every woman's ability to abort her child."
What a racist.
Imagine Hillary bitching because it would hurt white women.
There is systemic racism in this country.
We call it affirmative action.
And let me tell you, affirmative action picks make lousy presidents and vice presidents.
ITEM 3: Politico reported, "The new Texas abortion ban is refocusing both parties' attention on races for state office over the next year, setting the stage for a clash over abortion rights at the ballot box.
"On Wednesday, outraged Democrats sought to drag the issue of abortion rights into elections across the country, particularly in two key, blue-state governor's races this fall: California and Virginia.
"'It will be a huge motivator for individuals to come out and vote,' Terry McAuliffe, the former Virginia governor who is running again, said in an interview. He repeatedly described himself as a brick wall on women's rights."
Cuomo was a brick wall on women's rights as well.
Odd that Democrats now want the people to decide on abortion -- 48 years after the Supreme Court told the people of 46 states that banned abortion to go to hell.
ITEM 4: Rachel Maddow thinks she has a gotcha. But it bites her in the ass because the law already says if a woman decides not to abort her baby, the man already cannot back out of being a father. He is on the hook for child support until the kid turns 18.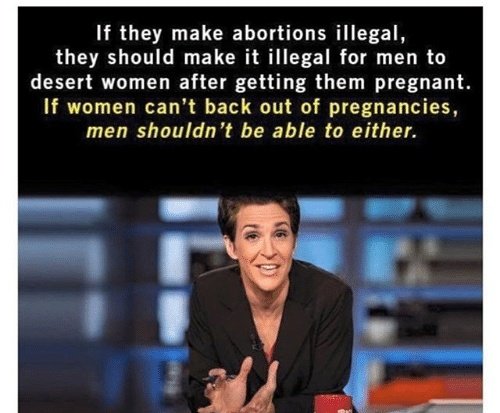 But her idea is sound. I know because that was the rule before 1973. If a guy knocked up a girl, he had to marry her. That was the rule for hundreds of years.
Bastardy -- kids born out-of-wedlock -- jumped from 10% in 1970 to 40% last year. If women seeking abortions were so desperate, why did the percentage of out-of-wedlock births quadruple?
ITEM 4: Rasmussen reported, "52% of Likely U.S. Voters believe Biden should resign because of the way the U.S. withdrawal from Afghanistan was handled. 39% disagree, and 9% are not sure."
Meanwhile, Sing Along To Get Along Mitch McConnell said, "There isn't going to be an impeachment."
Of course not.
Washington hates America and Americans, and tunes us out.
ITEM 5: Politico reported, "The rioters who participated in the Jan. 6 insurrection committed more than 1,000 assaults on federal officers, according to a review of body-cam footage that prosecutors described in a court filing late Wednesday."
OK.
Release all the footage and let the public decide if Pelosi's Pretorian Guard was hurt by those mean old MAGA Americans.
ITEM 6: Trafalgar Group had good news for Gavin Newsom: 52% of California voters want to keep him.
Californian will soon be a synonym for idiot.
ITEM 7: CNN reported, "The $1 trillion infrastructure bill appears set to give passenger and freight rail $66 billion, an infusion that will likely expand where service is offered but does little to increase the speed of train travel in the US.
"Amtrak has proposed spending its share of the infrastructure funding on more than 50 new routes, but those routes are significantly slower than typical car travel between the cities — sometimes as much or more than 40% at certain times of day.
"A trip between Boston's train stations and Albany's train station would take 4 hours 20 minutes, more than an hour longer than a typical car trip between the destinations. A trip between Milwaukee and St. Paul's train stations will take 6 hours 45 minutes, sometimes two hours longer than a car trip."
Amtrak continues to exist only because Biden's father failed to give him a train set as a little kid.
ITEM 8: The New York Times (which I refuse to link) said, "The coronavirus pandemic has been especially tumultuous for children as they hunkered down over the past year and a half, experiencing disrupted schooling, increased social isolation and heightened anxiety at a time when millions of households have been buffeted by upheaval.
"The crisis, it turns out, has also been linked to substantial excess weight gain among children and adolescents, according to a recent study published in the medical journal JAMA.
"The researchers found a 9% increase in obesity among children ages 5 to 11, with an average weight gain of five pounds during the pandemic. Among adolescents, 16- and 17-year-olds gained an average of two additional pounds, they found."
This was predictable and a few of us predicted it last year.
ITEM 9: CNN reported, "A new pro-gun law in Texas that went into effect Wednesday allows most Texans who legally own a firearm to carry it openly in public without obtaining a permit or training, a measure that experts say will make it more challenging for law enforcement to protect the public from gun violence.
"The controversial constitutional carry legislation is the latest in a series of pro-gun bills that state lawmakers passed this year as gun violence incidents rise in Texas and across the country."
No training.
No permit.
You know what else does not need training or a permit?
Journalism.
ITEM 10: Citizen Free Press reported, "New Trump Ad drops."
It is about what you would expect: 43 seconds of excellence.
In the ad, President Trump said, "A heartbreaking loss for the United States and its great Military. We must have hostages released and our Military equipment returned, NOW!"
Oh, and Kane noted, "CFP traffic blew up the video server at Trump's website an hour ago, and they were forced to install a Rumble video instead. CFP Nation is getting so large, we blow up servers all over the web."
I love it. Just a guy and a dream and he is kicking ass.
Trump, too.
ITEM 11: CNN reported, "Biden meets with new Israeli prime minister: 'We've become close friends.'"
Both nations are now governed by fools then.
ITEM 12: Glenn Reynolds reported, "SO MY DAUGHTER WENT TO OUTBACK AT THE ORLANDO AIRPORT TODAY AND THEY HAD NO STEAK. Yeah, you read that right. I don't know why. Couldn't hire a line cook who could be trusted to cook a steak? Supply chain problems? Whatever, it was weird. I was texting with a friend who commented 'No steak at the Orlando airport Outback has a canary in a coal mine sound about it.' Well, maybe. There are a lot of canaries out there and most of them don't mean anything. Most of them.
"I keep getting messages and emails from friends about food shortages in the restaurant industry, but they're all friend-of-a-friend stuff. I've asked some of my friends who actually own restaurants and they say supply is okay but delivery is iffy due to a shortage of truck drivers. Meanwhile my daughter made do with a barbecued chicken sandwich. Me, I had a lovely 16 oz. ribeye at J.C. Holdway last night for a birthday dinner. Also a grilled bone marrow appetizer."
Meanwhile in fast-food land, we no longer get coupons attached to our order at Gino's.
We get job applications.
And they had to cut out a shift at Tudor's in Nitro because of a worker shortage.
And Taco Bell, which used to stuff orders with unwanted sauce, now only hands out one per order.
I hate that stupid pandemic panic.
ITEM 13: The New York Post reported, "President Biden pressured Afghanistan President Ashraf Ghani to create the perception that the Taliban weren't winning, 'whether it's true or not,' in a phone call just three weeks before the insurgents seized control of the country, a bombshell leaked transcript shows.
"Biden and Ghani spoke for roughly 14 minutes on July 23 in what would be their final call before the Taliban overran the government and Afghanistan descended into bloody chaos amid the botched US withdrawal, according to a transcript and audio obtained by Reuters.
"Much of the call was focused on what Biden referred to as the Afghan government's perception issue."
They impeached Trump for less.
Far less.
ITEM 14: Fox reported, "A far-left California teacher with a hammer and sickle tattoo and an apparent affinity for Antifa and brutal communist dictators will be fired after bragging on video that he was working to radicalize his students further and further left, his employer announced Wednesday.
"In a letter, the Natomas Unified School District Superintendent Chris Evans wrote that Gabriel Gipe, a social studies teacher at Inderkum High School, would be terminated after Project Veritas found Antifa and Mao Zedong posters in his classroom and recorded him talking about indoctrinating his students.
"'I have 180 days to turn them into revolutionaries,' he says in the recording."
His mistake was not that he indoctrinates kids.
It was that he said it aloud.
FINALLY, don't give up on America just yet.
The best is yet to come.