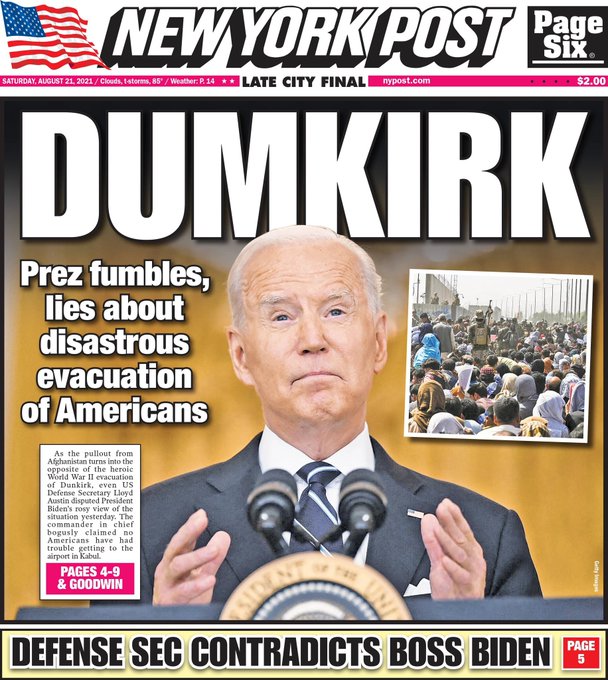 Maybe the swamp rats in Washington do not see Afghanistan as an existential threat to Biden. After all, they misjudged the speed in which the Taliban would move to fill the vacuum created by Biden's sudden withdrawal of U.S. forces. Why would they not misjudge the gravity of the situation now?
Still it does seem strange that few pundits or politicians are publicly defending him.
His party's leaders are sitting on the sidelines while Biden stumbles and fumbles his explanations for his decision to leave 38 million people in Afghanistan high and dry.
The Syracuse newspaper reported, "Senate Majority Leader Charles Schumer said on Wednesday that it's too soon to cast blame over President Joe Biden's withdrawal plan in Afghanistan.
"Instead, all energy should be focused on getting U.S. citizens home, Schumer said."
Basically the No. 1 Democrat in the Senate said it is too soon to cast blame on Biden.
Mitch McConnell could not have said it any better.
Cable news presenters have re-discovered journalism.
BizPacReview reported, "CNN anchor Brianna Keilar cornered White House Communications Director Kate Bedingfield over Biden's botched handling of Afghanistan and the efforts to evacuate thousands of Americans trapped behind enemy lines who are now at the mercy of the Taliban.
"The interview took place on Friday morning on New Day. Bedingfield rushed to assure Americans that President Biden is laser-focused on getting Americans and Afghan allies out of Afghanistan. Keilar wasn't entirely buying what she was selling.
Laser-focused?
He's sleeping in his basement in Delaware.
CNN's Keilar lit into the White House flack, saying, "What I want to focus on is what's happening right now because we're seeing pictures of Afghans throwing babies over fences. So I hear what you're saying about prepositioning this or that. But let's focus on what it takes to get people safely through those walls."
And there was this gem: "You'll work to get them out. But, you know, this isn't horseshoes, right? Close doesn't matter. Will you get them out?"
The answer was they will try.
But this isn't a game.
This is 80,000 Americans and Afghans who helped us trying to catch a flight out of hell.
And the story has legs. We are amid the annual news shortage called August. Networks have two choices. It's either Afghanistan or covid, and after more than a year of fear, covid is rather boring.
No one in the media seems to be defending Biden.
Even stranger, no one seems to be blaming Trump.
I believe they want Biden out.
We used to call Obama "Urkel," for the nerdy character on the TV show "Family Matters."
There was another character on the same show, Judy Winslow, who was the youngest daughter. At the end of one season, she went to her bedroom and was never seen on the show again.
Maybe it is Judy Winslow time for Biden. Maybe it is time they sent him to his basement in Delaware and never brought him back.