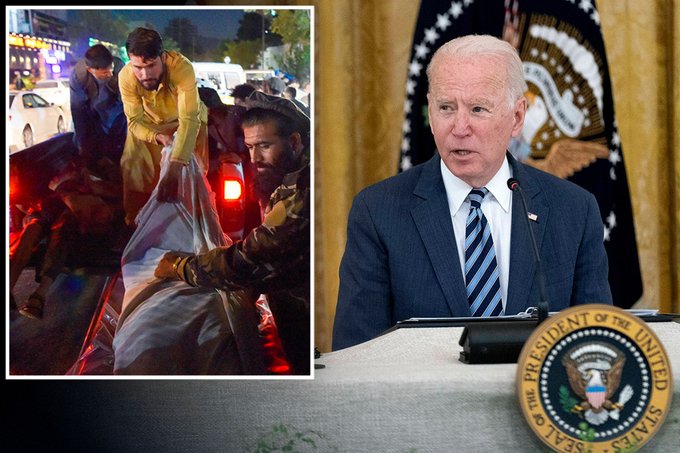 As terrorists killed 12 American Marines in Kabul -- the first combat deaths in Afghanistan in 18 months -- the New York Times provided cover for Joe "Make Afghanistan Taliban Again" Biden.
The Times lectured readers, "Let's Not Pretend That the Way We Withdrew From Afghanistan Was the Problem."
(I don't link them.)
It was knee-jerk liberalism from Ezra Klein, who wrote, "To state the obvious: There was no good way to lose Afghanistan to the Taliban. A better withdrawal was possible — and our stingy, chaotic visa process was unforgivable — but so was a worse one. Either way, there was no hope of an end to the war that didn't reveal our decades of folly, no matter how deeply America's belief in its own enduring innocence demanded one. That is the reckoning that lies beneath events that are still unfolding, and much of the cable news conversation is a frenzied, bipartisan effort to avoid it."
If there was no good way to lose Afghanistan, then why lose it at all?
Stay.
The combat deaths of Americans reached zero, just as it had in Europe, Japan, and Korea -- places where we have stationed troops for 70 years or more.
I do not like having troops scattered all over the world, but if that maintains the peace, then it is worth the price.
Klein and the New York Times oppose that. He dismissed that as "endless occupation."
Being a liberal, he would rather have the Soviet Union running Europe, Red China running Korea and Japan, and the Taliban running Afghanistan and all the other little stans -- Kazakhstan, Kyrgyzstan, Tajikistan, Turkmenistan, and Uzbekistan -- because they want to make the world safe for totalitarianism.
Liberals on the one hand talk up human rights here at home while opposing them overseas. They demand $30,000 a year pay ($15 an hour) for flipping burgers so people can buy $250 a pair tennis shoes that are made by slaves. This is their version of the free market.
Other publications are not following NYT's lead and are blaming Biden for Biden's mess.
Politico reported, "U.S. officials in Kabul gave the Taliban a list of names of American citizens, green card holders and Afghan allies to grant entry into the militant-controlled outer perimeter of the city's airport, a choice that's prompted outrage behind the scenes from lawmakers and military officials.
"The move, detailed to Politico by three U.S. and congressional officials, was designed to expedite the evacuation of tens of thousands of people from Afghanistan as chaos erupted in Afghanistan's capital city last week after the Taliban seized control of the country. It also came as the Biden administration has been relying on the Taliban for security outside the airport.
"But the decision to provide specific names to the Taliban, which has a history of brutally murdering Afghans who collaborated with the U.S. and other coalition forces during the conflict, has angered lawmakers and military officials."
A defense official told Politico, "Basically, they just put all those Afghans on a kill list. It's just appalling and shocking and makes you feel unclean."
Biden is not withdrawing from Afghanistan.
He is aiding and abetting the enemy in the murder of innocents.
It is not like the Times is naïve about the real world.
I am tempted to link an NYT piece by Jane Perlez, "The Real Winner of the Afghan War? It's Not Who You Think."
Pakistan.
Perlez wrote, "Just days after the Taliban took Kabul, their flag was flying high above a central mosque in Pakistan's capital. It was an in-your-face gesture intended to spite the defeated Americans. But it was also a sign of the real victors in the 20-year Afghan war.
"Pakistan was ostensibly America's partner in the war against Al Qaeda and the Taliban. Its military won tens of billions of dollars in American aid over the last two decades, even as Washington acknowledged that much of the money disappeared into unaccounted sinkholes.
"But it was a relationship riven by duplicity and divided interests from its very start after 9/11. Not least, the Afghan Taliban the Americans were fighting are, in large part, a creation of Pakistan's intelligence service, the I.S.I., which through the course of the war nurtured and protected Taliban assets inside Pakistan.
"In the last three months as the Taliban swept across Afghanistan, the Pakistani military waved a surge of new fighters across the border from sanctuaries inside Pakistan, tribal leaders have said. It was a final coup de grace to the American-trained Afghan security forces."
But for the most part, the Times is being a protector of Biden and the Taliban he has now armed and funded.
The Times reported, "In his first sit-down interview with a Western media outlet since the Taliban took full control of Afghanistan, one of the group's leaders on Wednesday offered a portrait of a group intent on rebuilding a country shattered by decades of war.
"'We want to build the future, and forget what happened in the past,' the spokesman, Zabihullah Mujahid, said in an interview with The New York Times. He rejected widespread fears that the Taliban are already exacting vengeance on those who opposed them and want to reimpose the harsh controls on women that made them notorious when they ruled the country 20 years ago.
"The interview came just a day after Mr. Mujahid warned the women of Afghanistan that it might be safest for them to remain home until more rank-and-file Taliban fighters have been trained in how not to mistreat them.
"It was a notable acknowledgment of the many changes to Afghan society that greeted the Taliban when they re-entered a city they had not controlled for two decades.
"Many of those changes involve women. Not only have they been free to leave home unaccompanied — dressed as they see fit — they have also returned to school and jobs, and their images can be seen on everything from billboards to TV screens.
"On Wednesday, Mr. Mujahid suggested that longer-term, women would be free to resume their daily routines.
"Concerns that the Taliban would once again force them to stay in their homes or cover their faces are baseless, he said. He added that the requirement they be accompanied by a male guardian, known as a mahram, was misunderstood. It applies only to journeys of three days or longer, he said."
***
I am reminded that the New York Times in the 1930s denied that Stalin was starving out Ukrainians.
But he did. And his Holodomor starved 7 million to 10 million people. We remember the Holocaust (as well we should) which killed 12 million people, half of them Jews. But the Holodomor is forgotten thanks in large part to the Times's Pulitzer-winning cover-up.
Now the Times orders us to believe that Biden's surrender of Afghanistan to terrorists has not sent that country back to the hellhole it was under the Taliban.
Up the Times.