ITEM 1: Happy 20th anniversary to Glenn Reynolds and Instapundit. Hard work, good writing, and clear thinking paid off.
In two weeks, we will celebrate an unhappy 20th anniversary. We trusted the Deep State. Never again.
ITEM 2: The Daily Mail reported, "White House Press Secretary Jen Psaki made plain Friday that President Biden expects U.S. assets to kill the terrorists who ordered the attack on the airport in Kabul amid the evacuation of Americans and Afghans.
"She added her own dose of colorful language, a day after Biden stated bluntly to those who carried out the attack that 'we will hunt you down and make you pay.' Asked at a Friday press briefing to explain exactly what Biden meant, Psaki responded: 'I think he made clear yesterday that he does not want them to live on the Earth any more.'"
If he does not want them to live on Earth, why did Traitor Joe just give them Afghanistan?
John Madden gave us tough-actin' Tinactin.
Joe Biden gives us tough-talkin' Nothing.
ITEM 3: We Love Trump reported, "Under Joe Biden, there doesn't appear to be respect for our fallen heroes.
"The caskets of the fallen Marines have arrived from Afghanistan.
"But no one from the Biden administration bothered to show up and greet them.
"Biden himself wasn't there.
"He didn't even send someone in his place."
Well, he would have to travel all the way to Delaware to pay his respects.
ITEM 4: Fox reported, "Alan Page is a Pro Football Hall of Famer, a Minnesota Vikings legend, a former associate justice in the Minnesota Supreme Court and he even received the Presidential Medal of Freedom from President Trump, but despite his astounding lifetime accomplishments, Twitter doesn't believe he has enough 'notability' to be verified.
"You read that correctly.
"Page, 78, informed his over 16,000 Twitter followers on Thursday that his request to verify his account was not approved."
Gee, I wonder why that is.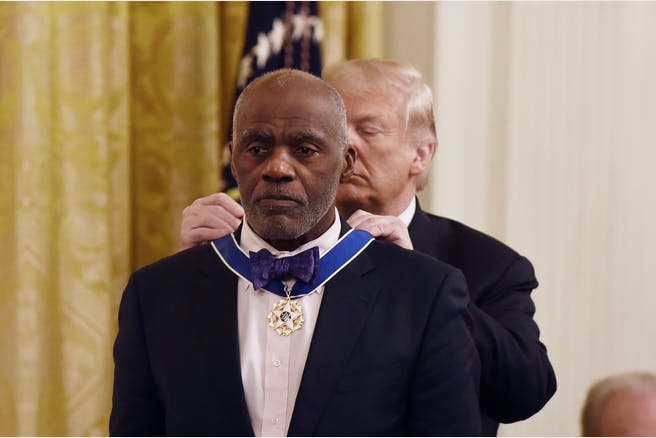 It is an enigma.
ITEM 5: The next Republican president must shut Twitter down.
Cite its failure to stop child porn and to stop children from seeing porn.
If that does not work, make something up.
They took on a president, then it is time to play hardball. You censor us, we shut your ass down.
ITEM 6: Task and Purpose reported, "On Thursday, a Marine infantry officer and battalion commander took to social media to air his frustrations with senior military leadership over their handling of the U.S. military's withdrawal from Afghanistan and what he says is a lack of accountability for mistakes made by those charged with managing the final stages of America's longest war."
(Fact check: It is not America's longest war. Korea is. It began 71 years ago. It is in a cease-fire.)
Marine Lt. Col. Stuart Scheller in a video shared to Facebook and LinkedIn said, "I'm not saying we've got to be in Afghanistan forever, but I am saying: Did any of you throw your rank on the table and say 'Hey, it's a bad idea to evacuate Bagram Airfield, a strategic airbase, before we evacuate everyone.'
"Did anyone do that? And when you didn't think to do that, did anyone raise their hand and say 'we completely messed this up.'"
The next Republican president must appoint him chairman of the joint chiefs of staff because he knows what happens when the Pentagon surrenders.
ITEM 7: Unlike Vindman. Scheller is a real whistle blower.
The press will help the Deep State bury him.
ITEM 8: The New York Post reported, "The Taliban has mobilized a special unit, called Al Isha, to hunt down Afghans who helped US and allied forces — and it's using US equipment and data to do it.
"Nawazuddin Haqqani, one of the brigade commanders over the Al Isha unit, bragged in an interview with Zenger News that his unit is using US-made hand-held scanners to tap into a massive US-built biometric database and positively identify any person who helped the NATO allies or worked with Indian intelligence. Afghans who try to deny or minimize their role will find themselves contradicted by the detailed computer records that the U.S. left behind in its frenzied withdrawal.
"The existence of the Al Isha unit has not been previously confirmed by the Taliban; until now the Haqqani Network, a terror group aligned with the Taliban, has not admitted its role in targeting Afghans or its use of America's vast biometric database."
This was the intent of Joe Biden and his unholy Deep State team.
Anyone who ever heard of the Iran hostage situation knows that the U.S. embassy is the last place you want to hide such information.
This is the Fall of Saigon and the Iranian Hostage Crisis with some Little Big Horn thrown in.
Scratch that last one. Custer actually fought back.
ITEM 9: The Washington Times reported, "Covid 19 has temporarily taken out one of the lead generals of the KISS army—Paul Stanley—and by extension a concert for his foot soldiers of rock. The famous frontman shared the announcement Thursday evening for disappointed fans who planned to see KISS play at The Pavilion at Star Lake in Burgettstown, Pennsylvania."
Maybe they can get David Lee Roth to fill in.
By the way, you have to be pretty old when your wig gets gray hair.
ITEM 10: The Daily Mail reported, "Democratic Rep. Seth Moulton says the conditions inside the Kabul airport are harrowing and 'crazy,' and says he saw U.S. military members break down over their efforts during his secret trip that drew the ire of party leaders.
"Moulton is speaking about what he saw on the ground during a stealthy trip to get a look at the evacuation – which the Pentagon and White House immediately blasted as an imprudent strain on precious resources.
"Moulton, who did four tours in Iraq with support from the local population and who has been an advocate for doing more for Afghans seeking special visas, says it gave him a close-up look at the desperation and squalor on the ground.
"'I've never seen more people cry, just salty Marines, seasoned State Department veterans just break down in tears, talking about their work, and hugging me, and saying thank you for coming,' the Iraq War vet told New York Magazine in an account of what he saw and how he got there."
It is little wonder why Deep Staters in DC want him shut down.
QUOTE OF THE DAY: Via Citizen Free Press, Moulton said, "I don't know what to tell you, Willie, because Biden has no plan."
ITEM 11: The Guardian reported, "A one-person anti-lockdown protest in central Auckland has been shut down, after the police were alerted to discussions of a potential gathering on social media. New Zealand police said officers were on Queen Street on Friday after hearing a protest was being planned, but only one person arrived with the intention of protesting, Newshub reported."
Good thing they stopped him before he gave covid to himself.
ITEM 12: Chris Wallace said, "We are so diminished in our ability to deal with all the jihadists that will come into that part of the world, into Afghanistan, and that's going to raise real questions. You know, as bad as yesterday was, the president can come back from that but if there is an attack on the U.S. homeland from Afghanistan after the withdrawal of all of our troops, that could be curtains for the Biden presidency."
Was 9/11 curtains for Bush 43?
No.
His approval topped 90% afterward.
ITEM 13: The Washington Post (third-party link) reported, "A propaganda arm of ISIS that celebrated the suicide bombing that killed at least 170 people in Kabul on Thursday maintains a web site and an app that rely on Amazon Web Services to promote its extremism - despite company policies against working with terror groups."
Amazon's founder and largest shareholder owns the Post.
Flashback to January 11, when CNN reported, "Parler, the alternative social media platform favored by conservatives, now finds itself virtually homeless on the internet as Amazon (AMZN), Apple (AAPL) and Google (GOOGL) have all booted it from their platforms in a span of a little more than 24 hours.
"Amazon said it would remove Parler from its cloud hosting service, Amazon Web Services, Sunday evening, effectively kicking it off of the public internet after mounting pressure from the public and Amazon employees."
The next Republican president needs to shut down Amazon for supporting ISIS, a sworn enemy of this nation. Maybe Amazon's CEO can be tried for treason.
ITEM 14: The Post Millennial reported, "Prominent footballer and Black Lives Matter activist Benjamin Mendy has been charged with four counts of rape and one count of sexual assault.
"The Manchester City star is accused of rape and sexual assault by three women, according to the BBC, including a minor. The alleged attacks took place between October 2020 and August 2021.
"The BBC reports that Mendy showed no emotion following an appearance at Cheshire Magistrates Court in which he confirmed his name, address, and date of birth. He is set to appear at Chester Crown Court on September 10.
"The French-born player was promptly suspended by Manchester City following revelations of the allegations. According to Sportrac, he is currently in the fifth year of a six year, £28,080,000 [$40 million] contract with the team."
If England is such a racist place, why did this frog hop there?
So much for having any principles. They kneel to get contracts to sell shoes made by slaves.
ITEM 15: CBS reported, "The parents of an Afghan baby who was born during an evacuation flight from on Saturday have named their daughter after the U.S. Military aircraft that carried them to safety in Europe. The baby was named Reach, after the C-17 aircraft's call sign, Reach 828.
"General Tod Wolters, commander of the U.S. military's European Command, told reporters on Wednesday that officials had been in contact with Reach's parents."
That is awesome.
The parents are more patriotic than anyone currently in the White House.
ITEM 16: The Epoch Times reported, "New government data shows U.S. consumer spending in July grew by a lackluster 0.3%, a far slower pace than the 1.1% pace of growth in the prior month and a sign that the economic recovery may be losing steam in the third quarter as the Delta variant spreads.
"The Commerce Department said in a release Friday that consumer spending, which accounts for around two-thirds of U.S. economic growth, rose $42.2 billion in July, or a modest 0.3% over the month. A separate sentiment gauge from the University of Michigan showed American consumer confidence fell sharply in August.
"Still, the foundation for the economic recovery appears solid, with the Commerce Department report showing wages rising and a boost in savings, giving American consumers more spending potential to unlock going forward, even as the rise in infections clouds the outlook."
Meanwhile, Commerce also reported consumer prices in July were up 3.6% from July 2020.
This does not bode well for us.
ITEM 17: Hamas-Shielding AP reported, "Robert F. Kennedy's assassin was granted parole Friday after two of RFK's sons spoke in favor of Sirhan Sirhan's release and prosecutors declined to argue he should be kept behind bars.
"The decision was a victory for the 77-year-old killer, though it does not assure his release.
"The ruling by the two-person panel at Sirhan's 16th parole hearing will be reviewed over the next 90 days by the California Parole Board's staff. Then it will be sent to the governor, who will have 30 days to decide whether to grant it, reverse it or modify it."
The man should have been executed in 1969.
Two of RFK's sons sided with Sirhan Sirhan.
Liberals have no morals, no courage, and no loyalty at all.
ITEM 18: The Sun reported, "Tom Cruise had thousands of pounds worth of luggage stolen after car thieves sped away in his bodyguard's £100,000 BMW.
"The Hollywood superstar — in the UK filming scenes for ­Mission: Impossible 7 — was 'hopping mad' when he learned of the high-tech theft."
No one would have dared try that on Peter Graves.
ITEM 19: I don't care what kind of week Biden had.
America had its worst week in my lifetime.
That includes the assassination of a president, the resignation of a president, the Challenger explosion, and 9/11.
The surrender imperils our nation in a manner not seen since Pearl Harbor. Terrorists have our arms. Terrorists now are cocky and confident. And terrorists have an ally behind the Resolute Desk.
ITEM 20: I verified that they attended high school together.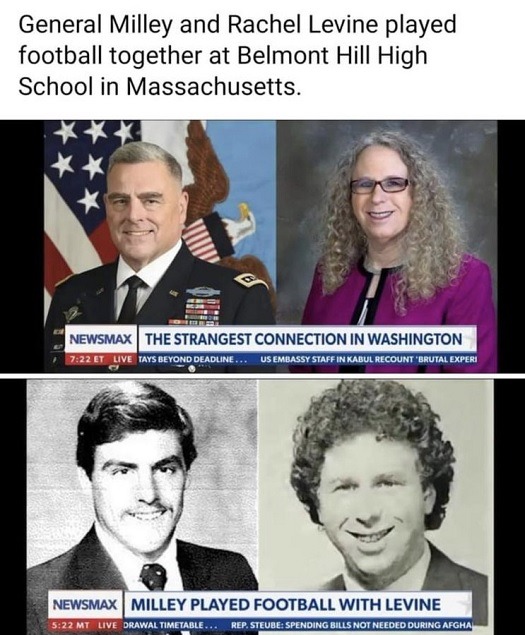 It is not that it is a small world. It is that it is a such a strange one.
FINALLY, my son reported, "Noah likes the toy car you got him, Dad. If you put the top up on the car, he takes it off immediately."
He's a Surber all right.
My grandpa worked with the Chevrolet Brothers when they raced cars in Indianapolis.
And my father-in-law ran 'shine back in the day, and later worked his way up to manager at a Hertz outlet.