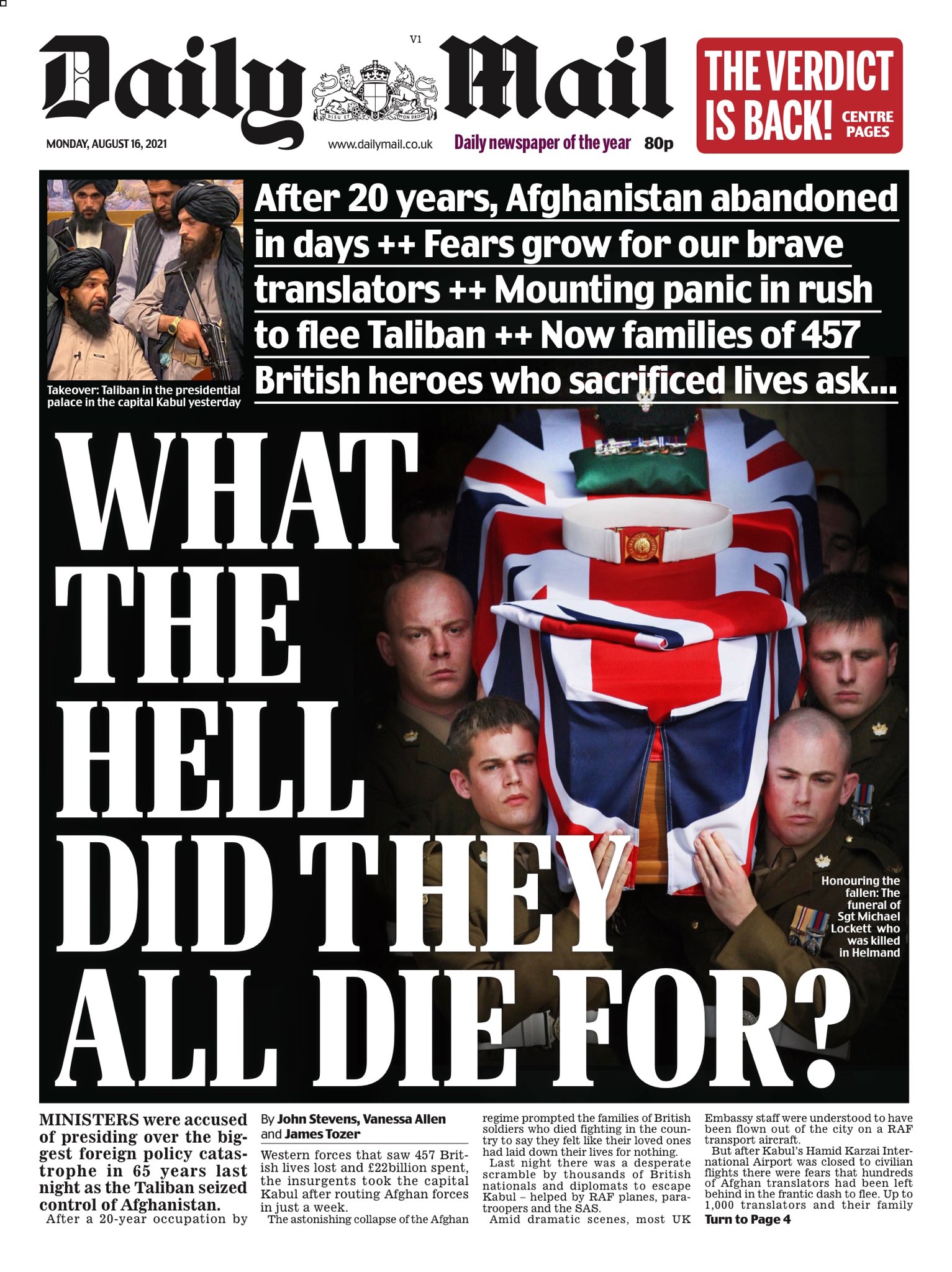 ITEM 1: The New York Post reported, "Trump calls on Biden to 'resign in disgrace' over crisis in Afghanistan."
Amen.
The story said, "Former President Donald Trump Sunday called on President Joe Biden to 'resign in disgrace' over his handling of the Afghanistan withdrawal and other issues.
"'It is time for Joe Biden to resign in disgrace for what he has allowed to happen to Afghanistan, along with the tremendous surge in covid, the Border catastrophe, the destruction of energy independence, and our crippled economy,' the former president wrote in a statement.
"The Taliban has rapidly taken control of most of the country as insurgent forces enter the capital city of Kabul, where U.S. troops have been sent to evacuate the embassy.
"Mobs of panicked people can be seen at the Kabul airport frantically trying to flee the city on Sunday.
"Trump's administration had negotiated the terms of the withdrawal of U.S. troops from Afghanistan by May 1. Trump even considered withdrawing troops from the region before leaving office.
"When President Biden announced that he planned to fully withdraw troops from Afghanistan by Sept. 11, the 20th anniversary of the 9/11 attacks, he was slammed by Trump who insisted Biden 'keep as close' as possible to his own goal of getting the troops out on May 1."
Biden voted for the war.
Biden spent 8 years as vice president advising to keep troops there.
Now Biden has turned the country back over to the Taliban.
ITEM 2: The Daily Mail reported, "Taliban fighters have invaded the palatial home of top Afghan warlord and US ally and videoed themselves lounging on his gold furniture and inspecting his golden tea set -- as their advance closes on capital Kabul amid a scramble to get Westerners out.
"General Rashid Dostum's home is in the northern city of Mazar-e-Sharif which fell to the Taliban yesterday and now there are claims that the advancing fighters have reached the outskirts of Kabul.
"Dostum was a key US ally during the 20 year campaign against the Taliban and famously fought with the Special Forces 'horse soldiers' shortly after 9/11."
The president of Afghanistan fled the nation.
President Trump left Biden with a good withdrawal plan.
Biden threw it away.
ITEM 3: Glamorous Jen Psaki said, "The Taliban also has to make an assessment about what they want their role to be in the international community."
So what?
The world shunned them before. They don't care nor should they.
As Bryan Preston said, "The Taliban made that assessment when it succored al Qaeda as it planned the September 11, 2001 attacks on the United States. Its ideology is 1400 years old and has not changed in the 20 years of warfare in Afghanistan."
Instead of trying to turn Afghanistan into a constitutional republic, Washington should make America a constitutional republic again.
ITEM 4: Reuters reported, "President Joe Biden's administration has been holding secret talks with more countries than previously known in a desperate attempt to secure deals to temporarily house at-risk Afghans who worked for the U.S. government, four U.S. officials told Reuters."
Europe owes the Afghanistan people a home because NATO participated in that war.
How is it that Europe led by Chancellor Merkel allowed itself to be overrun by Middle East refugees from wars it did not start, but won't take in its allies from a war it helped start?
ITEM 5: Zero Hedge reported, "Former CIA Officer: 'The Most Infamous & Devastating Press Conference Ever Held By An American President.'"
Biden went Baghdad Bob.
REPORTER: Is a Taliban takeover of Afghanistan now inevitable?
THE PRESIDENT: No, it is not.
REPORTER: Why?
THE PRESIDENT: Because you — the Afghan troops have 300,000 well-equipped — as well-equipped as any army in the world — and an air force against something like 75,000 Taliban. It is not inevitable.
He doesn't know the Taliban from his elbow. This is the man Democrats once put in charge of Senate Foreign Relations Committee.
ITEM 6: Remember that the highly respected (in Washington circles) Robert Gates wrote in his memoir, Biden has 'been wrong on nearly every major foreign policy and national security issue over the past four decades.'"
Gates voted for Biden anyway.
That is how much Washington cares about foreign policy and national security issues.
They got rid of Donald Trump. That's all they cared about because he was going after their racketeer influenced corrupt organizations.
ITEM 7: Now for some good news.
Via Citizen Free Press, "Breaking — Texas Supreme Court rules for Abbott… 'Mask mandates are not legal."
NBC reported, "The Texas Supreme Court on Sunday blocked mask mandates ordered by two of the nation's largest counties that defied Gov. Greg Abbott (R) as covid 19 cases surge and hospitals are stretched thin.
"The order by the state's highest court -- which is entirely comprised of elected Republican justices -- halts mask requirements that county leaders in Dallas and San Antonio put in place as new infections soar and students begin returning to school. Texas reported more than 11,500 patients hospitalized with the virus Sunday, the most since January.
"The ruling is temporary pending a court hearing, though a final ruling could take weeks. Officials in Houston and Austin, as well as public school districts, had also imposed mask mandates despite Abbott prohibiting local governments from reverting back to pandemic restrictions."
The illegal, useless, and ornamental masks are just an excuse by incompetent, public health bullies for their inability to stop a virus that likely is unstoppable.
Blaming the unmasked for this biological weapon unleashed by Red China is like blaming carbon dioxide for hot days in July.
And they do that, too.
ITEM 8: Back to the bad.
Just the News reported, "Laredo, Texas reached an agreement Wednesday to settle its lawsuit against the Biden Department of Homeland Security for transporting illegal immigrants from the Rio Grande Valley sector into the border city.
"Now these individuals are being transported instead to Austin, Dallas and Houston after they are released by Border Patrol.
"Laredo Mayor Pete Saenz, a Democrat, said Border Patrol is not testing the people it is releasing for covid before they are bused out. Under the new agreement, the city is not required to test them, so they don't have to provide care."
Untested for covid?
There is your Delta variant.
Chairman Xi is not the only one unleashing biological weapons on the USA.
ITEM 9: Zero Hedge reported, "In Lieu Of Ethics: Democratic Assistant Whip Accused Of Giving Campaign Funds To Stanford Before Admission Of His Son."
The crook is Democrat Congressman Ted Lieu of California.
The feds sent Aunt Becky from TV's "Full House" to the slammer for donating $500,000 of her own money to USC's rowing team so her kid could get accepted at USC.
Everyone felt so good about themselves seeing an all-American girl next-door goody two shoes lose her liberty and her career.
What about Lieu?
Will he be investigated by the FBI? Will he be supermarket tabloid fodder for months on end? Will he spend any time in prison? Will this end his career?
Answers: Of course not, of course not, of course not, and never in a million years.
When you have two standards of justice, you have no standards and no justice.
ITEM 10: The New York Post reported, "South Dakota gov defends Sturgis rally from critics calling it a covid superspreader."
She said, "I think it's interesting that this side, this political party, the Democrats, who embrace getting abortion on demand, are accusing us of embracing death when we're just allowing people to make personal choices and have personal responsibility over when they want to assemble, when they want to gather and spend time outdoors enjoying their way of life."
Also, Trending Politics reported, "Estimates put the crowd for the event this year at around 700,000 — or about three times as many people as those who came last year."
With 700,000 people, Sturgis was the 20th largest city in the United States this week. It nearly doubled South Dakota's population for a few days.
ITEM 11: In July 2016, Ken Burns went on CNN and delivered a fact-challenged diatribe against Donald Trump in an effort by Mister Burns to prove he is one of the cool kids.
This weekend, Christian Toto reported, "Ken Burns on Woke Chopping Block. The celebrated filmmaker's only crime? He's an icon with the wrong skin color."
Well, they hailed Handsy Andsy Cuomo as a champion of women when he signed anti-sexual harassment legislation into law.
No one should expect loyalty from people who kill their own children in the womb.
ITEM 12: The New York Post reported, "Two St. Louis deputies were dismissed last month for working on progressive Democrat Rep. Cori Bush's security detail without permission — days before the Squad member defended spending tens of thousands of campaign dollars on private protection while pushing to defund the police.
"St. Louis Sheriff Vernon Betts told KMOV that he initially warned now-former deputies Tylance Jackson and Maurice Thompson to quit moonlighting as muscle for Bush (D-Mo.) and fill out the proper forms after they accompanied her on a tour of St. Louis jails in April. However, Betts said he was told by Veterans Affairs Police several weeks later that Jackson and Thompson were providing security for Bush again.
"In addition to violating policy by not getting approval to work a secondary shift, neither Jackson nor Thompson have licenses to work private security, Betts told KMOV."
They were moonlighting without permission. They were warned.
I won't go into Congresswoman Bush's hypocrisy because it is so darned obvious. Every public official who demands we defund the police seems to have bodyguards.
ITEM 13: The Washington Free Beacon reported, "Virginia's Democratic gubernatorial nominee Terry McAuliffe released a new ad promoting his goal of 'growing Virginia's economy'—but the workers pictured in the ad are in Florida."
He is a Clinton acolyte. I suppose this makes him popular in Northern Virginia.
ITEM 14: Trending Politics reported, "After incorrectly predicting the outcome of abruptly withdrawing troops from Afghanistan after being there for 20 years and leaving US weapons in the hands of the Taliban, Speaker of the House Nancy Pelosi thinks President Joe Biden 'is to be commended' for 'the actions he has taken.'"
Who knew Baghdad Bob had a sister?
ITEM 15: Fox reported, "World leaders are speaking out about their disappointment with the security situation in Afghanistan, with British Prime Minister Boris Johnson going so far as to pin the blame on President Joe Biden and the United States.
"Johnson said it was 'fair to say the US decision to pull out has accelerated things, but this has in many ways been a chronicle of an event foretold,' but urged western leaders to work together to prevent Afghanistan from again becoming a 'breeding ground for terrorism.'"
Our allies know Biden is another OBAMA.
One Big-Ass Mistake, America.
ITEM 16: Gail Heirot reported, "A bipartisan effort to eliminate the special wage program will throw Down Syndrome workers out of their jobs. Why isn't that obvious?"
They know full well what they are doing.
Down Syndrome babies undermine the argument for abortion. I mean if Sarah Palin is willing to have Trig, why should Malia or Sasha abort their otherwise healthy children?
ITEM 17: The Daily Beast reported, "Many women's rights advocates were shocked last week to learn that leaders of the country's top anti-harassment organization had advised Gov. Andrew Cuomo on how to respond to his own allegations of sexual misconduct. Former staffers of the organization were not.
"The allegations contained in the New York Attorney General's report against Time's Up—a group founded during the #MeToo movement to address workplace harassment, assault, and discrimination—spurred open letters and furious op-eds, accusing the group of abandoning its stated mission. But former staffers told The Daily Beast that the incident was emblematic of the culture at Time's Up, where powerful executives and board members dictated policy based on their connections with media and political power players, rather than on the needs of survivors or ideas of staff.
"Or, as one former staffer put it bluntly, 'It was patriarchy with a dress on.'"
That is as surprising as darkness at night.
All liberal groups are set up to give power to their leaders. None of the founders of Time's Up cared that much about the plight of women. It was a political fad that they exploited.
FINALLY, The Post Millennial reported, "Biden administration tells US Embassy staff in Kabul to destroy U.S. flags."
Democrats cheer.