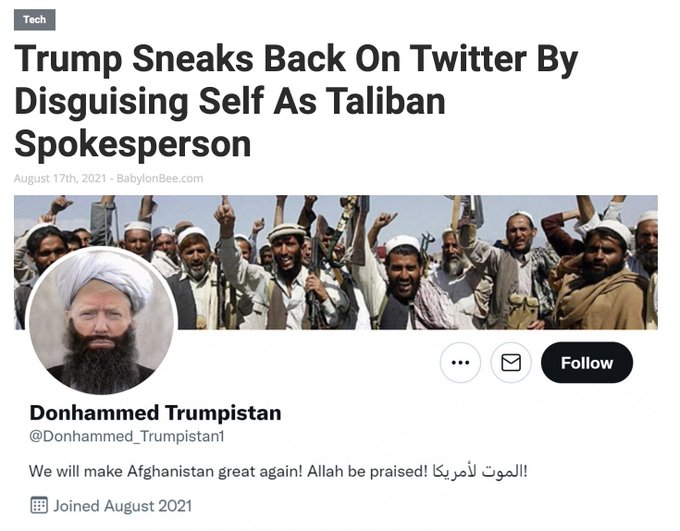 ITEM 1: Via Michael Goodwin, in a Wall Street Journal op-ed, H.R. McMaster and Bradley Bowman write, "Pundits in Washington repeat the mantra that there was 'no military solution' in Afghanistan. The Taliban seem to have come up with one."
This wasn't a pullout. It was a surrender.
ITEM 2
:
Media-ite reported
, "Twitter Says Taliban Spokesman Will be Allowed to Remain if He Doesn't Get Too Violent."
Twitter banned a sitting president. Revoke its Section 230 loophole privilege. Then, strip CEO Jack Dorsey of his citizenship and parachute him into Kabul.
ITEM 3: The 25th Amendment watch has begun.
After the disastrous events in Afghanistan, we must confront a serious question: Is Joe Biden capable of discharging the duties of his office or has time come to exercise the provisions of the 25th Amendment? https://t.co/l1bFrUdZH9

— Rick Scott (@SenRickScott) August 16, 2021
We will see if this gains traction.
ITEM 4: Zero Hedge reported, "After handing the Taliban US-supplied military hardware on a silver platter thanks to the botched Afghanistan withdrawal, the Biden administration scrambled to deprive the terrorist organization of funding -- freezing Afghan government reserves held in US bank accounts, and blocking the Taliban from accessing billions of dollars held in US institutions, according to the Washington Post, citing two people familiar with the matter."
The story also said, "As of April, the Afghan central bank held $9.4 billion reserve assets according to the International Monetary Fund -- roughly one third of the country's annual economic output. The vast majority are held outside of the country, according to the Post, billions of which are in the United States."
Not everyone in the Biden administration is numbskull.
Kudos to Treasury Secretary Janet Yellen.
ITEM 5: The Epoch Times reported, "Senator Tom Cotton (R-Ark.) said during an interview Tuesday morning that within 48 hours of posting a notice online, his office was flooded with hundreds of calls from U.S. citizens who want help getting to Kabul International Airport to escape Afghanistan."
"'Our office has been flooded with hundreds and hundreds of calls—not just from Arkansans but people around the country—as they learned that I'm willing to at least try to make sure that they know that someone has heard them and someone has logged their name and phone number and where they are, in case they turn up missing, and is trying to get information to them as best we can,' said Cotton on Tuesday.
"'We've had reports, too, of State Department servers crashing or their hotline numbers being overwhelmed. Again, the scale of the incompetence here, and implementing the decision to withdraw, is really unbelievable.'
"Pentagon spokesperson John Kirby told CNN on Tuesday said that the focus of the current military mission is to get people who are already at the airport out and that their focus is not on those U.S. nationals who are outside the area stranded in and around Kabul."
Get them out.
That should have been done first, before the surrender.
ITEM 6: The Trafalgar Group reported Biden gets 69% disapproval of his surrendering Afghanistan, our military bases, and our equipment to the Taliban while leaving thousands of Americans behind.
(The actual question was, "What best describes how you feel about how President Biden is handling US military operations in Afghanistan?")
23% approve, including a shade under 40% of Democrats.
They should be sent to Kabul along with Jack Dorsey.
ITEM 7: Fox reported, "George Bush, the former president, and his wife Laura Bush, the former first lady, issued a statement late Monday about the unfolding crisis in Afghanistan with a message to U.S. troops, veterans, diplomats and the intelligence community who have served in the country over the past two decades."
What did he expect from Biden?
An overnight surge of competence?
In failing to campaign for the re-election of President Donald John Trump, Bush knew this would happen.
ITEM 8: The Wall Street Journal reported, "The Commerce Department on Tuesday reported that retail sales—spending at stores, restaurants and online—fell by a seasonally adjusted 1.1% last month from June.
"The drop wasn't entirely due to the resurgence of Covid-19 cases brought on by the Delta variant of coronavirus: Spending at online and other nonstore retailers fell 3.1%, for example, but that probably was in part due to Amazon's decision to hold Prime Day sale in June instead of July. Sales at car dealers fell 4.3%, which likely reflected vehicle shortages brought on by the global chip shortage."
Bidenomics is as good as his foreign policy.
ITEM 9: CNSNews.com reported, "A Chinese state mouthpiece reacted to the fall of Kabul to the Taliban Monday by saying the crisis has dealt a severe blow to U.S. hegemony, and suggesting allies like Taiwan should be careful about placing their trust in the U.S."
Fact check: True.
The world hates losers and Biden is one Big L.
ITEM 10: Politico reported, "Florida Gov. Ron DeSantis' fight over school mask mandates took a dramatic turn on Tuesday after the state Board of Education ruled two defiant school districts broke state law and threatened to remove local elected officials for disobeying the GOP governor.
"School leaders in Alachua County and Broward County, who are resisting DeSantis' order banning mask mandates, now could face a range of possible punishments for defying the DeSantis administration, which has taken a hard line against enacting additional Covid-19 precautions despite a record-breaking surge in cases and hospitalizations brought on by the Delta variant."
There is zero evidence that a cloth mask stops the spread of any virus.
Either school officials obey civilian authority or they get fired.
ITEM 11: NBC reported, "The Texas Supreme Court ruled Tuesday evening that the state's constitution allows the state House of Representatives to arrest absent members to force them to return to the chamber to conduct legislative business."
Duh.
The court said, "The Texas Constitution empowers the House to 'compel the attendance of absent members' and authorizes the House to do so 'in such manner and under such penalties as [the] House may provide. Neither the passage of time nor the passions of a hotly contested legislative dispute can change what it means."
A win for a state constitution is a win for us all.
ITEM 12: Fox reported, "Planned Parenthood of Montana filed a lawsuit Monday seeking to block four new laws restricting access to abortion in the state.
"The laws are set to take effect Oct. 1. They would ban abortion after 20 weeks of gestation; restrict access to abortion pills; require abortion providers to ask patients if they would like to view an ultrasound; and prohibit insurance plans that cover abortion procedures from being offered on the federal exchange."
Another industry bitching about regulation.
ITEM 13: The Daily Caller reported, "Multiple watchdog groups said Minnesota Rep. Ilhan Omar may have violated federal law for failing to mention any income received from her critically-acclaimed 2020 memoir in her latest financial disclosure report filed on Friday.
"Omar reportedly signed a deal worth up to $250,000 for her memoir, 'This Is What America Looks Like,' in January 2019, around the same time she was sworn into Congress. Omar's communications director said the House Ethics committee approved the book deal, but the Democratic lawmaker's financial disclosures covering the calendar years 2018 and 2019 contain no mention of the book or any advance income received upon signing a deal.
"The book was published in May 2020 to rave reviews by the press and Omar's Democratic colleagues. The Atlantic dubbed it one of the best political books of the year, and numerous high profile Democrats, including House Speaker Nancy Pelosi, Rep. Alexandria Ocasio-Cortez of New York and Rep. Ayanna Pressley of Massachusetts, praised on the book.
"However, Omar made no reference to her book or any royalties in her latest financial disclosure filed Friday which covers the 2020 calendar year."
She married her brother to get around immigration law, so why would anyone expect her to follow any other law?
ITEM 14: FEE reported, "Ayanna Pressley's 'Cancel Rent' Hypocrisy, Exposed.
"The congresswoman's rental income is another reminder that landlords are not all wealthy CEOs or big companies."
Her tenants should go on a rent strike.
ITEM 15: Breitbart reported, "The Taliban seized a staggering quantity of American military vehicles, equipment, and weapons when it overran Afghanistan in a week.
"President Joe Biden, a Democrat obsessed with gun control, ended up giving billions of dollars of American weapons to the Islamist fanatics who helped perpetrate 9/11.
"Only a month ago, Biden was bragging about the terrific quality of the modern 'tools, training, and equipment' sent to the Afghan military at the expense of U.S. taxpayers over the past two decades."
Now that great equipment (and our military bases) belong to the Taliban.
I believe this was his plan all along to arm terrorists because fighting terrorism expands the power of the deep state.
ITEM 16: Reuters reported, "Texas Governor Greg Abbott, whose state is engulfed in a fourth covid surge, tested positive for covid-19 on Tuesday but so far has no symptoms of the illness, his office said."
The virus is so weak for most people that they have to be tested to discover you have it.
Lame.
Mask and isolate the sick, and leave the rest of us the hell alone.
ITEM 17: Just the News reported, "Professional athlete Tim Tebow has been released from the NFL's Jacksonville Jaguars after just one preseason game, making him yet again a free agent."
Tebow said, "Thankful for the highs and even the lows, the opportunities, and the setbacks. I've never wanted to make decisions out of fear of failure and I'm grateful for the chance to have pursued a dream."
He kneeled for Jesus and was mocked.
Kaepernick kneeled for anti-Americanism and was praised. He got a multi-million-dollar shoe contract out of the deal.
And the shoes are made by slaves in Red China.
Be Tim Tebow.
ITEM 18: Even a bad century has its good moments.
At the rate the Boston Dynamics' Atlas robots are progressing, I would not be surprised to see them on NASA's upcoming moon missions: pic.twitter.com/mmQ4tp1jM4

— Michael Sheetz (@thesheetztweetz) August 17, 2021
FINALLY
,
via Instapundit
, "Watch the First Two Hours of MTV's Inaugural Broadcast (August 1, 1981)."
The launch of MTV was closer to Pearl Harbor Day than today is to the launch of MTV.
I want my MTV -- back.
Go, Buggles, go.