Holy cow. What an ad. pic.twitter.com/hPUFtr4qBV

— Storm Paglia 🇺🇸 (@storm_paglia) August 24, 2021
ITEM 1
: I will begin today's Highlights with
an ancient ad
from two days ago before all hell really broke out in Kabul. Forget waiting until 2022. Republicans must demand answers, hearings, and a special prosecutor now. Impeachment followed by a trial for treason is necessary to fumigate the capital and restore our constitutional republic.
Generals and Cabinet secretaries also must go.
A President Kamala or a President Pelosi or a President Schumer could not do worse. Biden is not demented. He is just pure evil. He is a corrupt politician and pedophile. His surrender is completely indefensible.
ITEM 2: Speaking of pure evil, NBC reported, "Sirhan Bishara Sirhan, the man convicted of assassinating Sen. Robert F. Kennedy, will go before a California parole board on Friday for what will be his 16th time seeking release.
"Unlike his past attempts for freedom, there will be no opposition from prosecutors. Los Angeles County District Attorney George Gascón's office will not be at the hearing, making it the first time prosecutors won't be in attendance, The Washington Post reported.
"His office will also not send a letter in support of the parole, with Gascón's office saying it wants to remain neutral in the case."
Soros financed Gascón's campaign.
The Kennedy family is disposable to liberals. All people are. It is all about power.
ITEM 3: The Daily Caller reported, "Former Democratic strategist James Carville said Wednesday that the chaotic situation in Afghanistan was not President Joe Biden's fault.
"Carville told MSNBC's Brian Williams that the U.S. had lost the war in Afghanistan years ago and that the real problem was 'hysterical and stupid' press coverage of the Taliban takeover and subsequent evacuation."
He lied.
For 18 months there were no U.S. combat deaths and the Taliban was at bay.
Then Washington pretended we elected Biden president...
ITEM 4: Biden gave a speech to explain Afghanistan.
It was his fifth or sixth attempt to explain the inexplicable surrender.
Via Media-ite, CBS chief White House correspondent Nancy Cordes said, "It's the worst day of the Biden presidency, Norah, and it is the deadliest day for U.S. service members in a decade, since August of 2011, when 30 Americans lost their lives when a helicopter was shot down, so this is a very momentous time for this White House."
And that was before his speech.
He said, "We will not forgive. We will not forget. We will hunt you down and make you pay."
Ooh, tough talk from a man who just handed over an entire nation to a ragtag group of goatherders.
What will they pay us with? The $7 billion we just gave them?
Forget impeachment.
Now I want him turned into a gerbil.
ITEM 5: Via Instapundit,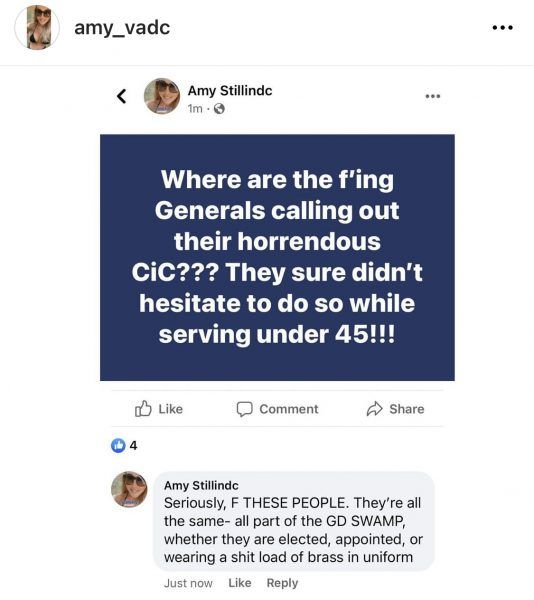 Answer: They are fondling themselves as they read Das Kapital.
And where are the Bushies? Where are the Republicans? The only man calling Biden out is President Trump.
He may be the last man left in politics.
ITEM 6: The Daily Wire reported, "After Pledging They Would Violate Law To Teach CRT, Teachers Scramble To Hide Evidence."
It is not civil disobedience if you refuse to go to jail for your beliefs.
It is cowardice.
ITEM 7: Politico reported, "U.S. officials provided Taliban with names of Americans, Afghan allies to evacuate."
Now the Taliban, there is a group that does not have to say, "We will not forgive. We will not forget. We will hunt you down and make you pay."
The Taliban just goes and does it.
ITEM 8: The New York Post reported, "President Biden's German shepherd Major attacked many more people than the White House has disclosed, according to newly released emails.
"The documents indicate that Major bit members of the Secret Service eight days in a row in early March — though only one such incident was publicly acknowledged."
Promote Major.
He has more fight in him than the generals do.
ITEM 9: NBC reported, "In the chaotic minutes before he shot and killed Ashli Babbitt during the Capitol riot on Jan. 6, Lt. Michael Byrd focused his attention on the glass doors leading into the lobby of the House of Representatives chamber.
"About 60 to 80 House members and staffers were holed up inside, and it was Byrd's job to protect them.
"As rioters rampaged through the Capitol, Byrd and a few other officers of the U.S. Capitol Police set up a wall of furniture outside the doors."
The unarmed Ashli Babbitt was not available for comment.
ITEM 10: Up until today, the Capitol Police had killed more Americans than the Afghanistan terrorists had since February 2020.
Ashli Babbitt, an Air Force vet, would have been safer in Afghanistan than in DC on January 6.
Maybe we should send the heroic Byrd to Kabul to protect our refugees.
ITEM 11: Breitbart Politics reported, "Charter flights leaving Hamid Karzai International Airport in Kabul, Afghanistan, have reportedly left hundreds of seats open onboard. A Washington-based development firm, Sayara International, which has worked in Afghanistan, set up plans to try and take 1,000 Afghan refugees to Uganda last week, Wall Street Journal reported, since Uganda offered their country as a sanctuary for Afghans."
Giving the Taliban a list of names.
Running rescue planes half-full.
It is almost as if Washington were pulling for the other side.
ITEM 12: The Daily Caller reported, "Speaker of the House Nancy Pelosi celebrated Women's Equality Day in San Francisco, California, on Thursday, while at least 12 U.S. service members have been killed in Afghanistan.
"Pelosi sent out a tweet just hours after the 12 service members were killed, saying 'Join me live in San Francisco with Mayor London Breed, elected officials and community leaders to commemorate Women's Equality Day,' and sharing a video of an event where she was present."
The event features a woman speaker and a woman mayor. Sounds to me like American women have no room to complain.
But bitch they will because they are Democrats.
My guess is the equality does not apply in Afghanistan, or in any of the other stans.
ITEM 13: GWN reported, "Brandie LaCasse has been waiting for her rent for almost a year. She owns three properties in upstate New York, but the single mother and Air Force veteran is functionally homeless after experiencing hard times herself.
"After notifying the tenants that they had to move out so that she could move in, the tenants stopped paying the rent and stayed put, she said. She and her daughter live out of her car and live with friends.
"'I cried many nights, like thinking, Where's my money?' she said.
"Despite over $23,000 in unpaid rent, LaCasse cannot force its tenants to leave due to state and federal moratoria on evictions.
"But federal money intended to alleviate such situations is not reaching homeowners. Almost 90% of rental assistance funds allocated by Congress has not been distributed, according to the Treasury Department."
The delays are deliberate because Democrats want to eliminate the middle class because it is easier for the rich to control the poor.
ITEM 14: The New York Times (I don't link Fake News) bemoaned, "The Supreme Court on Thursday rejected the Biden administration's latest moratorium on evictions, ending a political and legal dispute during a public health crisis in which the administration's shifting positions had subjected it to criticism from adversaries and allies alike.
"The court issued an eight-page majority opinion, an unusual move in a ruling on an application for emergency relief. The court's three liberal justices dissented.
"The decision puts hundreds of thousands of tenants at risk of losing shelter, while the administration struggles to speed the flow of billions of dollars in federal funding to people who are behind in rent because of the coronavirus pandemic and its associated economic hardship. Only about $5.1 billion of the $46.5 billion in aid had been disbursed by the end of July, according to figures released on Wednesday, as bureaucratic delays at the state and local levels snarled payouts.
"The majority opinion, which was unsigned, said the Centers for Disease Control and Prevention had exceeded its authority."
For once, the court reined a Democrat administration in.
ITEM 15: National Review reported, "The former ethics chief under President Obama slammed the Biden White House Thursday for allowing Hunter Biden to sell his paintings for tens of thousands of dollars without disclosing his buyers' identities, arguing that the buyers' anonymity could provide an opportunity for a pay-to-play scheme.
"Walter Shaub, head of the Office of Government Ethics from 2013 to 2017, has repeatedly criticized the Biden administration for what he has deemed egregious ethical violations, calling the president's son's art-selling deal with the White House the 'perfect mechanism for funneling bribes.'
"The deal Hunter struck with the White House requires that his buyers' identities be concealed from him and the public, with his gallery handling all transactions. Nothing is in place, however, to prevent the buyers from identifying themselves to gain favor with the administration."
Everyone on Washington knows this.
No one will lift a finger to stop it.
ITEM 16: The Epoch Times reported, "The number of American workers filing for unemployment edged up last week following four consecutive weeks of declines, as the labor market continues along its bumpy road to recovery.
"First-time filings for unemployment insurance, a proxy for layoffs, came in at 353,000 for the week ending Aug. 21, a rise of 4,000 from the previous week's revised level of 349,000, the Labor Department said in a statement.
"'Alas, a fifth straight weekly decline was not to be with seasonally adjusted new jobless claims,' Bankrate senior economic analyst Mark Hamrick told The Epoch Times in an emailed statement. 'The pandemic has demonstrated that few things move in a straight line and the latest snapshot of jobless claims is consistent with that.'
"Weekly claims surged to a record high of 6.2 million in April 2020, when lockdowns amid the covid-19 outbreak shook the economy. For the most part, they've fallen steadily since then, remaining relatively flat at the mid-to-high 300,000 range since June, a historically elevated level. Before the pandemic, weekly unemployment filings averaged around 220,000."
Bidenomics is taking hold.
ITEM 17: Reuters reported, "The United States has urged Mexico to clear ad-hoc camps housing thousands of migrants in border cities due to concerns they pose a security risk and attract criminal gangs, officials familiar with the matter said.
"Facing domestic criticism over a jump in illegal crossings at the U.S.-Mexico border, the administration of U.S. President Joe Biden has pressed Mexico to curb the flow of migrants to help ease pressure on the nearly 2,000 mile (3,200 km) frontier.
"Two of the biggest camps to have sprung up in northern Mexico are in the city of Reynosa, across the border from McAllen, Texas, and in Tijuana, opposite San Diego, California."
Mexico does not want to turn into California.
FINALLY, President Trump said on Hannity last night, "We look like fools all over the world. We're weak. We're pathetic. We're being led by people that have no idea what they're doing. They take the military out and then they say now we'll bring out the people and all of a sudden the Taliban walks in.
"We had the Taliban so under control they wouldn't have moved without getting our approval."
Now Biden cannot take a piss without their permission.