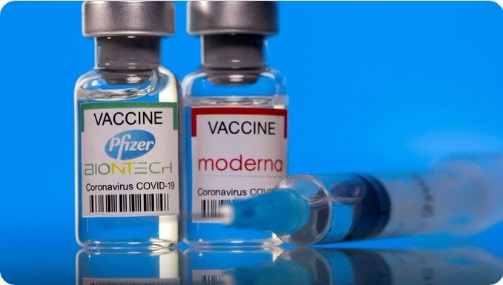 ITEM 1: The Mayo Clinic reported that 57.7% of the country has received at least one dose of covid vaccine. That's over half the country.
Enough people are vaxxed that we don't need masks.
ITEM 2: CNBC reported, "Anger and frustration mounted in Congress over the weekend as a nationwide eviction moratorium expired during a surge in the Covid-19 pandemic. One Democratic lawmaker even camped outside the Capitol in protest as millions of Americans faced being forced from their homes.
"Lawmakers said they were blindsided by President Joe Biden's inaction as the midnight Saturday deadline neared, some furious that he called on Congress to provide a last-minute solution to protect renters. The rare division between the president and his party carried potential lasting political ramifications."
The ban is an unconstitutional attack on capitalism.
It is too bad we cannot imprison or otherwise punish lawmakers who blatantly violate the Constitution in passing such legislation.
ITEM 3: Good Word News reported, "On Thursday, an Oregon judge clashed with local officials and a gun control group as he dismissed a challenge to a Second Amendment sanctuary ordinance that had previously been approved by voters.
"The Columbia County Council of Commissioners requested a judicial review of the Second Amendment Sanctuary Ordinance on May 25, which bars law enforcement in the locality from enforcing most federal law enforcement provisions. Officials at the time did not seek to invalidate the proposal. Instead, they sought to 'get answers to the many legal questions raised by this one.'
"Everytown for Gun Safety, a gun control advocacy group, and Oregon Attorney General Ellen Rosenblum then filed their own court documents opposing the sanctuary order. Despite their opposition, Judge Ted Grove ruled that no 'justiciable controversy' was present to justify a legal decision on the matter."
A win for America.
ITEM 4: Via Zero Hedge, Bill Maher said, "Please don't turn the Olympics into the Oscars. Oh, what was that? They did already?
"You know, back in April, when the Oscars aired, I commented in this space that the theme of that evening was 'We dare you to be entertained' — lest your mind waver from thinking about the sad things and bad people in the world."
Maher overstated the importance of the Olympics.
In the woke era, sports fans have discovered they don't need to be entertained.
In fact, we were entertaining ourselves to death.
So take away sports, new movies, the theater, and the rest. I'll watch "Petticoat Junction" and "The Untouchables" reruns and read books. I learned to live without newspapers earlier.
ITEM 5: On the other hand, Mark Judge reported, "Olympic swimmer Katie Ledecky, who recently set a world record in the 400-meter competition, prays before she races.
"The 24-year-old talked about her Catholic faith in a recent interview with the Catholic Standard. Ledecky won her first gold medal in the 2012 Olympics for the 800-meter freestyle. Since then she has become the world record holder in the 400, 800 and 1500-meter freestyles, and the American record holder in the 500, 1000 and 1650-yard freestyles.
"In 2015, she became the first swimmer in history to win the 200, 400, 800, and 1500-meter freestyles in a single world championship.
"On Sunday Ledecky beat the previous world record of 3:58.37 in the 400-meter set in 2014 by almost two seconds, down to 3:56.46."
That is awesome.
ITEM 6: The Epoch Times reported, "A group of 10 Republican senators is backing legislation that would require an audit of the decision-making and public health messaging by the Centers for Disease Control and Prevention."
Audit them all.
Every single government agency needs to be answerable for the decisions they make. And impeach any and all department heads who call their agencies independent.
The American people own the bureaucracy, not the other way around.
Congress should never have given these agencies so much power.
ITEM 7: The Hill reported, "Influential public sector unions are pushing back on a new vaccination requirement for federal workers in a rare split with the Biden administration.
"President Biden's latest vaccine push, announced Thursday, requires federal employees to attest that they have been vaccinated against COVID-19 or be subject to masking, social distancing and weekly testing.
"While labor groups representing government employees have urged their members to get vaccinated, most of the leading public sector unions either oppose the vaccine requirement or say it must first be negotiated.
"Groups representing educators, postal workers, law enforcement officers, Treasury Department personnel and other government employees expressed unease about the vaccine requirement this week. Only a few public sector unions outright endorsed the measure."
Donald Trump meanwhile pushed to get the vaccines.
Maybe Democrats are refusing to take the Trump vaccines.
ITEM 8: The New York Post reported, "Ammunition is reportedly flying off of shelves across the country as anxious Americans — who purchased a record number of firearms during the pandemic — lock and load up in response to social unrest and an increase in violence.
"The shortage is now impacting law enforcement agencies, the Associated Press reported, as ammunition shelves are bare despite manufacturers saying they are producing as much as they can."
Gangbangers seem to have no ammo problems at all.
ITEM 9: CNBC reported, "Millions of jobless Americans are poised to lose Covid-era income support in about a month's time.
"This impending benefits cliff appears different from others that loomed this past year, when Congress was able to keep aid flowing after eleventh-hour legislative deals.
"There doesn't seem to be an urgency among federal lawmakers to extend pandemic benefit programs past Labor Day, their official cutoff date."
Meanwhile, there are 9.2 million unfilled job openings.
The benefits were meant to be temporary until there were job openings.
We have job openings again.
Go back to work.
ITEM 10: National Justice reported, "The Department of Justice and the FBI have a message for local police departments: start charging more white people with hate crimes or invite an investigation.
"Associate Attorney General Vanita Gupta told an assembly of FBI agents yesterday that they are now tasked with hounding police departments in their district if they do not register any hate crimes.
"Gupta and FBI Deputy Assistant Director of the Criminal Investigative Division Jay Greenberg have declared hate crimes by 'racially motivated violent extremists' (a euphemism generally reserved for right-wing white men) to be a national threat priority -- a rare designation.
"According to Greenberg, the FBI will be increasingly specialized in pursuing hate crimes through increased training in the matter, an aggressive media campaign designed to recruit victims in 'underrepresented and targeted populations,' and putting federal pressure on local law enforcement to charge and report hate crimes when they otherwise wouldn't."
I would think black people would be more interested in solving the thousands of murders of black people in Chicago, where only 1 in 6 murders are solved.
ITEM 11: The New York Post reported, "NHL star Evander Kane's pregnant wife ripped her husband in a scathing Instagram post — claiming the San Jose Sharks forward is a gambling addict who tanked games for profit and abandoned her with their toddler to party in Europe while their house is being 'taken by the bank.'
"The Saturday Instagram stories have apparently already prompted an investigation by the National Hockey League, which said in a tweet it was aware of the posts and intended to 'conduct a full investigation.'
"Anna Kane let loose on her husband in the blistering posts, painting him as an addict who had left her with no money to even buy formula for their daughter."
He filed in January to liquidate his assets to pay off $49 million in debts he will never repay.
The ability of stars to tank games is one reason you should never bet on sports.
States never should have legalized sports betting. But the devil keeps getting us to legalize vices in the name of increasing revenues for The State.
The State is evil, dude.
ITEM 12: Krebs On Security reported, "An 18-year-old Tennessee man who helped set in motion a fraudulent distress call to police that led to the death of a 60-year-old grandfather in 2020 was sentenced to 60 months in prison today.
"60-year-old Mark Herring died of a heart attack after police surrounded his home in response to a swatting attack.
"Shane Sonderman, of Lauderdale County, Tenn. admitted to conspiring with a group of criminals that's been swatting and harassing people for months in a bid to coerce targets into giving up their valuable Twitter and Instagram usernames."
Swatting is getting the local SWAT team to show up at a person's house to arrest them.
5 years in prison seems about right.
ITEM 13: Red State reported, "Alexander Vindman Stomps His Little Feet When Americans Show They Don't Care About His Book."
Boo hoo hoo.
How many other lieutenant colonel pencil pushers get a book deal?
ITEM 14: Forbes reported, "Why Speaking English May Spread More Coronavirus Than Some Other Languages."
Clickbait, Clickbait,
Rolly poly Clickbait.
Clickbait, Clickbait,
Eat them up yum!
ITEM 15: Fox News reported, "New Mexico House Majority Leader Sheryl Williams Stapleton resigned Friday amid a criminal investigation involving alleged racketeering and money laundering.
"The Democratic state lawmaker has unequivocally denied the allegations but wrote in a letter to New Mexico's secretary of state that she felt her resignation was in the state's best interest, according to the Santa Fe New Mexican."
It is nice to know that women can do anything a man can do.
Can she please do as much time in prison as any crooked male politician?
ITEM 16: If you still do Twitter, here is someone to follow:
I work on the COVID floor at my hospital. It's full.

The entire floor + the ICU are at capacity w/ COVID patients — almost all unvaccinated. pic.twitter.com/dc6QHA2ANw

— Evi L. Bloggerlady (@MsEBL) August 1, 2021
ITEM 17
:
Oil Price reported
, "Despite global expectations to move away from coal, demand in China is still strong, as rising global temperatures causing heat waves are driving up electricity demand and coal prices. Thermal coal futures reached record highs in July as a heatwave in China sent electricity use soaring. In industrial areas of the country such as Zhejiang near Shanghai, electricity use exceeded 100 million kilowatts per hour as temperatures rose to 37 degrees Celsius."
The communists created the climate change hoax so they could have all the coal for themselves.
We elected fools who believe this nonsense.
ITEM 18
:
Yahoo reported
, "The U.S. women's national team crashed out its chase for Olympic gold with a dud of a 1-0 loss to Canada here on Monday, a fitting end to a pursuit in which the most dominant soccer team in the world never hit top gear."
Ding dong, the witch is dead.
Trumpenfreude lives.
FINALLY, the beginning of August sparks the annual debate about using nukes to end World War 2.
Of course we were right.
Even after we wiped out Hiroshima and Nagasaki, the vote to surrender was still a tie.
The emperor broke the tie, surrendered, and a million American lives were saved.
No one has nuked anyone since.
The end.