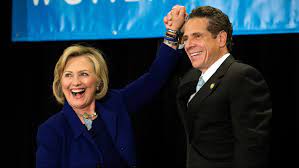 Democrats in Washington want Andrew Cuomo to resign to allow the Democrat lieutenant governor to run New York state. If a Republican were next in line for the job, Democrats would be falling on grenades for Cuomo. That is, after all, what happened in Virginia when Governor Black Face unleashed his oppo research on the Democrats in the line of succession.
There are no criminal charges against Cuomo.
Cuomo's problem is not sexual harassment. His problem is Democrats see him as a threat if he chooses to run for president.
Democrats in Washington want no part of playing second fiddle to an outsider. They had their fill of outsiders as presidents with Bill Clinton. Democrat senators want the White House all to themselves. In the 6 presidential elections since Clinton, Democrats have nominated a senator or former senator for president and vice president each time.
Governors need not apply.
Congressional Democrats can control a Biden or an Obama.
Cuomo would be a wildcard.
CBS reported, "President Biden joined House Speaker Nancy Pelosi and other Democratic lawmakers in calling for Governor Andrew Cuomo to resign on Tuesday, after New York Attorney General Letitia James released a report Tuesday substantiating allegations of sexual harassment against him from 11 women."
In our post-constitutional America, the press no longer cares about trials and whatnot. The standard is a Democrat attorney general to release a report. That substantiates the allegations.
When CBS goes low, the Washington Post goes lower. It said, "Biden calls for Cuomo to resign after investigation finds the New York governor sexually harassed 11 women."
So if a prosecutor says it is true, it is a fact according to Jeff Bezos and his newspaper.
Again, the prosecutor filed no criminal charges. None. The prosecutor has no indictments. None. This is a media frenzy over squat.
But why should I defend Cuomo?
He killed 15,000 grannies by forcing nursing homes to accept covid patients.
Those deaths should be the subject of a criminal investigation, not this he said/she said garbage.
But charging him with manslaughter might implicate other Democrats. A sexual harassment scandal is a nice safe way to dispose of a governor who could seek the presidency in 2024.
In a tyrannical society, everyone is disposable. The hero of covid in 2020 is the zero in Albany in 2021.
Cuomo's crime is becoming too big for his britches.
From his office in Sacramento, Gavin Newsom gets the message. He will make it clear that he won't run in 2024, 2028, 2032, or ever.