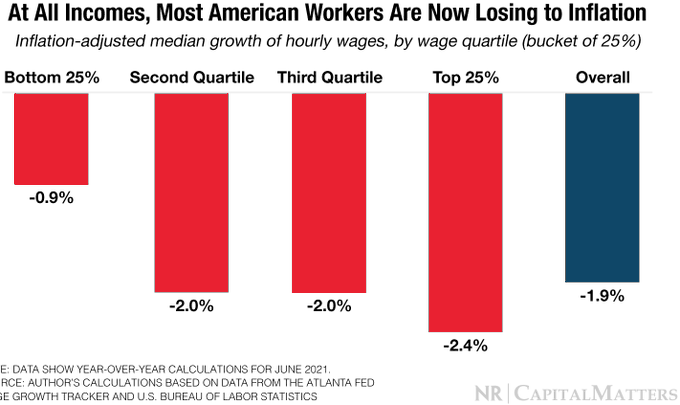 Pumping trillions of dollars into the stock market and the economy helped keep the nation afloat during that two-week shutdown that is now in its second year. But that short-term gain has a long-term pain.
Inflation is back.
As quarterly earnings reports for April, May, and June were released last month, Bank of America noticed mentions of inflation in those reports surged. The word suddenly was used 12 times as much as before. The sudden jump was noticeable after decades of inflation being under control.
Oh, earnings were good. Sure. Consumers have a lot of money to spend. But much of it was from transfer payments (especially government checks) and not earnings.
Zero Hedge reported, "What is more surprising is that in a quarter when many predicted margins would be hit by surging input costs, not only was that not the case but companies once again posted skyhigh margins, with 2Q net margins (ex-Financials) jumping to a new high at 13.0%, topping last quarter's 12.5%. This was consistent with BofA's Corporate Misery Indicator, which rose to a record high ("least miserable") in 2Q, indicating it was among the most favorable macro environment for corporate margins in history since 1978!"
Best since 1978.
That sounds good.
Inflation was 7.63% that year -- six times the 2020 rate.
But what happened after 1978 was the killer. Inflation hit double digits for the first time since World War II.
Inflation was 11.25% in 1979, 13.55% in 1980, and 10.33% in 1981.
The cure was painful.
CNBC recalled two years ago, "Paul Volcker's greatest legacy as Fed chief was breaking inflation with shockingly high interest rates, but he turned the housing market into a nightmare for both buyers and sellers.
"Volcker allowed the fed funds rate, now topped out at 1.75%, to rise over 20%, and with it went the interest on home mortgages and everything else. The 30-year mortgage rate spiked into the high teens in late 1981 and continued at double digits until 1990."
Diane Swonk, chief economist at Grant Thornton, told CNBC, "People thought they'd never buy a home again, and they did.
"What was amazing was the back-to-back recessions of 1981 and 1982, which he used to break the back of inflation. ... He tightened policy, and brought the economy to its knees. He flipped the switch again, and the economy powered forward in a way it hasn't since."
I and most of my readers lived through that nightmare 40 years ago.
Which brings us to 2021.
Savita Subramanian of Bank of America wrote, "We are starting to see the good inflation environment turning into a bad inflation environment with many companies citing accelerating cost inflation, particularly around wages."
Given the choice between receiving a government check to stay at home and play video games or getting up each day to work for $40,000 a year, surprisingly most people pick the former.
In its story, Zero Hedge quoted some quarterly reports.
Amazon said, "The other thing is wage pressure has become evident. We've talked about this a bit. The wage increase that we normally would do in October we pulled forward into May. We're spending a lot of money on signing and incentives. And while we have very good staffing levels, it's not without cost. It's a very competitive labor market out there and certainly the biggest contributor to inflationary pressures that we're seeing in the business."
By very competitive labor market, Amazon means peeling people from playing Tour of Duty.
Church & Dwight (a manufacturer) said, "We now expect full year gross margin to be down 75 basis points. This represents an incremental impact from our last guidance due to broad-based inflation on raw materials and transportation costs."
Illinois Tool Works said, "We continue to experience raw material cost increases, particularly in categories such as steel, resins and chemicals and now project raw material cost inflation at around 7% for the full year which is almost 5 percentage points higher than what we anticipated as the year began. And just for some perspective, this is roughly 2x what we experienced in the 2018 inflation/tariff cycle."
The inflation rate in 2018 was 2.49%.
That will be known as the good old days shortly.
CNBC advised readers and viewers on Monday, "You may want to rethink where you put your emergency cash amid rising inflation."
You may want to prepare your rainy day fund for a deluge.
But I ain't a financial expert.