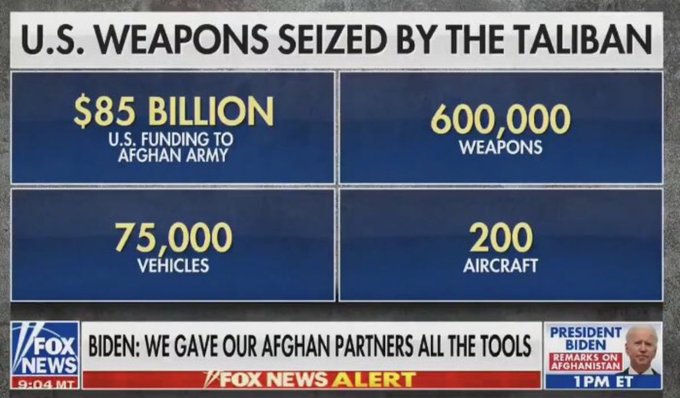 While Milley was reading Marx and Mao, the Taliban leaders and the leaders of the Afghan government we set up were reading about Vietnam. They knew the answer to John Kerry's question in 1971, "How do you ask a man to be the last man to die for a mistake?"
That last man to die in Vietnam was not an American, but a Vietnamese soldier fighting for the Republic of Vietnam. Afghans decided they would not be the last to die in this war.
(Charles McMahon and Darwin Judge, Marines guarding the U.S. Embassy died on April 29, 1975, the day before the Fall of Saigon. They were the last American casualties. They were 21 and 19, respectively.)
Our generals thought that just like in Vietnam, they had two years left.
Afghans had other plans.
1 MONTH AGO BIDEN SAID:

- The Afghan government wouldn't collapse
- There would be "zero" parallels between his Afghanistan withdrawal and the fall of Saigon
- Under "no circumstance" would our embassy be evacuated by airlift
- Taliban would not take over

He lied on all counts. pic.twitter.com/0QTKigyLGj

— Benny (@bennyjohnson) August 18, 2021
The mindset of the generals was revealed in the New York Times spin on the Fall of Kabul, "Miscue After Miscue, U.S. Exit Plan Unravels."
Marx-reading Milley and his team of Tall Ticket Punchers with their Boards of Medals on their chests knew surrendering the country would lead to a repeat of the Fall of Saigon. They thought the Afghan soldiers would be willing to die for our country in retreat, just like the Vietnamese did.
The story began, "The nation's top national security officials assembled at the Pentagon early on April 24 for a secret meeting to plan the final withdrawal of American troops from Afghanistan. It was two weeks after President Biden had announced the exit over the objection of his generals, but now they were carrying out his orders.
"In a secure room in the building's extreme basement, two floors below ground level, Defense Secretary Lloyd J. Austin III and Gen. Mark A. Milley, the chairman of the Joint Chiefs of Staff, met with top White House and intelligence officials. Secretary of State Antony J. Blinken joined by video conference. After four hours, two things were clear.
"First, Pentagon officials said they could pull out the remaining 3,500 American troops, almost all deployed at Bagram Air Base, by July 4 — two months earlier than the Sept. 11 deadline Mr. Biden had set. The plan would mean closing the airfield that was the American military hub in Afghanistan, but Defense Department officials did not want a dwindling, vulnerable force and the risks of service members dying in a war declared lost.
"Second, State Department officials said they would keep the American Embassy open, with more than 1,400 remaining Americans protected by 650 Marines and soldiers. An intelligence assessment presented at the meeting estimated that Afghan forces could hold off the Taliban for one to two years. There was brief talk of an emergency evacuation plan — helicopters would ferry Americans to the civilian airport in Kabul, the capital — but no one raised, let alone imagined, what the United States would do if the Taliban gained control of access to that airport, the only safe way in and out of the country once Bagram closed.
"The plan was a good one, the group concluded.
"Four months later, the plan is in shambles as Mr. Biden struggles to explain how a withdrawal most Americans supported went so badly wrong in its execution. On Friday, as scenes of continuing chaos and suffering at the airport were broadcast around the world, Mr. Biden went so far as to say that 'I cannot promise what the final outcome will be, or what it will be that it will be without risk of loss.'"
***
The plan was a good one, the group concluded.
Wrong Way Corrigan thought he had a good plan, too.
So Milley and the rest thought after we left in September, our Afghanistan allies would be our fall guys, just like the South Vietnamese were a half-century ago.
Milley was the expert because 41 years ago at Princeton, he wrote a 185-page-long senior thesis titled "A Critical Analysis of Revolutionary Guerrilla Organization in Theory and Practice."
Unfortunately for him, the Afghan people did not read his thesis and put his theory in practice.
They had other ideas. The warlords who control certain regions figured if a Taliban takeover is inevitable, why fight? Accept the bribe, capitulate, and maybe they will share some of that billions in loot they will take when Americans leave behind all that equipment, just like we left behind in Vietnam.
Flying in a Blackhawk helicopter beats driving to Kabul in a Bentley convertible.
Afghan's president vamoosed a week ago. There is no Afghan government except the Taliban.
The best spin Democrats and the Deep State can do to the disaster is to say we did not expect the Afghan government to surrender before we got out.
What do you know? The Afghans screwed the Pentagon before the Pentagon could screw them.
It was the worst defeat in American military history. Biden made the decision, but the generals with all their badges (combat infantryman, master parachutist, and special operations diver) and Ranger tabs gave him bad, bad, bad advice.
The Times story said, "The president's top intelligence officers echoed that uncertainty, privately offering concerns about the Afghan abilities. But they still predicted that a complete Taliban takeover was not likely for at least 18 months. One senior administration official, discussing classified intelligence information that had been presented to Mr. Biden, said there was no sense that the Taliban were on the march.
"In fact, they were. Across Afghanistan the Taliban were methodically gathering strength by threatening tribal leaders in every community they entered with warnings to surrender or die. They collected weapons, ammunition, volunteers and money as they stormed from town to town, province to province."
President Trump's plan was based on assuming a Fall of Saigon would come quickly. President Trump told Miranda Devine of the New York Post what his plan was.
He said, "We were going to not let people get slaughtered. I wanted to get out. But you have to get out safely and you have to get out with respect."
His plan was an American one in which women and children leave first.
He said, "All civilians were going to come out before the military. Everyone should have been out before they took our military out."
Democrats and the Deep State had no such plan. They thought they had plenty of time. They thought of the Afghanistan people as backward little brown people, just as the Democrats and the Deep State thought of the Vietnamese people as backward little yellow people 60 years ago under LBJ.
The Afghanistan people are not stupid.
They knew the only correct answer to John Kerry's question of who should be "the last man to die for a mistake?" is not me.
Biden's Blunder and the Taliban's Plunder certainly should give our NATO partners a pause. The United States no longer is a trustworthy ally because its politics no longer end at the water's edge.
And the thing is, Afghanistan was not a mistake. We just stayed too long. We could have had another South Korea or Iraq.
Instead, we have this.