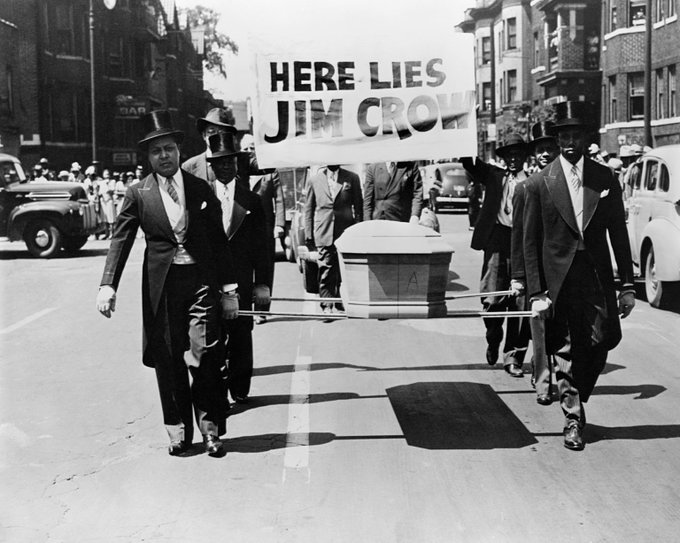 The courts are telling Democrats that their Jim Crow argument against laws they don't like is lame. Judges and the Supreme Court are not buying the argument (if you can call it that) that anything Jim Clyburn calls racist is racist.
The Supreme Court sent a strong message in striking down the Democrat Party's attempt to override Arizona's voting laws, which the state updated in 2016.
Justice Alito wrecked the argument that the law harms minorities.
He wrote, "A policy that appears to work for 98% or more of voters to whom it applies—minority and non-minority alike—is unlikely to render a system unequally open. The Court of Appeals attempted to paint a different picture, but its use of statistics was highly misleading for reasons that were well explained by Judge Easterbrook in a case involving voter IDs. As he put it, a distorted picture can be created by dividing one percentage by another. He gave this example: 'If 99.9% of whites had photo IDs, and 99.7% of blacks did, it could be said that blacks are three times as likely as whites to lack qualifying ID (0.3 ÷ 0.1 = 3), but such a statement would mask the fact that the populations were effectively identical."
"That is exactly what the en banc Ninth Circuit did here. The District Court found that among the counties that reported out-of-precinct ballots in the 2016 general election, roughly 99% of Hispanic voters, 99% of African-American voters, and 99% of Native American voters who voted on Election Day cast their ballots in the right precinct, while roughly 99.5% of non-minority voters did so.
"Based on these statistics, the en banc Ninth Circuit concluded that 'minority voters in Arizona cast [out-of-precinct] ballots at twice the rate of white voters.' This is precisely the sort of statistical manipulation that Judge Easterbrook rightly criticized, namely, 1.0 ÷ 0.5 = 2. Properly understood, the statistics show only a small disparity that provides little support for concluding that Arizona's political processes are not equally open."
It gets better. Not only did Alito lay waste to the statistical ploy, but he made a strong case for the need for the law. He did not have to. But he did.
Alito wrote, "The Court of Appeals' decision also failed to give appropriate weight to the state interests that the out-of-precinct rule serves. Not counting out-of-precinct votes induces compliance with the requirement that Arizonans who choose to vote in-person on election day do so at their assigned polling places. And as the District Court recognized, precinct-based voting furthers important state interests. It helps to distribute voters more evenly among polling places and thus reduces wait times. It can put polling places closer to voter residences than would a more centralized voting center model. In addition, precinct-based voting helps to ensure that each voter receives a ballot that lists only the candidates and public questions on which he or she can vote, and this orderly administration tends to decrease voter confusion and increase voter confidence in elections."
Those last 4 words are important. Sadly, in declining to hear challenges to the 2020 election, the Supreme Court itself damaged voter confidence in elections. Alito and Thomas were willing to listen.
Democrats also had their hats handed to them in Georgia, in the party's challenge to Georgia's new voter reform. Judge ​J.P. Boulee, a Trump appointee, slapped them down.
He wrote, "The Court is not persuaded by Plaintiffs' argument for a bright line exception to Purcell because they have alleged First Amendment harm. Plaintiffs have not provided authority, nor is the Court aware of any, that would support this interpretation of the law."
A special election is underway for two state House seats.
He said, "The risk of disrupting the administration of an ongoing election ... outweigh the alleged harm to plaintiffs at this time."
After the debacle last November when states Trump carried the election on Election Day flipped to Biden in an avalanche of mail-in votes, public confidence in voting has fallen.
Voters want reform.
Just the News reported, "A strong, 62% majority of registered voters believe that Americans should have to provide photo identification when submitting a mail-in ballot, according to a new Just the News Daily Poll with Scott Rasmussen.
"Just 23% of respondents said voters should not be required to include their photo ID with mail-in ballots.
"Responses in favor of a photo ID requirement include 78% of Republicans, 50% of Democrats, and 60% of independents. An equal number of white and Hispanic respondents favored the rule, as did 51% of black voters."
Clyburn and Stacey Abrams now falsely claim they always supported voter ID.
Do not be discouraged because the media narrative of Jim Crow! Jim Crow! Jim Crow! is failing, failing, failing.
Jim Crow died more than a half-century ago thanks to civil rights legislation that Republicans made possible. LBJ needed 23 Republican votes in the Senate to overcome a filibuster. Everett Dirksen delivered 27.
The leader of that ill-fated filibuster, Bobby Byrd, later became the Senate Democrat leader.
The Democrat Party, which had passed actual Jim Crow laws now is losing in its attempt to reverse good policy by crying racism.