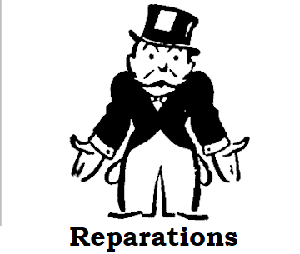 62% of Americans oppose reparations for black people according to a poll by the University of Massachusetts Amherst and WCVB. Such race-based payments are unconstitutional under the 14th Amendment.
Nevertheless, the media, academia, and black leaders are pushing for reparations.
Americans do support one set of reparations. National Pulse reported that a poll of more than 13,000 readers found 81% support reparations from Red China for the damage from its covid 19 virus.
The only leader backing this is President Donald Trump. The media barely will discuss it.
Once again, the nation's elitists are out of touch with the nation.
The U-Mass Amherst poll was directed by Tatishe Nteta, an associate professor of political science.
He said, "400 years since Africans were forcibly brought to the shores of America, 245 years since the 3/5th Compromise and 156 years since freed African Americans were promised 40 acres and a mule, a majority of Americans express an unwillingness to pay the descendants of slaves for the nation's original sin."
No promise of 40 acres was made. A congressman introduced such legislation but it never became law.
Black people were eligible for 160 acres of free land under the Homestead Act of 1862, which allowed people of all colors to acquire land. All they had to do was work the farm for five years, and the land was theirs.
1.6 million families homesteaded. By 1900, one-fourth of black farmers in the South owned their land, many of them thanks to the Homestead Act, which in 1866 specifically included freed slaves.
Reparations are racist because they reward people based on their skin color for ancient events. Slavery ended 156 years ago and systemic racism ended 50 years ago.
Black people today are victims of a biologic attack. All Americans are. Red China unleashed covid 19 on us last year (and perhaps earlier) without warning or provocation.
This was not 50 years ago, 100 years ago, or 150 years ago.
This is not then. This is now. Red China should pay.