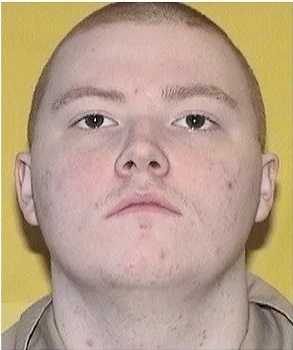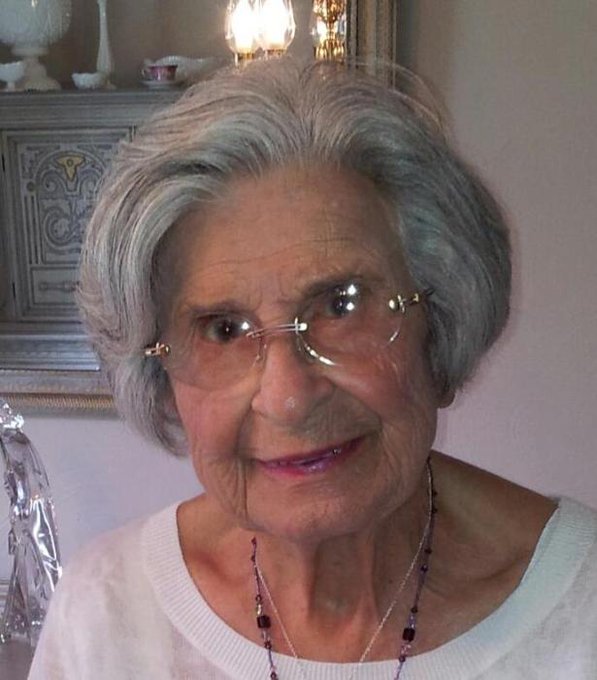 Marie Rose Belcastro was born September 9, 1920, in Niles, Ohio, the daughter of Sam and Caroline DeGennaro Conti.
She lived in Niles all her life. She graduated from Niles McKinley High School in 1939. She and Fred Belcastro married on May 10, 1941. During the war, she worked at Packard Electric. Later, she was a Trumbull County School Bus driver and aide for 12 years.
She had two daughters, and a bunch of grandchildren and great-grandchildren.
She was a member of Our Lady of Mount Carmel Parish in Niles, Catholic Women's Guild, Bon Amici Club, Monday Rosary Group, enjoyed house plants, playing cards, spending time with her grandchildren and great-grandchildren. She learned to fly fish on her 90th birthday. She traveled with her daughters to Hawaii, Mexico, and Italy among other places.
Her husband died on August 10, 1989.
She died at 94 on March 31, 2015, brutally murdered in the house her father built. Jacob Larosa, then 15, a neighbor, not only killed her but he attempted to rape her.
Larosa pleaded no contest to the charges, a plea that makes an appeal easier.
Judge Wyatt McKay sentenced him to life plus 31 years in prison, without parole.
The Republican-run Ohio General Assembly and Republican Governor Mike DeWine just gave Larosa a chance for parole.
What a pack of useful idiots.
No, I do not know Mrs. Belcastro. I mean, I grew up around women who were like her. But no, her grandson Brian Kirk contacted me because he is trying to shine some light on how awful this new law is.
The sentencing of Larosa in October 2018 gave the family some closure.
The Ohio Republican Party just opened that door again.
Kirk wrote and said, "Ohio has a constitutional amendment called Marsy's Law. It's a victims bill of rights, and it states, in part, that victims have the right 'to be heard in any public proceeding involving release, plea, sentencing, disposition, or parole, or in any public proceeding in which a right of the victim is implicated.'
"The Legislature never informed my family that they were entertaining this bill."
And yes, it is a constitutional amendment that was overwhelmingly approved by voters in November 2017.
Kirk is trying to get this law repealed because from now on, Larosa will be up for parole every 5 years.
Convicting a juvenile of murder is not easy.
Kirk wrote, "Larosa's long journey from suspect to convicted felon took three and a half years, methodically winding its way first through the juvenile court system, then ultimately to Judge McKay's courtroom in downtown Warren, Ohio."
Larosa's murder of Mrs. Belcastro was a long time coming.
Kirk wrote, "In light of Larosa's criminal history, better use of the legislature's time would have been to find a way to better punish and track juveniles when they escape from a detention facility, as Larosa once did. Or, they could have reformed domestic violence laws so that when a juvenile puts a sibling in the hospital, as Larosa once did, he can face real justice.
"The system worked for my family when local prosecutors and a local judge did their duty, guided by law, and gave Larosa the harshest penalty allowed under the law. The system worked on the local level, yet the governor and legislators thought that's the part that needed fixing? That we need to go easier on juvenile murderers? This unnecessary change reads like a nightmare news story from Gov. Gavin Newsom's California. What happened to boring, predictable, tough-on-crime Ohio politicians?"
In its story on Kirk's plight, WFMJ contacted Mahoning County Prosecutor Paul Gains. The station reported he is furious because the new law affects the trial of Brandon Crump Jr., now 18, accused of the murder of 4-year-old Rowan Sweeney. The court already ruled Crump is safe from the death penalty -- the same death penalty he gave a 4-year-old.
The state of Ohio failed to protect Mrs. Belcastro from a violent teen, who took her life.
Letting him out again would endanger everyone else in that state, and every other state.
Kirk has forgiven Larosa but that does not mean Larosa should go unpunished. Prisons serve 3 purposes: to punish, to discourage others from committing crime, and to protect us from the criminals inside.
This new law fails on all 3 counts.