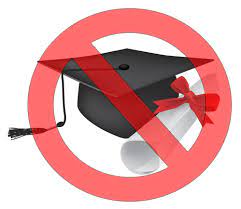 Joanne Jacobs reported, "Locked out of high school in Memphis, Hispanic boys are working construction jobs and taking pride in helping support their families, reports Chalkbeat's Ian Round."
Her story went on to say many young black males (and those of other minorities) are eschewing school in favor of collecting a paycheck.
Well, why not?
These are not stupid men. Far from it. They are doing what they believe is in their best interest,
College is expensive and anymore is geared toward women. An accusation is all a woman needs to get an ex-boyfriend expelled for rape.
Why should young men go into debt when they can get a job, get a car, and get a girl without the hassle of being accused of rape when they break up?
As for high-school dropouts, they help themselves and their schools by eliminating someone who does not want to be there. A GED at 18 is just as good as a diploma, especially as they have been downgraded to a certificate of faithful attendance.
KOMO reported, "Baltimore City Schools: 41% of high school students earn below 1.0 GPA."
Sounds like they already dropped out.
Oh good grief. Let my people free.
I get that dropouts are X times as likely to wind up in prison, do drugs, listen to heavy metal music, and do donuts in the courthouse lawn.
But you know something? Being born male automatically makes you 9 times as likely to go to prison. We can play these numbers games all day, but the bottom line is that we are all individuals and the only thing we owe society is not to harm others.
The argument that they should not make a decision that may adversely affect the rest of their lives is laughable in a world where judges allow 10-year-olds to take treatments to change sexes.